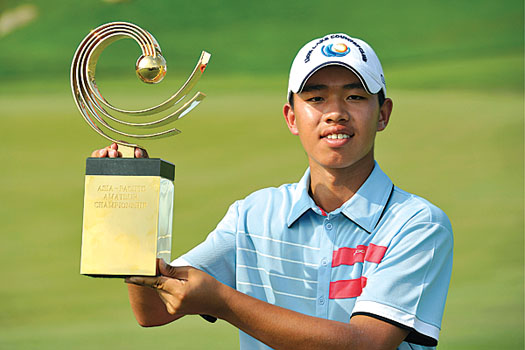 We're used to seeing the world's best professionals tee it up in Hong Kong - the Hong Kong Open has over the years regularly attracted Major champions and Ryder Cup heroes to our shores. But what of the cream of the amateur game? While it is certainly true that the SAR has staged significant amateur events in recent times - the Queen Sirikit Cup was held at Fanling earlier this summer - the arrival of next month's Asia-Pacific Amateur Championship (AAC), to be staged at Clearwater Bay Golf and Country Club from 1-4 October, will undoubtedly add a new and exciting dimension to the annals of Hong Kong golf.
For a young tournament, the Asia-Pacific Amateur certainly packs a lot of punch. First played in 2009 at Mission Hills Golf Club in Shenzhen, the championship, which is organised by the Asia-Pacific Golf Confederation, the Masters Tournament and The R&A, offers the champion an invitation to the first professional Major of the year at Augusta National Golf Club in addition to a spot an exemption into The Amateur Championship. Additionally, the winner and runner(s)-up will receive a place in The Open Qualifying Series, with the opportunity to qualify for The Open.
Given the enormous rewards at stake, it comes as no surprise to learn that the Asia-Pacific Amateur draws an exceptional - and it will be no different this time around with a collection of the region's finest players all setting their sights on conquering the spectacular cliff-top layout at Clearwater Bay. Former winner Guan Tianlang of China, who wowed the sporting world when he made the cut at the Masters Tournament in 2013 at the tender age of 14, the youngest player ever to make the weekend at a Major, has confirmed his participation and will be sure to receive plenty of support from the large galleries that are expected to turn out.
Pages
Click here to see the published article.