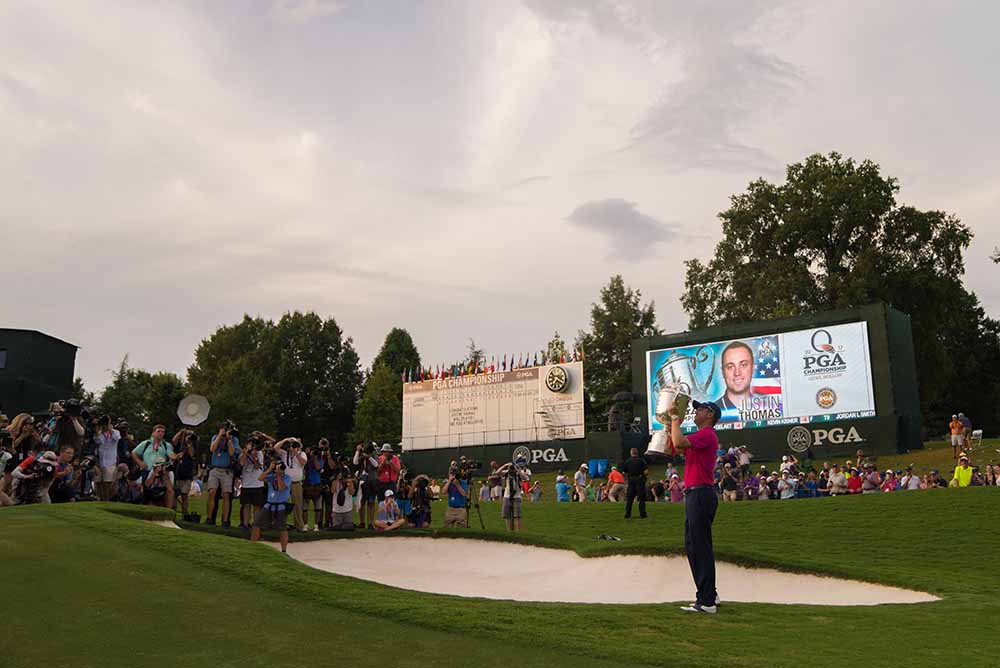 The U.S. PGA Championship has thrown-up an intriguing mix of champions in the quarter-of-a-century since the event was last at Bellerive. From thoroughbreds like Rory McIlroy, twice in 2012 and 2014, at the peak of his powers; Tiger Woods four times whilst at the pinnacle of his career; Jason Day winning at Whistling Straits in 2015 following a raft of near misses, defending champion Justin Thomas breaking his Majors' duck last year.
But, for every Woods and McIlroy, there is a Jason Dufner, YE Yang and Mark Brooks, champions in 2013, 2009 and 1996 respectively.
And, whilst many of the great names in world golf in the post-war era appear on the U.S. PGA Championship roll of honour, Lee Trevino, Jack Nicklaus and Gary Player amongst them, only one, Tiger Woods has successfully retained the Wanamaker Trophy, suggesting Justin Thomas may not be the man on the podium at Bellerive this month.
Asked about the influence of Woods on his fledgeling career, Thomas, briefly world #1 earlier this year, says, "Oh, huge deal, he motivated me to get where I am now." Perhaps accentuating the generation gap and a changing of the guard, explaining, "When you're seven or eight or nine or ten, and you're up there on the putting green, I was making putts to try to beat Tiger Woods in my head [and] it's great to have him back now."
Looking back 12-months to his first Major victory, which many observers believe will prove to be one of many, Thomas reflects, "It was just kind of one of those crazy weeks that you may have once a round in your career or one, two, three times a week in your career where just everything is on and everything is clicking, and pretty much you just try to stay unconscious as long as you can," adding, "The shot that I hit at 17th in the PGA was I would call the best shot of my career."
Pages
Click here to see the published article.