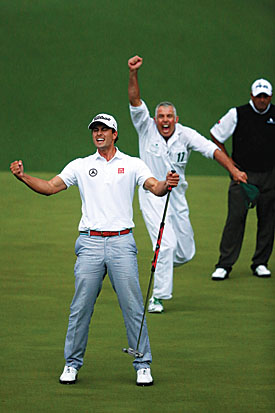 The Holy Grail of Australian golf has at last been conquered, with not one, but three of our Antipodean mates taking it to the best in the world at Augusta.
In the end, it was 32-year old Adam Scott who was left standing the tallest of all – winning his first major and becoming the first from his homeland to win the coveted Green Jacket. Oh, how Greg Norman celebrated.
With the weight of a nation on his shoulders (and with the rest of us on the edge of our seats), Scott sank a 12-foot birdie putt on the second extra hole of a sublimeplay-off to fend off Argentina's Angel Cabrera to claim the 77th Masters . Cabrera was a Colossus in defeat. The release of tension and sheer jubilation was obvious in the normally mild-mannered Scott, who had earlier screamed "C'mon Aussie", when his birdie putt on the final green appeared to seal victory.
"I don't know how that happened," Scott said in the Butler Cabin moments later. "It seems a long way away from a couple of years ago here and even last July (at the Open Championship) when I was trying to win another major. It fell my way today. It was incredible. It's incredible to be in this position."
"Everything fell my way in the end, I guess. You just never know. I just kept plugging away. I didn't know if it was going to happen through nine. A good back nine here solves a lot. I'm so proud of myself and everyone who has helped me."
And in the understatement of the year, "I'm a proud Australian and I hope this sits really well back at home."
Did it ever? Australia did stand proud but in truth, most of the nation could barely sit still as they watched nervously from afar. When the winning putt fell, the country roared from lounge rooms, golf clubs and moving cars. This was – well and truly – a victory heard across the land.
Standing with arms outstretched in triumph, shaking with emotion after his embrace with caddie Steve Williams, Scott mirrored exactly what success-starved fans back home were feeling at that very same moment. Fellow Queenslander Ian Baker-Finch, in commentary for host broadcaster CBS was almost too choked to say anything when it was thrown to him for comment: a mixture of pride, ecstasy and relief that fate had at last dealt Scott and Australia a kind hand at Augusta.
Pages
Click here to see the published article.