Looking at the stats my form was poor heading into the Hong Kong Open. I missed five cuts in six tournaments and wasn't driving the ball well at all. I went to Bangkok and got my old driver back off of a mate. I had been using a Callaway driver but cracked the face, so I went back to my old faithful - a Titleist 910. I also had a new set of irons in the bag - the 714 muscle backs, also from Titleist.
I had actually been swinging the club really well but the tee ball was killing me. The driver is such an important club. It's hard to play when you're coming out of the trees all the time. You can only do so much and you're not going to be making too many birdies when you keep leaving yourself 40ft putts. I kept missing cuts by a shot or two. There's very fine line between feeling like you're playing good and feeling like you're battling, and going back to my old driver gave me the confidence I needed.
Normally at Fanling, if I shoot anything in the 60s I'm absolutely stoked. There have been so many times when I've felt like I've played well and shot 70 or 71. The cut always seems to be even or one-under, and all of a sudden, I'm on the cut line. So to get off to the start I did this time was nice. I played very solidly for the 67 in the first round and I was very happy.
People say that Fanling is not my sort of course, and they're probably exactly right. But if you're a power player like me and you're able to manage to harness what you've got in your golf game, you can score. I used a fair few 3-irons off the tee; the funny thing is I only used the driver a couple of times per day, on the par-5s. But going with the 3-iron worked. My caddie Tony and I decided that leaving myself further back and taking an extra club or two into the greens was fine. In fact, hitting 8 or 9-irons into the greens instead of half a lob wedge was in some ways easier because of the tightness of the turf. The fuller shots worked a lot better. A word about Tony: we've known each other for a long time and he has been a settling influence on me. We trust each other when it comes to clubs and yardages completely, so he's been a great help.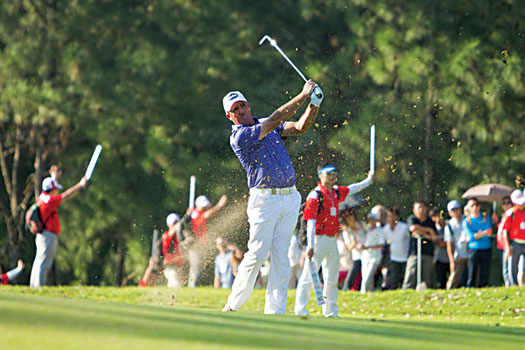 Pages
Click here to see the published article.