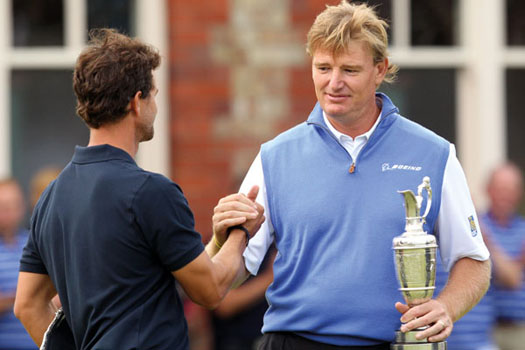 For most of the last afternoon at Lytham, people were saying that this was a dull Open. Adam Scott, who had started out at 11-under- par and a four-shot lead, was plotting his way carefully round the course and there were no fireworks from anyone behind. All that, of course, changed over the last five holes. The dull Open became a thriller as Ernie Els, though he had reached the turn in the same 36 as Scott and was still six behind, came home in a four-under-par 32.
Scott, in turn, saw his chance of winning evaporate as he followed a birdie at the 14th – the one which everyone thought would seal his victory – before dropping a shot at each of the last four holes – arguably the toughest finish on the Open rota – to end one stroke adrift.
How everyone felt for him – and all the more in that he took his fate so well.
There was an explanation. Back in 1996, he had had tears streaming down his face as he watched Greg Norman falling apart and losing out to Nick Faldo on the last day of the Masters.
"Greg was my great hero," said Scott. "He was a great role model, not least in the way he handled himself as well in defeat as in victory. He set a good example to us all."
Pages