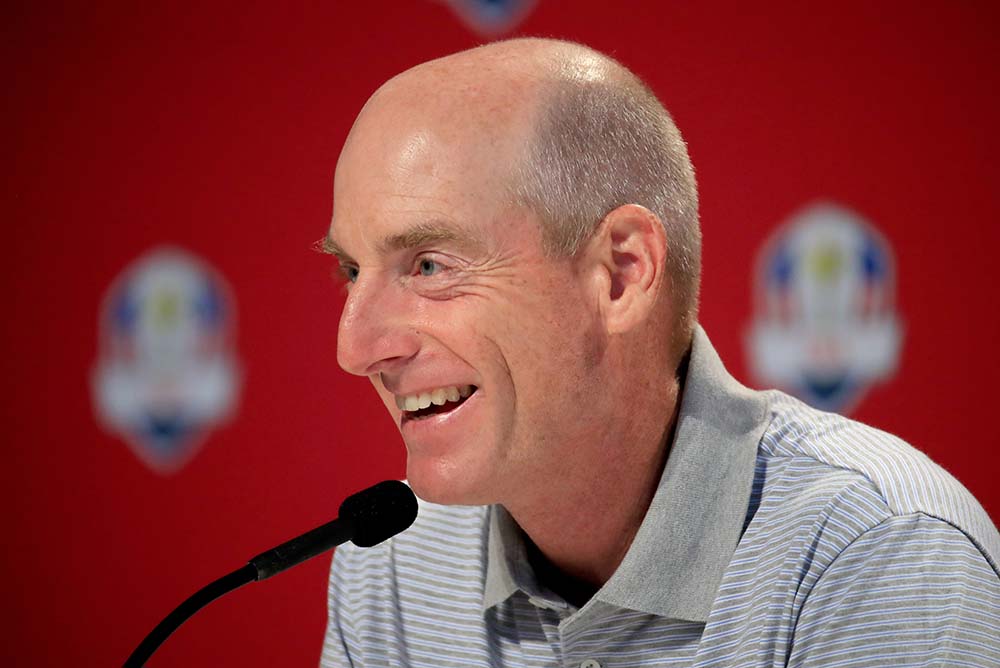 But, whilst captaincy is crucial, playing is paramount. Both teams look set to comprise a blend of battle-hardened experience and those with the fresh, fearless fun of playing Ryder Cup golf for the very first time.
With final standings and subsequent automatic qualification for European Team yet to be decided when on 2nd September the rankings will reveal the identities of eight of the 12-man European team. As things stand, Francesco Molinari, Justin Rose, Tyrrell Hatton and Fleetwood make up the four qualifiers on the European Points List, joined by Rory McIlroy, Jon Rahm, Alex Noren and Paul Casey qualified through the World Points List. Then four spots left, most probably drawn from Thorbjørn Olesen, Ian Poulter, Russell Knox, Eddie Pepperell, Sergio García, Matthew Fitzpatrick and Henrik Stenson, who is a major doubt through injury and loss of form.
Molinari, without question the best player in the world throughout the summer of 2018 will enjoy the 'Sheet anchor' role for European Team. World #4 Justin Rose standing foursquare alongside the Italian. McIlroy, who in his younger, less experienced days referred to the biennial match-up against the USA as little more than, "an exhibition match," forming the foundations of the European 12.
Given the Ryder Cup experience of both García and Poulter, both can expect a call from captain Bjørn sometime this month, enabling them to prepare, physically and mentally, for the challenge they both revel in, leaving the exciting-but-inexperienced Olesen and Stenson - if fit - to face the big guns of the USA.
Much transatlantic talk is of Tiger Woods, now 11th on the points list on the PGA TOUR and on a run of form few thought they would ever see again from the 14-time Major winner. However, given a lacklustre Ryder Cup record and serious doubts concerning the once-great man's ability to last the pace over 18 holes, the required 36 in one day on Thursday and/or Friday looks certain to see his role cemented only as a non-playing vice-captain.
However, notwithstanding the Tiger teaser, Furyk's USA Team looks, if not invincible, then undoubtedly irresistible, world numbers one, two and three - Dustin Johnson, Justin Thomas and recent PGA Championship winner Brooks Koepka leading the cavalry charge of American big guns. With Jordan Spieth and Ricky Fowler backing up, Masters champions Bubba Watson and Patrick Reed in the automatic eight.
That leaves Furyk with, not only the Woods dilemma but also whether to take a chance on an out-of-form - but Ryder Cup stalwart - Phil Mickelson, the 'Steady Eddie' Matt Kuchar, 'Mr. Dependable,' Zach Johnson, fiveappearances but only once on the winning team, 2012 U.S. Open champion Webb Simpson, or the two relative exotically-named rookies, Bryson de Chambeau and Zander Schauffele.
Whatever the respective cast from each side of the Atlantic Ocean, the dramatis personae looks so evenly balanced, both in terms of past results and experience and playing ability in a pressure cooker environment. The stage is indeed set for pure theatre throughout.
Also, like most major sporting occasions, the difference between victory and defeat will come down to small margins - a putt missed here, a hole lost there, a chip in from the fairway to clinch a crucial hole, a bunker found due to final day adrenaline pumping through the veins.
On balance, USA Team looks marginally stronger and runs deeper than its European counterpart. However, Europe is playing at home, having prepared Le Golf National - as it is perfectly entitled to do - prepared to suit their style. Home advantage bellowing out from the massive galleries lining L'Albatross course throughout, and a stronger team ethic that is traditionally there in USA Team, traditionally 12 individuals rather than a team.
All of which leaves the respective captains, and their respective backroom teams, selecting the right partnerships on Friday and Saturday. The correct order of play come Sunday, gaining, and maintaining the momentum in a contest that can ebb and flow like the restless tide.
Then there is the role 'Lady Luck' might play, an injury here, a lipped-out putt there, the bounce of the ball, any one of some unintentional actions with unintended consequences.
It's a tough one - some might say, 'too close to call', but on balance, and setting aside home advantage, the strength in depth of the USA, the fact either an outright win or a tie would spell victory. Moreover, the canny captaincy of Furyk over the potentially temperamental Bjørn might just see USA Team hold on to the small, but invaluable gold cup.
Pages
Click here to see the published article.