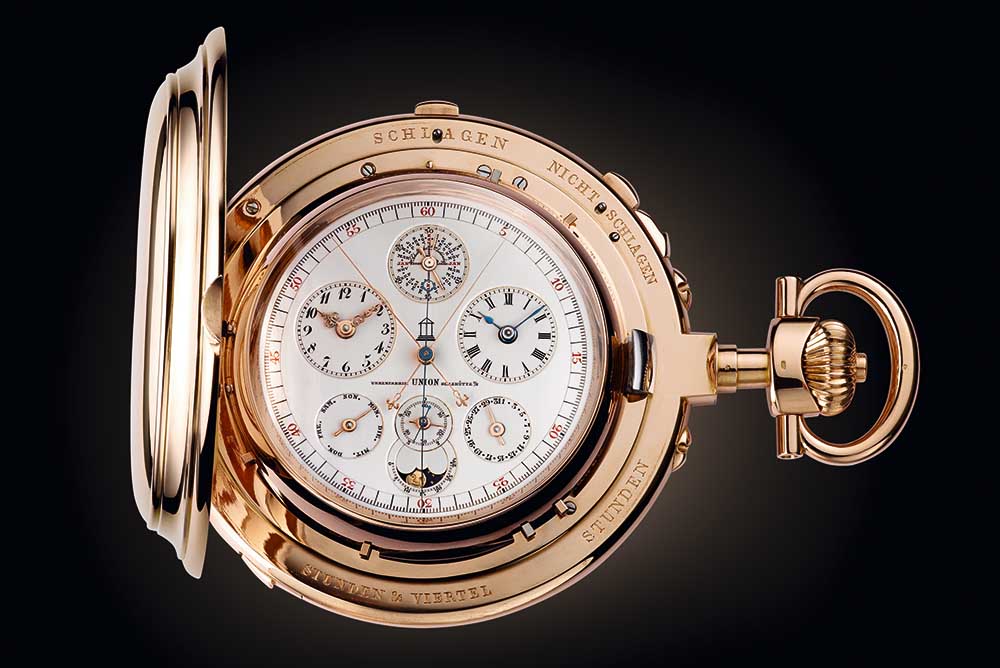 The Audemars Piguet Museum has recently acquired the Time Products vintage watch collection of Audemars Piguet timepieces. This is the most significant private collection of Audemars Piguet vintage watches worldwide and it was put together over 27 years by Marcus Margulies. The widely diverse creations have been meticulously selected and curated over time, before returning home to Le Brassus this year.

Spanning from the 1890s through the 1990s, the collection features extremely rare examples from every category of collectible vintage Audemars Piguet watches: complicated pocket watches, time only wristwatches with exotic case and dial designs, unique calendar wristwatches with phases of the moon, world-time wristwatches, influential jump hour wristwatches, and exceptional chronograph and minute repeating wristwatches.
Among this inspiring collection is the renowned ultra-complicated pocket watch no 6142, called the "Universelle". Louis Elisée Piguet first worked on the ebauche and then Audemars Piguet finished the movement and delivered it in 1899 to the company Union Glashutte in Dresden who cased, signed and sold the watch. This masterpiece, one of the most complicated watches of its time, includes 1168 movement parts and features the following: perpetual calendar, minute repeater with carillon, Grande & Petite Sonnerie, split second chronograph, flying 1/5ths of a second with reset system, dead beat seconds and alarm mechanism. This exceptional work of engineering, technology and watchmaking artisanship will be at the heart of the current and future Audemars Piguet Museum.
In addition to being on view at the Museum in Le Brassus and in the future Maison des Fondateurs, highlights from this collection will be part of traveling exhibitions and future publications throughout the world.
Jasmine Audemars, Chairwoman of the Board of Directors, said, "This acquisition is the most important in the history of the Audemars Piguet Heritage collection thanks to the incredible quality of the pieces representing a high concentration of major historical achievements for the brand."
François-Henry Bennahmias, Chief Executive Officer of Audemars Piguet, added, "We are very happy to welcome these vintage pieces back home. It represents a great milestone for the heritage department and a huge contribution to our patrimony. Marcus Margulies is very happy, as he has always believed that the right home for the Collection was with the factory in Le Brassus."
Pages
Click here to see the published article.