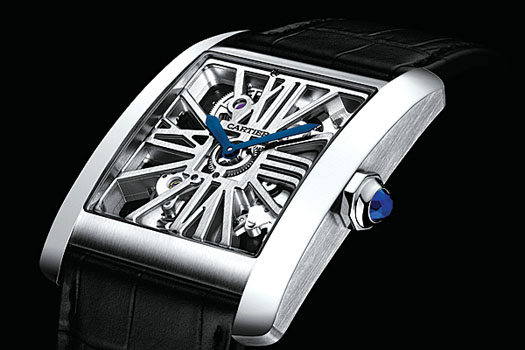 It takes a Herculean effort to elevate a design to an iconic status, but when one captures the imagination to such a degree that it is still relevant and appreciated 95 years after its creation, then that design is worth taking note of.
Louis Cartier probably didn't have such a grand plan in mind when he created the Tank in 1917. He simply wanted a watch that was sleek and forward-looking, a timepiece that would serve as a dashing replacement to the pocket watches that were still popular (though becoming inconvenient to carry around) at that time. Inspired by the Renault tanks used by the American Forces in World War I, the watch is simultaneously rectangular and square. Cartier archives reveal a top-view diagram of a tank, with its caterpillar tracks drawn next to a similarly rectangular watch case that had a seamless integration of lugs and the case as an extension of the strap. The first prototype was reportedly presented at peacetime to General John Pershing, the commander of the American Expeditionary Force in Europe.
First sold in 1919 as the Tank Normale, the watch's simplicity in design automatically garnered universal appeal. Apart from the integrated case, lugs and strap, key to the design were the brancards, or vertical bars on the sides of the case, Roman numeral hour markers, and the chemin-de-fer (railway track) design on the square dial.
Since then, more than a dozen versions of the Tank have been released, all with Louis Cartier's design ethos in mind. The key elements of the watch remain the same, proving a timeless appeal that has stretched decades.
The latest model is the Tank MC – and it is the masculine edition to date, featuring an almost square-shaped dial. It's a tribute by Cartier watchmaking to the modern dandy and to elegance, in the perfection of its straight lines, its natural curvature and the harmony of its geometry.
A self-winding watch with the first movement produced by the Cartier Manufacture, the 1904 MC, with its oscillating weight and beautiful mechanism visible through the sapphire case back.
This variation on the famous Tank rectangle offers a generous time display on a large dial with a wide breadth that creates the illusion of a square. It makes a strongly masculine impression, energised by the addition of small seconds that gives the dial serious watchmaking allure.
And it still carries the iconic Tank look with its guilloché dial, striking rail-track and Roman numerals (black on white or white on black). Cartier has developed this perfect style equation in several versions: an all-steel or pink gold case, white or chocolate dial, diamond-set or skeletonised.
Pages
Click here to see the published article.