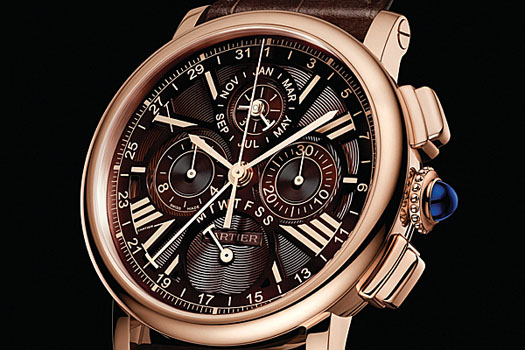 In 2012, Swiss watchmakers celebrated a milestone, with export figures for watches topping the CHF20 billion mark. With a value of CHF21.4 billion, the industry grew by 10.9 per cent year-on-year and 32.5 per cent over 2010, according to the Federation of the Swiss Watch Industry (FHS). This is an amazing figure too when you consider that it accounts for roughly 60 per cent of the value of all of the watches produced in the world, and only three per cent of the quantity.
Of the 36 million watches produced in Switzerland, about seven million are mechanical watches, accounting for 75 per cent of total export value. This means mechanical watches represent a major chunk in the value of the world's watch industry, and its share grows every year. In fact, growth in 2012 was due solely to mechanical watches, which posted an increase of 15.9 per cent in value Y-O-Y, and a 12 per cent increase by volume. Electronic timepieces registered a decline of -5.8 percent, while their value remained stable.
The big watch companies – Richemont, Swatch Group, Rolex and LVMH – take up a lion's share of the world's watch sales, at almost half, and continue to gain strong profits. While the market has become more stable after the mad rush to cater to China in 2010, most still expect growth in 2013-2014.
And with growth comes considerable investments. As the industry moves towards the ETA-free era, we see Richemont leading the pack with plans to invest more than CHF260 million in new production facilities and expansions for Cartier, Panerai, Vacheron Constantin and Piaget. It also plans to turn its integrated manufacture ValFleurier into its centre of movement production.
Meanwhile, LVMH is shelling out up to CHF100 million for a new TAG Heuer factory, a Geneva facility for Louis Vuitton, a 100 per cent expansion for Hublot and a reorganisation for Zenith.
Rolex inaugurated its new flagship in Bienne last year, and has invested 100 million for movement production. It's a similar story for independents Audemars Piguet and Chopard, the former putting down 25 million to build a Geneva factory, and the latter increasing production of its own movements.
As for materials, gold still reigns supreme, accounting for more than 94 per cent of total watch exports by value, an increase of 11.4 percent Y-O-Y.
Hong Kong is still the top market, recording growth of 6.8 per cent in value, and accounting for 20.4 per cent of all Swiss exports. The United States comes second at 10.2 per cent, and China is third at 7.7 per cent. Some EU markets have improved, like Germany, which recorded a growth of 33.1 per cent in value.
So what do all these numbers mean when it comes to watches? We're going to continue to see a lot of gold cases, in-house movements, especially from independents, and a focus on functionality, to make up for higher price points.
Pages
Click here to see the published article.