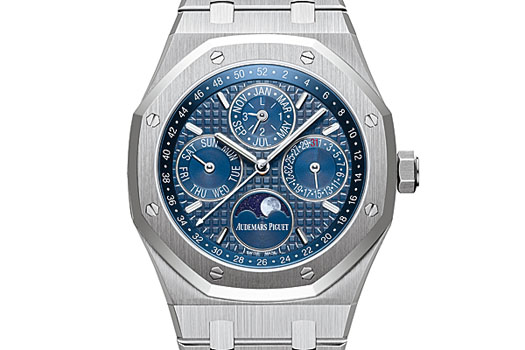 Audemars Piguet has an uninterrupted history of creating exceptional perpetual calendar watches that goes back to the company's origins over 140 years ago.
One of the earliest perpetual calendar watches that is part of the Audemars Piguet museum was made even before the company was established. Jules Louis Audemars' school watch was completed in its first incarnation prior to 1875, and transformed in the workshops over the following two decades. The complicated 18-carat pink gold pocket-watch masterpiece combined a perpetual calendar with a quarter repeating mechanism, and included the rarely seen independent deadbeat second function.
During the 1910s and 1920s, Audemars Piguet began to produce stylized unique perpetual calendar pocket-watches that were highly differentiated from those being made by other leading Swiss firms. As the 20th century progressed, the very first wristwatches with perpetual calendar emerged. While these were exceptional, they all lacked the defining element of the perpetual calendar pocket watches that preceded them - the leap year indication.
In 1955, Audemars Piguet began production on the very first series of perpetual calendar wristwatches in the world to feature the essential leap year indication. A total of only nine examples of this celebrated and elusive model were created.
By the late 1970s, the Quartz Crisis hit critical mass and buried many traditional watch firms while requiring others to greatly adapt their entire way of manufacturing and marketing timepieces. Audemars Piguet was one of the only traditional high-end Swiss watchmakers that not only continued to produce mechanical masterpieces throughout the Quartz Era, but also continued to innovate.
Pages
Click here to see the published article.