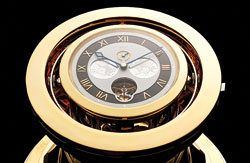 Based in Switzerland but British at heart, Peter Speake-Marin showcased the Spirit Mark 2, a distinctive design with highly legible dial. White Super-LumiNova treated numerals and hour markers contrast against a matte black background, creating a 3-D effect on the one-piece dial. The watch is equipped with a new automatic movement with 5-day power reserve, and features the beautiful hand finishing that Speake-Marin watches are known for. The watchmakers inspirational message, "Fight, Love & Persevere" is engraved on the caseback.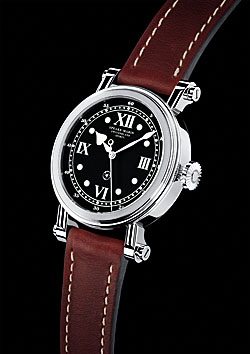 Although Roger Smith – known for his fully British-made Daniels Anniversary watch, created with the late Dr George Daniels (Omega co-axial escapement inventor) – could not exhibit this year, a special preview screening of The Watchmaker's Apprentice, a documentary about the life and work of Dr Daniels and his protegé, was shown at the Salon.
The revival and re-launch of London brand Thomas Mercer also proves that the spirit of the British watch and clock-making industry is alive and well. Established in 1858, Thomas Mercer specialised in marine chronometers, a product line that is now increasingly popular because of the growing number of yacht owners. The brand unveiled the Classis, its signature chronometer, designed in partnership with super yacht maker Andrew Winch. The ultra-luxe model comes in fine ebony macassar and features a unique mechanism, with parts produced by internationally known furniture maker Linley.
This renewed interest in British tradition and craftsmanship has certainly been good for the organisers of SalonQP, who seem to have perfected the recipe for a good watch show. An artistic location, big names, product launches, and enjoyable activities for the aficionados ensure that many will be back next year.
Pages
Click here to see the published article.