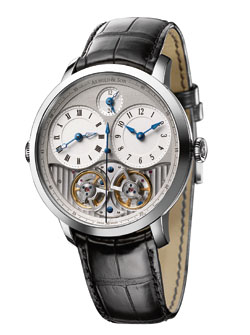 English Pride
Offering authentic and interesting alternatives to that of their Swiss contemporaries, the British contingent was in full force, presenting memorable pieces that were true to their heritage.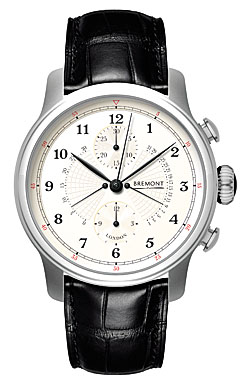 Arnold & Son presented the handsome DBS, which stands for 'double balance' and 'sidereal time', which is a tribute to the first watches John Arnold and his son created between 1796 and 1799, which showcased some of their most famous inventions: a thermo-compensated Z balance, expansion escapement and gold helical spring. The DBS is a dual time watch with two sub dials, one for the mean solar time (local time) and the other for sidereal time, approximately four minutes shorter than the average day, used by astronomers to track the direction needed to point a telescope at a particular star in the night sky. The watch is fitted with the in-house A&S1311 handwound calibre, and comes in a 44mm 18k rose or white gold case.
At Bremont, there was a buzz over the presence of a gold pocket watch owned by Admiral Lord Nelson, the hero of the Battle of Trafalgar in 1805. This coincided with the launch of the brand's latest limited edition, The Victory, which is inlaid with a piece of history: original oak timber and copper from the only remaining 18th century warship and the oldest one still in commission, HMS Victory, the same ship that Lord Nelson helmed, are seen on the caseback. The timepiece is a stunner in front as well, with a vintage feel coming from the dial display of retrograde seconds and date with sweep hands and two counters at 12 and 6 o'clock. The watch comes in stainless steel (250 pieces) or 18k rose gold (40 pieces). Bremont has worked closely with the National Museum of the Royal Navy to produce this new watch, with parts of the proceeds from its sale going toward important restoration work.
Pages
Click here to see the published article.