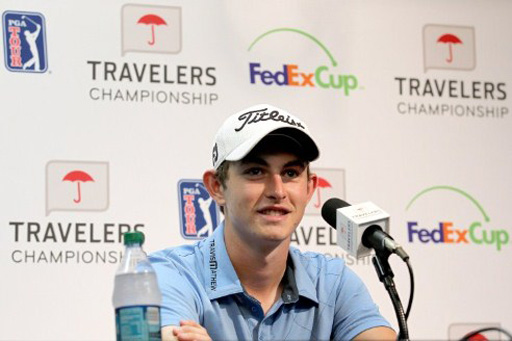 CROMWELL, June 25, 2011 (AFP) - US teen amateur Patrick Cantlay fired a course-record 10-under par 60 on Friday to seize a four-stroke lead in the clubhouse midway into the second round of the PGA Travelers Championship.
Cantlay, the low amateur in last week's US Open, fired the lowest round by any amateur in any PGA event to stand on 13-under par 127 after 36 holes with 77 players yet to finish round two in the storm-interrupted $6 million event.
"It's just one round," Cantlay said. "It was a good round and I played really well. Nothing bad happened. I'm really proud of it, but I've got a couple more rounds to play."
Only six players finished their opening rounds on Thursday due to bad weather, but organizers hoped to complete the second round Saturday morning and finish the third round Saturday afternoon.
Aided by rain-softened conditions, Cantlay opened with a birdie and birdied four of the last five holes on the front nine.
Canlay eagled the par-5 13th, his second of the day after doing so in the morning while finishing his first 18 holes, and added a birdie at 14.
He then birdied the last two holes for the lowest round ever shot at TPC River Highlands, the old mark of 61 shared by four men, most recently Kenny Perry in 2009.
Cantlay, a 19-year-old student from the University of California at Los Angeles, also matched the tournament record from any course, set by Tommy Bolt in 1954 on the Wethersfield layout.
On the 18th hole, Cantlay had a chance to eagle from 152 yards to match the all-time PGA record low score of 59, but his approach rolled past the cup by two feet.
"I knew I needed to make eagle on 18 for 59," Cantlay said. "It's tough to hole it from 152. I thought it had a chance. It was covering the flag pretty good. It takes some luck."
Cantlay says he does not play to leave college early for the pro ranks, but a victory would bring the winner $1.08 million.
If he should win, Cantlay would have 60 days from Sunday to decide whether or not to accept the tour berth and two-year qualifying exemption for a victory.
But no amateur has won a US PGA event since Phil Mickelson at the 1991 Northern Telecom Open.
In the clubhouse sharing second on 131 were Brazil's Alexandre Rocha and Americans D.J. Trahan, Vaughn Taylor and Webb Simpson.
Another stroke back were England's Brian Davis and Americans Brendan Steele, Blake Adams, David Mathis and Michael Thompson.
Among those yet to finish, Argentina's Andres Romero was the low man at nine-under, four back of Cantlay, with 13 holes to complete. He opened with back-to-back birdies and had another at the par-3 fifth just before play was stopped.