Please use the links below to jump to your desired story
Magnificent McIlroy Lights up US Open
McIlroy Reveals Nicklaus Backing
Master Charl Charges at US Open
Horrid US Open Start for World's top Trio
Splashdowns Abound at US Open's Terrible 10th
---
Magnificent McIlroy Lights up US Open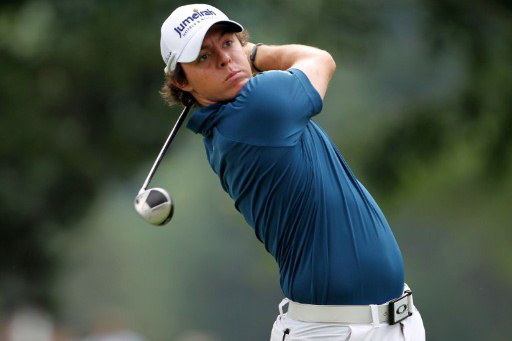 BETHESDA, June 16, 2011 (AFP) - Rory McIlroy put his Masters misery firmly behind him Thursday, firing a superb six-under 65 for a three-stroke lead in the first round of the 111st US Open at Congressional Country Club.
The previous round of major golf for the then 21-year-old Ulsterman had been a nightmare 80 after taking a four-stroke lead into the final round of the Masters in April.
McIlroy, now 22, took command of the leaderboard late in a day that saw South Korea's Yang Yong-Eun in front for much of the way with a 68, while some of golf's big guns misfired badly.
Level with Yang on three under was Masters champion Charl Schwartzel of South Africa who came in with a late charge.
Schwartzel's compatriot and British Open championn Louis Oosthuizen was a further stroke back alongside top American Ryan Palmer, back-to-form Spaniard Sergio Garcia, Alexander Rocha of Brazil, Scott Hend of Australia and Kim Kyung-Tae of South Korea.
It was a disappointing day, though, for the world top-three glamour grouping with Luke Donald and Martin Kaymer struggling to a 74 and Lee Westwood ending the day a stroke further back.
US fan favorite Phil Mickelson, meanwhile, once again was wayward off the tee, but battled back as best he could to stay in touch with a three-over 73.
McIlroy sunk six birdies for no bogeys and he transmitted a picture of youthful confidence in stark contrast to the "little boy lost" look he displayed down the back nine at Augusta.
By the end of a riveting opening day, the Boy Wonder from Belfast found himself in a similar position to the one he was in at the year's first major, when he was joint first round leader, two strokes clear of Korea's Yang.
"It was a good round of golf. I didn't really put a foot wrong," he said.
"It doesn't feel like a typical US Open, for some reason. The golf course is going to get harder and it's going to get firmer and it's going to get trickier, but I still feel that it's very playable and fair."
The sturdy Korean Yang stunned the golf world when he won the 2009 US PGA Championship title, becoming the first Asian man to win a major and edging Tiger Woods in the process.
On Thursday, he once more proved his major mettle by firing a round of five birdies and two bogeys.
"I think the course setup is a bit more to my advantage than the other previous US Opens," Yang said.
"And also I've been playing a lot more conservatively this week and practiced a lot, played less bonehead plays."
Oosthuizen, who won his first major by an amazing seven strokes last July at St Andrews, bogeyed the first two holes before finding his form with six birdies.
"I'm happy with my score," Oosthuizen said. "I made four bogeys, but on this golf course it's got a lot of bogeys out there.
Among a large group that finished the day on one-under 70 was defending champion Graeme McDowell.
The Ulsterman, whose win at Pebble Beach last year catapulted him into prominence in world golf, opened with a bogey, but he was at one under by the turn and parred his way down the back nine.
"I felt really, really good this morning. I felt normal," said McDowell, who has said the weight of being the US Open champion had been draining him over the last few months.
"It felt like a regular major championship. It didn't feel like I was defending anything."
Also on one under were Americans Stewart Cink, Chez Revie, Davis Love, Bubba Dickerson and Robert Garrigus alongside Swedes Henrik Stenson and Johan Edfors, John Senden of Australia and Spain's Alvaro Quiros.
The world's top three players, meanwhile, struggled to get to grips with the testing par-71 layout west of Washington, favoured by US presidents and lawmakers and hosting the US Open for the first time since 1997 when Ernie Els won.
World No.1 Donald, No.2 Westwood and No.3 Kaymer all opened solidly enough over the water at the devlish par-three 10th.
But, playing in the same grouping, they were all soon in trouble over the more difficult back nine, especially Englishman Donald, who dropped six strokes in six holes from the 13th.
Donald was down but not out.
"You go back to the positives I've had over the last four months," he said.
"I've played in enough US Opens and majors to know that if I shoot something in the red (under par) I'm putting myself back in position."
For the first time since he made his debut as an amateur in 1995, there was no Woods at a US Open, serious knee and tendon injuries sustained at the Masters having ruled him out. 
---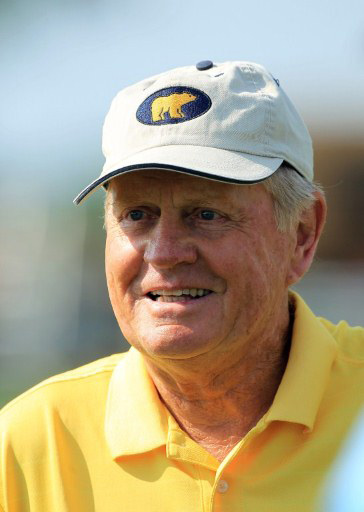 BETHESDA, June 17, 2011 (AFP) - Rory McIlroy has taken a leaf out of Charl Schwartzel's book in heeding the advice of Jack Nicklaus as he seeks his first win in a major.
The South African Schwartzel revealed at Augusta, where he won in April, that advice from the record 18-time major champion had been a key element leading up to his triumph.
And after a firing a scintillating six-under 65 to take a three-stroke lead in the first round of the US Open on Thursday, McIlroy said that he also had been helped by some words of wisdom from the "Golden Bear".
"He is all about the majors," said the 22-yar-old Ulsterman, who led by four strokes going into the last round at Augusta only to collapse with a nightmare 80 opening the way for Schwartzel to win.
"I did the clinic at the Memorial, and that was the first time I'd saw him after Augusta.
"We just had a laugh and a joke about it, and it was all good fun. You know, he said to me, 'I'm expecting big things from you.' It's a nice pressure to have knowing that the greatest player ever at the moment thinks that you're going to do pretty good.
"He has given me a little bit of advice. I've spent a bit of time with him over the past couple of years.
"He emphasized so much to me about not making mistakes. That was his big thing. He said people lost a lot more majors and gave them to him than he actually won. It was a good piece of advice to have."
It has been such bouts of inconsistency that have dogged the ultra-talented McIlroy to date in his young career when trying to close in on a win in the majors.
Last year at the British Open in St Andrews, he equalled the lowest score ever in a major with a 63, only to balloon to an 80 the following day when the wind got up. Then came the Masters drama in April.
That had been a tough blow to take, he agreed, but what was important was to understand what went wrong in order not to make the same mistakes the next time the pressure was on him.
"I think you definitely have to analyze the parts that you want to do better," he said.
"But I stopped thinking about it a week after. You really try and pick it apart and pick things out that you could have done better, but after you do that and you're happy with everything that you've sort of taken from it, then you've just got to move on."
McIlroy's sublime golf on Thursday ran in stark contrast to the struggles of American playing partners Phil Mickelson and Dustin Johnson who carded 74 and 75 respectively, both hitting a series of wild tee shots.
Asked if he had not been perturbed by their waywardness McIlroy replied: "No, I don't think it affects you at all.
"All you're trying to concentrate on is your own game. It's a major championship, and the toughest major championship of them all is the US Open, and you can't let any other thoughts get in your head.
"You're just trying to concentrate entirely on your game and trying to get that ball around the course in as few strokes as possible."
Now he will go out on Friday in the knowledge that there has not been a larger first round lead at the US Open since Scotsman Tommy Armour led by five strokes in 1933.
Armour eventually finished in a tie for fourth place.
---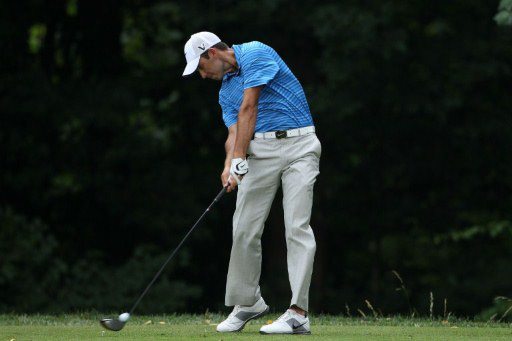 BETHESDA, June 16, 2011 (AFP) - Reigning Masters champion Charl Schwartzel, the only US Open golfer with a hope of completing a 2011 Grand Slam sweep, shot a three-under 68 Thursday to share second after the first round.
Eleven weeks after mastering Augusta National, becoming the first player to birdie the final four holes of the famed course on his way to winning a green jacket, Schwartzel served notice he has what it takes to contend this week too.
"It's nice to know that you've got one in the bucket," Schwartzel said. "No reason to stop there, see if we can get a few more."
Schwartzel said that having captured his first major title in April has given his confidence a boost, but began trying to tamp down talk of a Grand Slam before it could start.
"It's a long way to go. But it's nice to get yourself in contention," said Schwartzel. "It makes your work almost less."
Congressional Country Club has been fine-tuned by the US Golf Association into a punishing test of decision-making, shot-making and patience and being in front from the start is better than charging from behind as he did at Augusta.
"If you start falling too far behind on a tough golf course, things can get a little bit too far in front of you," Schwartzel said. "So you need to stay in there with a chance. Like I said, it's a long way to go."
But the 26-year-old from Johannesburg has already come so far since joining the European Tour eight years ago, having watched countrymen Retief Goosen, Trevor Immelman and Louis Oosthuizen win major titles.
Now comes a chance to capture another on the same course where idol Ernie Els won his second major at the 1997 US Open.
Schwartzel began with a bogey on the 10th hole, the tricky par-3 over water, but followed with 10 pars in a row before a birdie at the par-4 third. He then ran off three birdies in a row starting at the fifth.
That Masters-esque birdie binge was good enough to match South Korean Yang Yong-Eun on 68, three strokes off the pace of Northern Ireland's Rory McIlroy.
"I felt like I played really well. I was hitting the ball very good," said Schwartzel. "The back nine, my first nine, was pretty spectacular ballstriking. I probably hit my worst iron shot on three and I hit a bomb of a putt.
"All of a sudden things got going. I kept giving myself chances and stayed patient and got my little run."
---
Horrid US Open Start for World's top Tri
o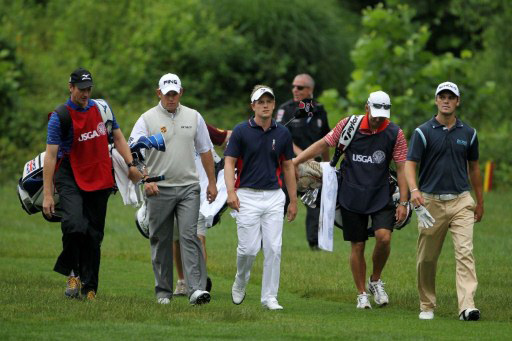 BETHESDA, June 16, 2011 (AFP) - Luke Donald, Lee Westwood and Martin Kaymer -- the top-ranked golfers in the world -- came out confident and walked away humbled in Thursday's first round of the US Open.
World No. 1 Donald of England and Germany's third-ranked Kaymer each fired three-over par 74s while World No. 2 Westwood of England finished on 75 after being paired together for the first 18 holes at Congressional Country Club.
"All three of us struggled out there a bit," Donald said. "There were no fireworks. We just didn't get on a run. At times you need one of the guys to get on a run to get everyone going and it just didn't happen today."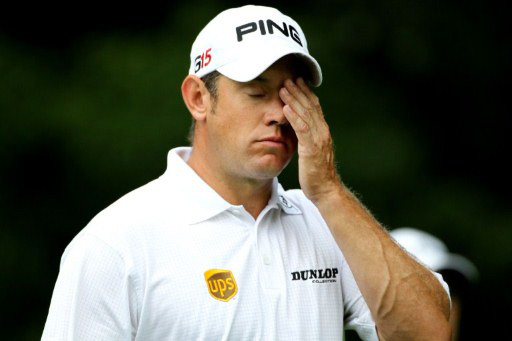 The stars, who began off the 10th tee in the morning, failed to live up to their billing in an event already lacking Tiger Woods, a 14-time major champion sidelined by injury and himself mired in a 20-month win drought.
"If we had played well, having the top three in the world would have been more enjoyable for people to watch, but none of us played well," Westwood said.
"I think we all just about got what we deserved."
The only three players who have topped the rankings since Woods was dethroned from the top spot last October struggled to find form despite rain that helped soften the usually rock-hard greens.
"All of us, we didn't have our best day," Kaymer said. "We were just trying to grind it out and not shoot ourselves out of the tournament. If you shoot around par it's always a good score. I shot three-over, which is not a bad score."
Donald, who hit only seven of 14 fairways and 11 of 18 greens in regulation, began with back-to-back birdies but began a run of four bogeys in five holes at the 13th and followed with a double bogey at the 18th.
"I didn't hit enough fairways. That kind of puts you behind the eight-ball a little bit," Donald said. "When I had those six- to eight-footers to save some pars, I wasn't making them. So it was a struggle."
Donald birdied the first hole to start his back nine and answered a bogey at the par-3 seventh with a birdie at eight to build some optimism for round two.
"Shooting three-over isn't great but it's not disastrous," Donald said. "I made a dream start. I hit two great 4-irons and I was up and running.
"Certainly at three-over I'm not out of it. It's only going to get tougher and if I can plug away and shoot some good scores coming in, I'm still right there."
Westwood took a bogey at the 11th but birdied the par-5 16th, then he answered a bogey at the 18th with a birdie at the second, only to bogey the third, fourth and sixth holes and drop another stroke on his last hole.
"It's not a very good score because I think the course was there for the taking," said Westwood, who also hit only half the fairways and made only seven greens in regulation.
"I just didn't play very well. I didn't hit enough good iron shots or enough fairways. My short game was pretty good. I just made too many mistakes."
Kaymer's birdie-bogey-bogey-birdie start was enough of a roller coaster, but he took bogeys at the par-4 17th, first and third holes before a birdie at the eighth, only to stumble in with another bogey at the par-5 ninth.
"Our back nine, the wind was quite tough to go for the flags," Kaymer said. "I'm struggling with the driver at the moment. My short game kept me alive. I was saving a lot of pars and making great birdie putts."
---
BETHESDA, June 17, 2011 (AFP) - Scores on Thursday after the first round of the US Open golf championship at the par-71 Congressional Country Club Blue Course (USA unless noted):
65 - Rory McIlroy (NIR) 33-32
68 - Yang Yong-Eun (KOR) 33-35, Charl Schwartzel (RSA) 32-36
69 - Louis Oosthuizen (RSA) 35-34, Ryan Palmer 34-35, Alexandre Rocha (BRA) 34-35, Scott Hend (AUS) 32-37, Kim Kyung-Tae (KOR) 35-34, Sergio Garcia (ESP) 34-35
70 - Chez Reavie 36-34, Stewart Cink 34-36, Graeme McDowell (NIR) 35-35, Henrik Stenson (SWE) 38-32, Johan Edfors (SWE) 34-36, Davis Love 35-35, Bubba Dickerson 37-33, John Senden (AUS) 35-35, Robert Garrigus 36-34, Alvaro Quiros (ESP) 35-35, Brandt Snedeker 34-36, Robert Rock (ENG) 36-34
71 - Heath Slocum 34-37, Angel Cabrera (ARG) 36-35, Padraig Harrington (IRL) 35-36, Jason Day (AUS) 36-35, Bubba Watson 35-36, Brandt Jobe 36-35, Bud Cauley 36-35, Zach Johnson 36-35, Aaron Baddeley (AUS) 35-36, Charley Hoffman 36-35, David May 37-34, Christopher Deforest 34-37
72 - Shane Lowry (IRL) 37-35, Harrison Frazar 36-36, Matt Kuchar 36-36, Peter Uihlein 36-36, J.J. Henry 36-36, Jeff Overton 34-38, Brad Benjamin 35-37, Christo Greyling (RSA) 35-37, Noh Seung-Yul (KOR) 36-36, Peter Hanson (SWE) 36-36, Rory Sabbatini (RSA) 40-32
73 - Marc Leishman (AUS) 36-37, Kevin Streelman 35-38, Brian Gay 37-36, Russell Henley 37-36, Paul Casey (ENG) 38-35, Ernie Els (RSA) 35-38, Bill Haas 36-37, Scott Piercy 34-39, Gary Woodland 40-33, Stephen Gallacher (SCO) 38-35, Retief Goosen (RSA) 35-38, Martin Laird (SCO) 36-37, Todd Hamilton 38-35, Ryan Moore 37-36, Robert Allenby (AUS) 36-37, Kenichi Kuboya (JPN) 35-38, Kim Do-Hoon (KOR) 37-36
74 - Justin Hicks 38-36, Kang Sung-Hoon (KOR) 33-41, Ryo Ishikawa (JPN) 37-37, Anthony Kim 38-36, Fredrik Jacobson (SWE) 35-39, Martin Kaymer (GER) 38-36, Luke Donald (ENG) 35-39, Jim Furyk 37-37, Adam Scott (AUS) 38-36, Justin Rose (ENG) 36-38, Sam Saunders 38-36, D.A. Points 38-36, John Ellis 37-37, Pan Cheng-Tsung (TPE) 38-36, Michael Putnam 37-37, David Toms 39-35, Phil Mickelson 37-37, Matteo Manassero (ITA) 37-37, Edoardo Molinari (ITA) 37-37, Rickie Fowler 35-39, Hunter Mahan 36-38, Chris Wilson 37-37
75 - Alex Cejka (GER) 37-38, Thomas Levet (FRA) 38-37, Fred Funk 38-37, Michael Campbell (NZL) 39-36, Lee Westwood (ENG) 39-36, Jonathan Byrd 39-36, Webb Simpson 36-39, Tim Petrovic 39-36, Matthew Edwards 37-38, Adam Hadwin (CAN) 38-37, Michael Tobiason 37-38, Scott Barr (AUS) 39-36, Patrick Cantlay 36-39, Jason Dufner 38-37, Steve Stricker 38-37, Dustin Johnson 36-39, Trevor Immelman (RSA) 38-37, Francesco Molinari (ITA) 35-40, Nick Watney 37-38, Geoff Ogilvy (AUS) 36-39, Ian Poulter (ENG) 36-39, Briny Baird 37-38, Alexander Noren (SWE) 39-36, Bae Sang-Moon (KOR) 35-40, Brian Locke 37-38, Wes Heffernan (CAN) 36-39, Ryan Nelson 37-38
76 - Chad Campbell 38-38, Marc Turnesa 36-40, Greg Chalmers (AUS) 39-37, Kirk Triplett 39-37, Nicolas Colsaerts (BEL) 39-37, Joey Lamielle 38-38, Adam Long 37-39, Michael Smith 39-37, Jesse Hutchins 37-39, Bo Van Pelt 38-38, Lucas Glover 39-37, Kevin Chappell 38-38, Jon Mills (CAN) 37-39, Bennett Blakeman 38-38, Beau Hossler 37-39, Chris Williams 38-38
77 - Brad Adamonis 39-38, Gregory Havret (FRA) 37-40, K.J. Choi (KOR) 38-39, Nick O'Hern (AUS) 36-41, Zack Byrd 41-36, Michael Whitehead 39-38, Geoffrey Sisk 39-38, Matt Richardson (ENG) 38-39, Ben Crane 39-38, Miguel Angel Jimenez (ESP) 39-38, Camilo Villegas (COL) 37-40, Brett Patterson 39-38, Elliot Gealy 38-39
78 - Robert Dinwiddie (ENG) 39-39, Mark Wilson 37-41, David Howell (ENG) 40-38, Andreas Harto (DEN) 38-40, Steven Irwin 38-40
79 - Kim Dae-Hyun (KOR) 40-39, Marcel Siem (GER) 40-39, Robert Karlsson (SWE) 42-37, Will Wilcox 39-40, Andres Gonzales 39-40, Maarten Lafeber (NED) 41-38, Hiroyuki Fujita (JPN) 42-37, Scott Pinckney 36-43
80 - Kevin Na 40-40
82 - David Chung 42-40
83 - Michael Barbosa 39-44
84 - Ty Tryon 40-44
---
Splashdowns Abound at US Open's Terrible 10th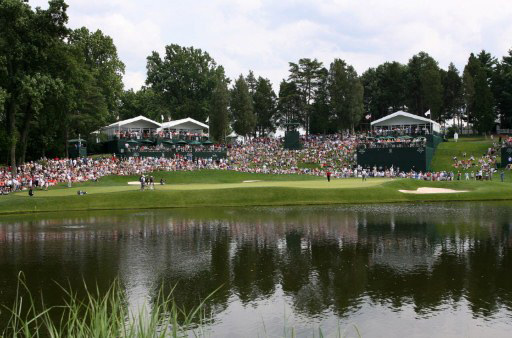 BETHESDA, June 17, 2011 (AFP) - Congressional Country Club's terrible 10th hole bared its teeth in Thursday's first round of the US Open as shots by such stars as Phil Mickelson and Ryo Ishikawa found a watery grave.
The 218-yard par-3, with a tee shot over a lake onto a slope-edged green area, was a tough enough way to start a major championship before a front left pin placement and occasional rain showers added to the adventure.
"I think 10 is maybe the only slightly unfair hole," said defending champion Graeme McDowell, who won last year at Pebble Beach.
"It's a tough number for me, especially today -- 5-iron was barely beating front edge. I had to sizzle a 5 there and 4 was kind of too much for me."
The Northern Irishman parred the last 12 holes, including the 10th, but others were not so fortunate. Seven players in the first eight groups found the water at 10 with their opening shots of the tournament.
"Incredibly difficult start," South African Ernie Els, the 1997 US Open winner at Congressional, had warned. "You have to be on right from the go."
The 10th played as the fifth-hardest hole on the course on day one, when the total stroke average for the field was above 74. The 10th saw a round-high 16 double bogeys, 28 bogeys and only 19 birdies.
South Korean Yang Yong-Eun, who won the 2009 PGA Championship to become the first Asian man to win a major, watched his playing partners, American Anthony Kim and Japanese teen star Ishikawa, splash their shots into the lake.
"I didn't really think about it as being intimidating until we went up on the tee. When they both dropped it in the water, that's when it really hit me that oh, this hole is really tough," Yang said.
"I was praying when I was hitting it that I would just get it on the green. It landed well on the green and I was fortunate enough to make a birdie."
Yang fired a three-under 68 to share second with reigning British Open champion Charl Schwartzel of South Africa, both three strokes off the pace set by Northern Ireland's Rory McIlroy.
Schwartzel began at the 10th tee and took a bogey. McIlroy started on the back nine but parred the 10th in a bogey-free round.
The feature pairing of World No. 1 Luke Donald, second-ranked English compatriot Lee Westwood and Germany's third-rated Martin Kaymer had the best success early.
Donald found the precious-little room between the water and cup and sank a five-foot birdie putt. Kaymer bounded his tee shot to six feet and birdied as well. Westwood was safely to the back of the green and two putted for par.
"It's certainly a challenging start," Donald said. "It's just a different kind of feel. It's something you just have to deal with."
"The 10th is a tough starting hole," Kaymer said. "It's a little awkward to start over water but it's a great par-3."
Even with an extra 10 feet of height and distance beyond the surface of the water needed to escape rolling down the hill to a wet fate, some players were ready to challenge the front pin.
Stewart Cink nearly aced his tee shot on the first bounce but settled for a birdie while Ireland's Padraig Harrington and Argentina's Angel Cabrera parred 10, making them the first trio to all avoid a splashdown with their first shot.
"I've been thinking about 10 for three days," Harrington said. "It didn't help that it was raining. "It is a tough start and I will be happy not to have to do it again."
---
US Open 2nd Round Pairings
BETHESDA, June 12, 2011 (AFP) - Groupings and tee times for the second round of the US Open golf championship on Friday, June 17, at the par-71 Congressional Country Club Blue Course (USA unless noted; a-denotes amateur):
2nd round
Friday, June 17
Hole 1
7am (11:00 GMT): Alexandre Rocha (BRA), Andres Gonzales, Bubba Dickerson
7:11: Michael Putnam, a-Patrick Cantlay, Robert Dinwiddie (ENG)
7:22: John Senden (AUS), Robert Garrigus, Scott Hend (AUS)
7:33: Jason Dufner, Stephen Gallacher (SCO), Noh Seung-yul (KOR)
7:44: Steve Stricker, Retief Goosen (RSA), David Toms
7:55: Rory McIlroy (NIR), Dustin Johnson, Phil Mickelson
8:06: Charl Schwartzel (RSA), Trevor Immelman (RSA), Zach Johnson
8:17: Nick Watney, Lucas Glover, Geoff Ogilvy (AUS)
8:28: Ryan Moore, Robert Allenby (AUS), Rory Sabbatini (RSA)
8:39: David Howell (ENG), Kenichi Kuboya (JPN), Briny Baird
8:50: Charley Hoffman, Alexander Noren (SWE), Bae Sang-moon (KOR)
9:01: a-Brett Patterson, Bennett Blakeman, Brian Locke
9:12: Chris Wilson, David May, a-Beau Hossler
12:40pm (16:40 GMT): Chad Campbell, Harrison Frazar, Marc Turnesa
12:51: Justin Hicks, Marcel Siem (GER), Kang Sung-hoon (KOR)
1:02: Thomas Levet (FRA) Brian Gay, Gregory Havret (FRA)
1:13: Heath Slocum, a-Russell Henley, Nicolas Colsaerts (BEL)
1:24: Padraig Harrington (IRL), Angel Cabrera (ARG), Stewart Cink
1:35: Ryo Ishikawa (JPN), Anthony Kim, Yang Yong-eun (KOR)
1:46: Luke Donald (ENG), Lee Westwood (ENG), Martin Kaymer (GER)
1:57: Jonathan Byrd, Bill Haas, Webb Simpson
2:08: Bubba Watson, Adam Scott (AUS), Robert Karlsson (SWE)
2:19: Sam Saunders, Tim Petrovic, Scott Piercy
2:30: Matthew Edwards, a-Brad Benjamin, Zack Byrd
2:41: Bud Cauley, Adam Long, a-Michael Barbosa
2:52: Michael Whitehead, Will Wilcox, John Ellis
Hole 10
7:am (11:00 GMT): Ty Tryon, Maarten Lafeber (NED), Scott Barr (AUS)
7:11: Geoffrey Sisk, a-Pan Cheng-Tsung (TPE), Matt Richardson (ENG)
7:22: Bo Van Pelt, Kim Kyung-Tae (KOR), Ben Crane
7:33: Mark Wilson, Martin Laird (SCO), Peter Hanson (SWE)
7:44: Miguel Angel Jimenez (ESP), Sergio Garcia (ESP), Alvaro Quiros (ESP)
7:55: Francesco Molinari (ITA), Matteo Manassero (ITA), Edoardo Molinari (ITA)
8:06: Hiroyuki Fujita (JPN), Todd Hamilton, Kevin Na
8:17: Rickie Fowler, Ian Poulter (ENG), Hunter Mahan
8:28: Camilo Villegas (COL), Aaron Baddeley (AUS), Brandt Snedeker
8:39: Kevin Chappell, Kim Dohoon (KOR), Robert Rock (ENG)
8:50: Jon Mills (CAN), Andreas Harto (DEN), a-Scott Pinckney
9:01: a-Steven Irwin, Ryan Nelson, Elliot Gealy
9:12: Christopher Deforest, a-Chris Williams, Wes Heffernan (CAN)
12:40pm (16:40 GMT): Kim Dae-hyun (KOR), Chez Reavie, Shane Lowry (IRL)
12:51: Greg Chalmers (AUS), Kirk Triplett, TBD
1:02: Marc Leishman (AUS), Alex Cejka (GER), Kevin Streelman
1:13: Fred Funk, a-David Chung, Michael Campbell (NZL)
1:24: Matt Kuchar, Paul Casey (ENG), K.J. Choi (KOR)
1:35: Graeme McDowell (NIR), a-Peter Uihlein, Louis Oosthuizen (RSA)
1:46: Henrik Stenson (SWE), Johan Edfors (SWE), Fredrik Jacobson (SWE)
1:57: Ernie Els (RSA), Davis Love, Jim Furyk
2:08: Justin Rose (ENG), J.J. Henry, Jason Day (AUS)
2:19: Jeff Overton, Ryan Palmer, TBD
2:30: Brandt Jobe, Nick O'Hern (AUS), D.A. Points
2:41: Christo Greyling (RSA), Adam Hadwin (CAN), Joey Lamielle
2:52: Michael Tobiason, Jesse Hutchins, Michael Smith