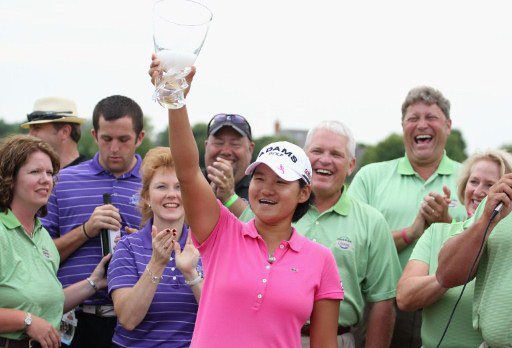 SPRINGFIELD, June 13, 2011 (AFP) - Taiwan's top-ranked Yani Tseng won the LPGA State Farm Classic on Sunday, firing a four-under par 68 for a three-shot victory over American Cristie Kerr.
Tseng finished with a 21-under total of 267 on the Panther Creek Course, which may have hosted the last Springfield LPGA event with the State Farm insurance company's sponsorship now ending.
Tseng nabbed her seventh LPGA tour title in four years, and her second of 2011 after her triumph in the season-opening LPGA Thailand.
Kerr was the defending champion, but settled for her third straight runner-up finish this season.
Kerr closed with a 67 for 270, two shots in front of Paula Creamer (67) and Brittany Lincicome (70).
Mindy Kim, who relinquished the lead to Tseng in the third round after leading the first two rounds, carded a 73 for 273, where she was joined by South Korean veteran Se Ri Pak (68).
With the victory, Tseng laid the ghost of her 2008 playoff loss in this tournament. She had led by a stroke with one hole left in regulation but flew the green en route to a bogey.
She then three-putted the first extra hole in a loss to South Korea's Ji Young Oh.
"I walked to 18 and I have a little nightmare in my mind saying I make bogey at the last hole," Tseng said. "But standing on the tee I told myself, 'OK, let's hit fairway, green, and make two putts. I Just kept telling myself, 'I can do this.'"
And she could. There were no mistakes this time around, as Tseng played the last two rounds without a bogey.
"I missed a couple of putts but I still was able to make some birdies," she said.
Tseng had given herself some breathing room with a birdie at the par-three 17th.
"That was huge," she said. "I tried not to look at the leaderboard on 16. On 17, I know that's a tough hole so I just hit it. I was perfect -- tap-in for birdie."
The crowd reaction was so loud that Tseng asked her caddie if the shot went in.
"I was asking, 'Is that in the hole?' Because I never made a hole-in-one since I turned pro, so I was really excited about that one."
Kerr opened her round with back-to-back birdies and finished with five birdies and no bogeys.
"I played good. I just needed to get some of those putts to the hole, give them a chance to go in," Kerr said. "It would have been nice to make birdie on the last hole, but it didn't matter. She was too far ahead."
Leading final-round scores on Sunday from the LPGA State Farm Classic (USA unless noted):
267 - Yani Tseng (TPE) 67-66-66-68
270 - Cristie Kerr 70-67-66-67
272 - Paula Creamer 68-68-69-67, Brittany Lincicome 67-69-66-70
273 - Se Ri Pak (KOR) 69-68-68-68, Mindy Kim 64-67-69-73
274 - Wendy Ward 68-69-67-70
275 - Jiyai Shin (KOR) 66-68-73-68, Angela Stanford 73-67-66-69, Juli Inkster 67-70-67-71, Feng Shanshan (CHN) 68-65-69-73
276 - Kyeong Bae (KOR) 69-69-71-67, Michelle Wie 72-67-68-69, Suzann Pettersen (NOR) 70-67-69-70
277 - Natalie Gulbis 72-69-68-68, I.K. Kim (KOR) 70-70-69-68, Brittany Lang 68-70-70-69, Morgan Pressel 68-69-71-69
278 - Vicky Hurst 70-72-70-66, Gerina Piller 69-69-70-70, Catriona Matthew (GBR) 68-69-71-70, Pornanong Phatlum (THA) 72-69-66-71
279 - Amy Yang (KOR) 72-68-69-70, Na Yeon Choi 70-72-66-71, Mika Miyazato (JPN) 71-68-68-72, Stacy Lewis 70-72-64-73, Sophie Gustafson (SWE) 69-70-66-74 280 - Nicole Hage 71-68-72-69, Sun Young Yoo (KOR) 72-70-68-70, Karen Stupples (GBR) 69-68-73-70, Jennifer Johnson 69-67-74-70, Eun-Hee Ji (KOR) 69-73-67-71, Mina Harigae 70-71-68-71, Meena Lee (KOR) 69-71-67-73