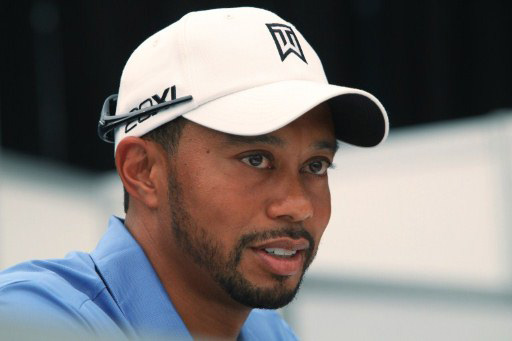 NEWTOWN SQUARE, June 28, 2011 (AFP) - Injured 14-time major champion Tiger Woods said Tuesday he remains uncertain if he will play at the British Open in two weeks and has no timetable for his recovery.
Woods, chasing the all-time record 18 majors won by Jack Nicklaus, will not play at the $6.2 million US PGA National that opens Thursday at Aronimink Golf Club, an event that benefits his foundation's youth charity programs.
Woods, who has not won since November 2009, injured his left knee and Achilles tendon in the third round of the Masters last April, played only nine holes at last month's Players Championship and has only hit golf balls with a putter since then.
"Obviously I'm disappointed I'm not playing," Woods said. "I want to be out there playing but it's not quite ready yet. It's progressing."
Woods said he has learned a lesson from trying to return at the Players, what he termed a "borderline call", and said he would be playing now had he not aggravated his injuries at the Players.
"I'm setting no timetable, which is very different for me," Woods said. "I'm going to learn my lesson from what I did at the Players and apply it this time. I will come back when I'm 100 percent. I dont know when that will be."
But Woods said he does know that he still has what it takes to break Nicklaus' record, saying the mark of 18 that Nicklaus set by winning the 1986 Masters aged 46 does not seem farther away because of age and injuries.
"He won when he was 46, right? I've still got some time," Woods said. "We're at about the same pace. I feel pretty confident in what my future holds and very excited about that, about coming out here and being ready to go."
Whether or not that will be in time to play in the British Open at Royal St. George's starting July 14 remains uncertain.
"I'm playing it by ear right now," Woods said. "That's hard for me. I've been very goal oriented about what my recovery schedule should be. I pushed it too hard and I hurt myself. I dont want to do that again. I'm being smarter this time."
Woods praised the US Open victory of Northern Ireland's Rory McIlroy, saying he was frustrated to be unable to play two weeks ago but has plenty to time to show that he can compete with McIlroy, 22, and his new generation of stars.
"I'm 35. I'm not 65. I've still got some years ahead of me," Woods said. "(Tom) Watson was 59 years old and he almost won (the 2009 British Open). Given we have the health to do it, we can play for a very long time.
"I still feel like my best years are ahead of me."
McIlroy bounced back at the US Open after squandering a last-day lead to lose the Masters, impressing Woods.
"It's fun to see someone of that age play the way he did and handle it the way he did after Augusta," Woods said. "It's fun to see someone apply what they have learned and succeed while doing it."
Woods, sporting a moustache and beard, said he has consistently progressed during his recovery, suffering no setbacks, but has yet to reach the strength levels he desires.
"We're trying to push it every day, challenge my leg every day and see how it responds. If it responds we try to progress, if not we stay there or take a step back," he said.
"I've been through this four times now. It's just wear and tear over time. Each day it has gotten better. We havent had any setbacks, which is good, but it's still not explosive or gotten it's strength back."
Woods has played with pain before, notably in his most recent major victory, the 2008 US Open at Torrey Pines when he limped to a playoff triumph over US compatriot Rocco Mediate.
"All the years of playing when my knee wasn't very good, I broke my leg and still played, that wasn't very smart," Woods said. "I'm going to play it different this time."