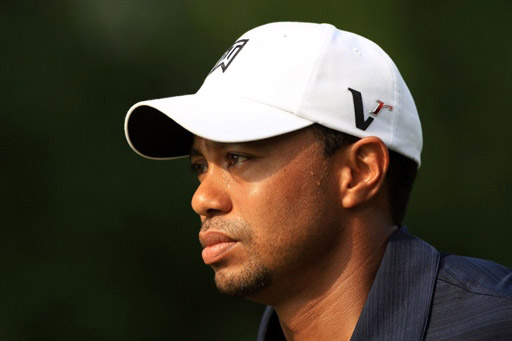 NEWTOWN SQUARE, May 24, 2011 (AFP) - Tiger Woods was taking no chances Tuesday, using crutches and a protective boog on his left leg in a promotional appearance but said he expects to play the US Open.
Woods said he doubted he would play the Memorial next week in Dublin, Ohio, a tournament hosted by Jack Nicklaus and used by many of the game's elite as a tune-up for the US Open.
But he said he expects to be "ready to go" for the second major of the season when Congressional hosts the US Open June 16-19.
"As far as being ready for Congressional, I'm trying to do everything I can," Woods said at Aronimink Golf Club, where he was promoting the upcoming AT&T National tournament.
"All my docs have said it should be ready to go by then, should be good to go."
Woods said he has pain in his left knee, left Achilles tendon, tightening in his calf and a sore lower back. He hopes proper treatment and rehabilitation can solve the problems and that doctors haven't mentioned leg surgery.
"I've had four surgeries on it," Woods said of his left leg. "Obviously, it's not what it was when I was little.
"I'm sure down the road it may be more difficult, but hopefully I'll be in a cart by then on the Senior Tour.
"But between now and then, I should be pretty good."
Woods said he'll start training by the end of next week and when he begins to hit balls will depend on how his leg responds.
That schedule virtually rules out the Memorial, which means Woods would have little competition under his belt when arrives at the US Open.
He has shown before that he can contend -- and win -- under those circumstances.
In 2008, he had arthroscopic surgery on his left knee after the Masters and didn't play again until the US Open.
Doctors discovered a double stress fracture in his left tibia prior to the major but Woods played anyway and won at Torrey Pines in a 19-hole playoff.
He says his left leg is nowhere near that bad now.
"I'm a lot better off," Woods said. "I feel that in the next week or so, I can start getting back toward that and start practicing pain free. That's where I'm at."
However, his game appears to be nowhere near as good as it was in 2008.
In the 11 tournaments Woods played before that US Open, he won eight times, was runner-up twice and didn't finish out of the top five.
Now Woods is in the midst of a victory drought stretching back to the 2009 Australian Masters, a victory quickly followed by a downward spiral into scandal and divorce.
Since limping out of The Players Championship after only nine holes earlier this month he has fallen out of the top 10 in the world rankings for the first time in 14 years.
In the rankings released Monday, Woods fell from eighth to 12th, the first time he has been outside the world top 10 since the week before his stunning win in the 1997 Masters.
"I haven't played. It's one of the reasons I've fallen I've far as I have," Woods said. "When I did play, I haven't played well. Winning takes care of all of that."
Woods has said his latest injuries were suffered in the third round of last month's Masters.
He said Tuesday that he came back too soon for The Players Championship, so he'll be extra careful heading into the US Open, where he'll have another chance to add to his 14 major titles and pick up his stalled pursuit of Nicklaus' record of 18.
"Certainly it's one of the things that drives me in this game," Woods said. "That 18 is our benchmark in our sport. No one's played the major championships better than Jack has. I think I have had a pretty good run of 14 in 15 years.
"I mean, it took Jack over what, 24 years, 23 years to do what he did. It takes time. I still have plenty of time."
Prior to his press conference, Woods posted on Twitter that he would donate $1 million to his charitable foundation if no reporters asked him about his leg.
After his dramatic departure from The Players there was no chance of that, and indeed his health was the topic of the first question he faced.
Woods later tweeted on the microblogging website that he would donate the money anyway.