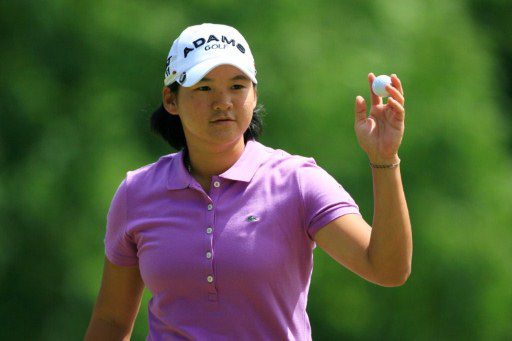 PITTSFORD, June 24, 2011 (AFP) - Taiwan's Tseng Yani fired a six-under 66 to seize a one-shot lead Thursday in the first round of the LPGA Championship.
American Paula Creamer is second just one shot back after shooting a five under 67 in a round that was halted early because of darkness.
"I tried to put it on the fairways as much as I could," said Tseng. "When you put it on the fairways, you have more chance to make birdies. The second shot I hit it very good."
Tseng finished second to American Stacy Lewis at the Kraft Nabisco Championship in March, the first major of the year.
South Korea's Meena Lee and Angela Stanford were part of a group of four at four under.
Finland's Minea Blomqvist, Taiwan's Amy Hung, American Morgan Pressel and Park Hee-young of South Korea all shot 69.
Defending champion Cristie Kerr, of the US, shot an even-par 72.
Play was delayed earlier in the day for over two hours with 58 players on the course due to a severe thunderstorm.
The players returned later but six players will have to finish their rounds early Friday.
Tseng made five birdies on the front nine and three more on the back to go with a pair of bogeys. She recovered from a bad tee shot at the par-four 18th hole that landed in the rough. She blasted her second shot to four feet, and rolled in a birdie putt for the lead.
"It's hard to put it on (the) fairway. The course is really narrow," Tseng said.
Tseng won the LPGA State Farm Classic on June 12 for her second victory of the year.
Creamer withdrew from this tournament two years ago with an injury to her left thumb. Last year, she finished tied for 42nd.
But she was excited after solid first round that equalled her best score at Locust Hill.
"Normally, I shoot myself in the foot after the first day with putting pressure on myself and wanting to do so well," said Creamer.
"I gave myself a lot of opportunities. I made a lot of good putts. I kind of was kicking myself after 17. I had a good birdie chance there, just two putts. But I finished strong, and I feel good about where I'm sitting."
A year ago, Kerr dominated the field, winning by 12 shots and finishing at 19-under 269 to win her second major.
Battling through a bout of flu, she struggled Thursday despite starting her round with two straight birdies.
Leading first-round scores on Thursday from the LPGA Championship (KOR unless noted):
66 - Tseng Yani (TPE)
67 - Paula Creamer (USA)
68 - Diana D'Alessio (USA), Stacy Prammanasudh (USA), Angela Stanford (USA), Meena Lee (KOR)
69 - Jennifer Johnson (USA), Minea Blomqvist (FIN), Stacy Lewis (USA), Amy Hung (TPE), Morgan Pressel (USA), Park Hee-young, Ryan O'Toole (USA)
70 - Cindy Lacrosse (USA), Pat Hurst (USA), Katherine Hull (AUS), Mindy Kim (USA), Amy Yang, Ji Eun-Hee, MJ Hur, Azahara Munoz (ESP)
71 - Tiffany Joh (USA), Natalie Gulbis (USA), Hurst Vicky (USA), Seo Hee-kyung, Hjorth Maria (SWE), Phatlum Pornanong (THA), Han Hee-won, Kung Candie (TPE), Kang Jimin, Recari Beatriz (ESP)