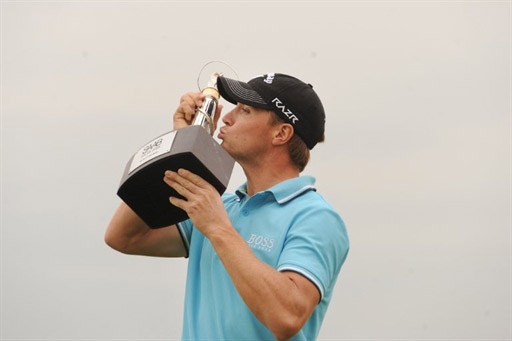 NEWPORT, June 5, 2011 (AFP) - Sweden's Alex Noren won the European Tour Wales Open by two strokes at Celtic Manor here on Sunday.
The 28-year-old from Stockholm, whose only previous victory was the 2009 European Masters, shot a final round of 70 for a nine-under-par aggregate total of 275.
Anders Hansen and France's Gregory Bourdy were the joint runners-up.
A bogey five on the 15th reduced Noren's lead to two shots but he parred the last three holes to complete a great week for the Swede that started with him qualifying for the US Open -- his first major championship in America.
But he now has 36 holes of qualifying for the British Open at Sunningdale, south-west of London, awaiting him on Monday.
"It will be weird, but I will look forward to it," said Noren after pocketing a winner's cheque worth £300,000.
"My driving has been the best it's ever been. I never really believed I could do well on tough courses, but now we play them all the time.
"I've proved to myself I can hit a lot of greens and not just rely on my short game."
Now he will hope to follow the example of Graeme McDowell whose win at Celtic Manor last year preceded victory in the US Open.
The Ulsterman's hopes of a successful Wales Open defence ended with a round of 81 on Saturday.
Meanwhile Sunday saw Scotland's Elliot Saltman complete a second hole-in-one at the same hole in a tournament.
The 29-year-old, banned for three months in a ball-marking row, aced the 211-yard 17th just as he had done in Thursday's opening round at the course where Europe won the Ryder Cup last year.
This was the first time this had happened in a European Tour event since Ireland's Eamonn Darcy achieved a similar feat at the 1991 Mediterranean Open.
"I'm just overwhelmed with it - amazing," said Saltman, after his fifth event since returning from suspension.
"I hit a great seven-iron, it bounced once and in she pops. I'm so excited."
"That 17th hole I've only ever seen in the Ryder Cup. Seventeen is my lucky number now - my last hole-in-one was on the 17th at Craigielaw (his home club in Scotland)."
Scores after the fourth round at the Wales Open at Celtic Manor here on Sunday (GBR and IRL unless stated, par 71):
275 - Alexander Noren (SWE) 67 67 71 70
277 - Anders Hansen (DEN) 70 70 66 71, Gregory Bourdy (FRA) 67 73 70 67
278 - Peter Hanson (SWE) 65 72 69 72, Ricardo Gonzalez (ARG) 71 67 73 67, Johan Edfors (SWE) 68 71 70 69, Pablo Larrazabal (ESP) 70 70 71 67
280 - Joel Sjoholm (SWE) 72 69 71 68, Magnus A Carlsson (SWE) 71 70 69 70, Peter Whiteford 70 70 73 67, Jamie Donaldson 68 68 71 73
281 - Phillip Price 70 72 68 71, Richard McEvoy 69 70 72 70, Elliot Saltman 73 70 69 69
282 - Steve Webster 66 72 70 74, Romain Wattel (FRA) 68 73 70 71, Fabrizio Zanotti (PAR) 69 71 74 68
283 - Christian Cevaer (FRA) 69 72 70 72, Graeme Storm 68 72 71 72
285 - Robert Coles 70 71 73 71, Danny Lee (NZL) 70 71 74 70, Simon Dyson 72 70 74 69, Felipe Aguilar (CHI) 68 73 73 71, Richard Finch 69 75 67 74, Keith Horne (Rsa) 64 73 76 72, Wade Ormsby (Aus) 70 74 70 71, Barry Lane 68 69 77 71
286 - Damien McGrane 67 73 73 73, Greig Hutcheon 72 72 68 74
287 - David Drysdale 71 71 75 70, Mark Tullo (CHI) 69 71 73 74, Graeme McDowell 67 68 81 71, Marcel Siem (GER) 69 73 75 70
288 - Jaco Van Zyl (RSA) 72 69 77 70, Victor Dubuisson (FRA) 67 69 72 80, Oscar Floren (SWE) 69 73 69 77
289 - David Dixon 73 70 74 72, Rafael Echenique (ARG) 70 73 76 70, Peter O'Malley (AUS) 71 70 76 72, Simon Khan 68 75 75 71
290 - Jean-Baptiste Gonnet (FRA) 73 69 75 73, Soren Kjeldsen (DEN) 72 71 78 69, Rafael Cabrera Bello (ESP) 72 72 72 74, Mark Brown (NZL) 70 74 73 73
291 - Richard Bland 69 75 71 76, Michael Jonzon (SWE) 70 74 72 75, Mark Foster 69 74 75 73
292 - Hennie Otto (RSA) 72 72 75 73, Paul Broadhurst 66 72 84 70
293 - Daniel Gaunt (AUS) 68 75 75 75, Thorbjorn Olesen (DEN) 71 72 73 77, Scott Strange (AUS) 69 75 75 74, Jose Manuel Lara (ESP) 71 73 74 75
294 - Michael Hoey 71 71 75 77, Jason Knutzon (USA) 74 65 84 71
295 - Mikko Ilonen (FIN) 69 74 78 74, Stuart Manley 67 71 81 76
296 - Rhys Davies 72 71 74 79
297 - Anthony Kang (USA) 69 73 76 79, Lorenzo Gagli (ITA) 72 71 76 78
300 - Kenneth Ferrie 72 72 77 79
301 - Andrew Dodt (AUS) 70 74 79 78
302 - Darren Clarke 68 74 80 80
305 - Thomas Levet (FRA) 72 72 81 80