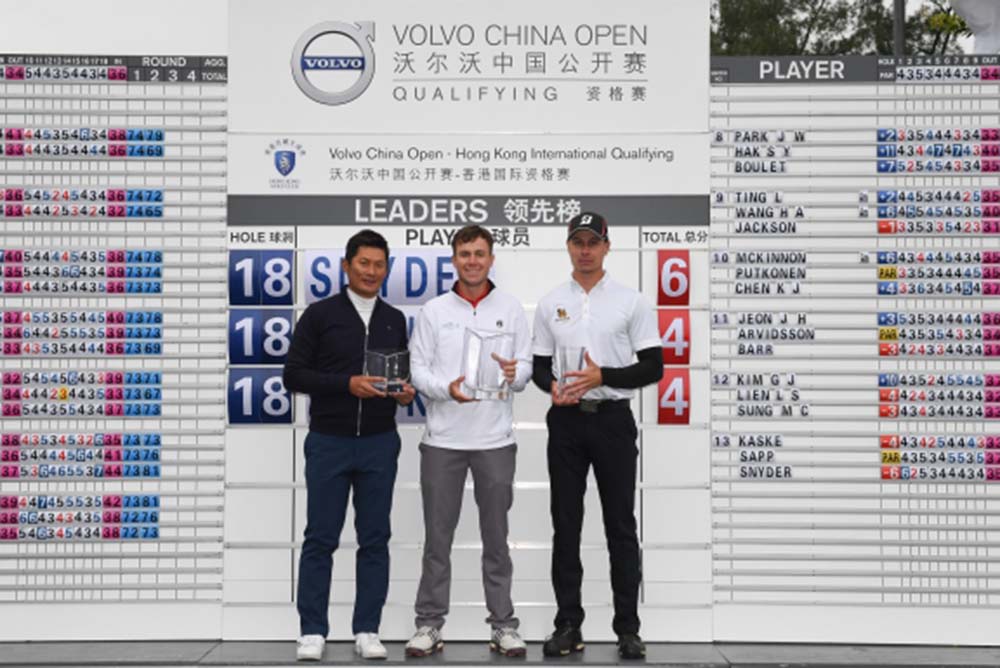 HONG KONG, 24 FEB 2017, (HK Golfer News Wire) - The 24-year-old American saw his single shot overnight advantage wiped out on the first hole when he hooked his drive out-of-bounds to start his round with a double bogey six.

A birdie on the par-three second hole on the New Course at the Hong Kong Golf Club restored some of the confidence Snyder enjoyed after his bogey-free opening round of 65, and he did not drop another shot for the rest of the day to post a one under par round of 69 for a total score of 134 and a two-stroke victory.
"I battled the conditions nicely today despite hitting my first shot out-of-bounds," said Snyder, who hails from Seattle but who lives in Bangkok.
"I managed to stay patient today and I made a lot of up and downs coming in. I birdied the par four 16th, which gave me some breathing space going down the final two holes. That was an important birdie at that stage of the round.
"I think that given the cold and windy conditions today, one under par was a very good score."
Janne Kaske and Lien Lu-sen also posted rounds of 69 and both will now join Snyder in Beijing in April for the Volvo China Open, as they claimed the remaining two qualifying spots.
"My hands were freezing as it was so cold today, and it was very difficult to play," said 30-year-old Kaske, who was born in Finland but who is also based in Bangkok.
"I made four birdies in my round of 69 today but perhaps the best one was on the par-five 10th hole when I hit a really good drive and a five-iron into the green. At that point I was confident I was going to make it through."
Lien held the outright lead for much of the day and was bogey-free and standing at three under par for the round until he misjudged the distance on the par-three 17th and made a double bogey five.
"I was too anxious as I was trying to win the tournament," said Lien, 42. "It was a crazy mistake to make at that stage of the round, especially as I had been playing really well up to that point."
Lien missed out on qualification last year at Palm Island as he was beaten in a play-off for the third qualifying spot, so he still left the golf course today with a trophy in his bag and a smile on his face.
Lawrence Ting, from Chinese Taipei, took the prize as the low amateur player, but was disappointed with this having won the event two years ago at Palm Island Golf Club in Guangdong province.
Ting posted identical rounds of one over par 71 to finish in joint 12th place.
Tim Tang ended the event as the leading Hong Kong player after posting a three under par 67 to finish in joint eighth place.