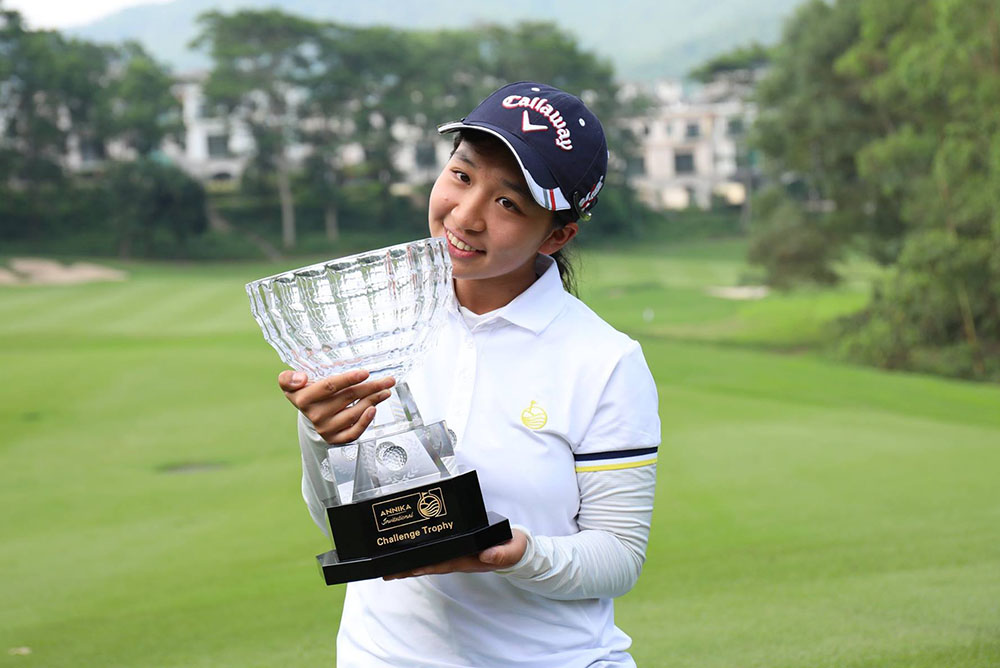 SHENZHEN, 28 April 2017, (HK Golfer News Wire) - The 14-year-old from China immediately thanked ten-time Major Champion Annika Sorenstam for inspiring her to her first international win.

"I'm so excited to win my first big event and I want to thank Annika for her talk last night," said Beijing-resident Shi.  "She told me to remain positive no matter what and just go out and enjoy myself – so that's what I did!"
Shi fired a final-round 70 having led after day one with a three-under 69 – which included a hole in one – but then struggled with a 73 in the second round.  She managed to hold her nerve over a par putt on the 54th and final hole and finish on four under par, one ahead of her playing partner An Ho-Yu from Chinese Taipei.
China's Wang Jia-Yi finished in third place having led going into the final day but struggled to a 73 on the par-72 Annika Course at Mission Hills in Shenzhen.
Shi and An are now one step closer to a dream opportunity of playing on the LPGA Tour following the announcement that this year's top two amateurs will play the official qualifier for the New Zealand Women's Open in Auckland.  The duo will also be invited to the Annika Invitational in the US, together with third-placed Wang.
In another first for this year's Annika Invitational at Mission Hills, a team event was introduced over the first two days to celebrate Sorenstam's appointment as captain of the European Solheim Cup team.  Wang and her teammate Lv Tian secured the inaugural team prize for China, narrowly beating the Chinese Taipei pair of An and Chang Hsin Chiao on countback.
"It warms my heart to see so many young girls playing good golf but also making new friends and having fun," said Sorenstam, the most successful female golfer of all time.  "Thanks to all of you here today – and our hosts at Mission Hills – the future of Chinese golf is in good hands and I'm proud to be a part of it."
Launched in 2011, this year's Annika Invitational at Mission Hills featured the strongest field yet.  The 70-strong field of all girls aged nine to 17 featured seven of the top-10 ranked juniors from China, the top four girls from India, plus another seven leading females from Chinese Taipei and three from Hong Kong.  
Leading final scores: 212 – Shi Hui Ying (CHN) 69 73 70; 213 – An Ho-Yu (TPE) 73 69 71; 214 – Wang Jia-Yi (CHN) 72 69 73; 220 – Deng Jing-Fan (CHN) 78 71 71; 223 – Lv Tian (CHN) 77 72 74, Chang Hsin Chiao (TPE) 73 75 75.