Scott Leads Open by Four As Woods Fades
The British Open – Day 3 News
---
Scott Leads Open by Four As Woods Fades
McDowell Back in The Last Pair at Open
Masters Misery to Help Scott at Open
Tiger Reunion with Ex-Caddie Spoiled at Open
US Bid for Major Sweep Goes Beyond Tiger
Open Hole-In-One Sweet for India's Lahiri
Neck Injury Sends Thongchai Tumbling at Open
Pagunsan Makes Most of Major Debut
---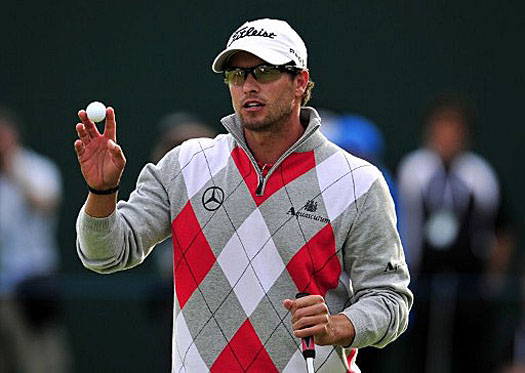 LYTHAM, July 21, 2012 (AFP) - Adam Scott shot a two-under par 68 in the third round of the British Open at Royal Lytham on Saturday for a four-stroke lead and a golden opportunity to win a long-overdue first major title.
The 32-year-old Australian firstly overhauled faltering third-round leader and playing partner Brandt Snedeker to move ahead, and then he resisted a charge by a fired-up Tiger Woods.
When the dust had settled, Scott had a handy cushion out in front at 11-under par 199, four strokes clear of Ulsterman Graeme McDowell, who finished strongly for a 67, and Snedeker, who had a 73.
Woods was alone a further stroke back at six under after a 70.
Tied on five under and still in with a chance were 2002 champion Ernie Els from South Africa, who signed for a 68, and 2007 Masters champion Zach Johnson of the United States with a day's best 66.
A win for Scott on Sunday would make him the first Australian to win The Open since Greg Norman did so at Royal St George's in 1993 and it would finally remove any lingering doubts over his big occasion temperament.
For the moment though, he said that he had no intention of getting ahead of himself.
"A four shot lead doesn't seem to be very much this year on any golf tournament that I've watched," he said. "That doesn't mean a lot.
"The good part is if I play a solid round of golf tomorrow, it will be very hard for the others to beat me, and that's all I'm thinking about."
Widely regarded as one of the best current players yet to win a major, Scott started the day one shot behind Snedeker after firing rounds of 64 and 67 and while he parred the first six holes with his "stress-free" golf, Snedeker finally proved fallible with his putter.
After 40 bogey-less holes, the American missed a five-footer at the fifth and then had to hit out sideways from a deep pot-bunker at the next, the first trap he had found in the tournament.
The net result of that was that Scott had sole possession of the lead and when he birdied the seventh and eighth and Snedeker bogeyed eight and nine, the Australian suddenly was four strokes clear of the field.
Playing in the group ahead of them, Woods, seeking a 14th major title four years after his memorable win in the US Open at Torrey Pines, was intent on closing the gap on the leaders to give himself a fighting chance on Sunday.
He got off to a miserable start by missing makeable par putts at the first and third, but a monster putt at the sixth and further birdies at the seventh and ninth saw him reach the turn in 33 level with Snedeker at seven under.
He parred his way down the back nine until a bogey at the 15th set him back and dashed the prospect of him joining Scott and Woods' former caddie, Stevie Williams, in Sunday's final pairing.
Woods said that considering the way his round had started, a score of par-70 was a reasonable outcome.
"I turned it around. I got off to an awful start and battled back and got myself right back in the mix again going into tomorrow, and I'm right there.
"I'm five back. So Adam is in a great spot right now, he's got a four shot lead and he's playing really well. He's going for his first major title. So he's in a very good spot."
McDowell, who tied for second at last month's US Open in San Francisco behind Webb Simpson, had an up-and-down round but he had three birdies down the back nine to skip up the leaderboard.
Much would depend he said on what the weather did and whether the gusting winds that were being forcast materialised.
"Conditions like today, perhaps four shots is insurmountable, because I guess in a way it will be in Adam's hands tomorrow if the conditions are as straightforward as they have been the last few days," he said.
"Throw a bit of wind across this course like perhaps they are forecasting, he will have to go and work a lot harder and he will have to go win it. He's going to have to go win it anyway, for sure."
Rory McIlroy, Lee Westwood and Luke Donald were among the big names to finish their third rounds early and all failed to produce the kind of low scoring that could have put them back in the mix.
World No. 3 Westwood fired a one-over par 71 to stand on four-over 214, No. 2 and 2011 US Open champion McIlroy had a 73 to stand at five over and World No. 1 Donald had a 71 to fall back to one under.
The struggles of Westwood and Donald mean that the once-high hopes that an Englishman would win the Open on home soil for the first time in 43 years have vanished.
In contrast, Royal Lytham is once again proving to be a happy-hunting ground for US golfers with 10 grouped in the first 17.
Whether any of them can reel in Scott on Sunday to make it three wins in a row for Americans here after Tom Lehman in 1996 and David Duval in 2001 remains to be seen.
---
LYTHAM, England, July 21, 2012 (AFP) - Graeme McDowell is in the last group on the final day of a major golf championship for the second month in a row and this time, it's the one he has dreamed of winning since he was a child.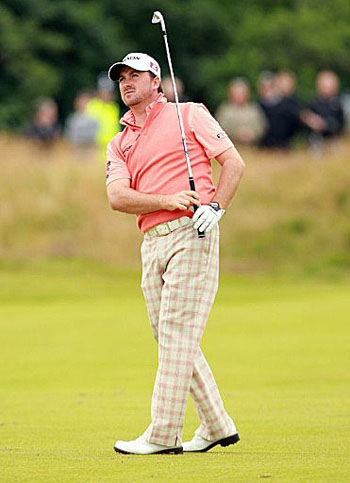 The 32-year-old Northern Irishman, who settled for a share of second at last month's US Open after winning the event in 2010, will join leader Adam Scott of Australia in the last duo Sunday in the final round of the 141st British Open,
"Since I was a young boy I dreamed of coming down that last fairway on a Sunday afternoon, the last group in the Open Championship," McDowell said. "And I can draw on my experiences a few weeks ago in the last group of the US Open.
"So this is special for me, back-to-back major championships to be in the last group on Sunday afternoon. Playing with the leader, that's really all I can ask for myself."
Scott and McDowell each fired a three-under par 67 Saturday at Royal Lytham to leave the Aussie on 11-under par 199, four strokes in front of McDowell and 36-hole leader Brandt Snedeker, who stumbled to 73 and will join 14-time major winner Tiger Woods in the penultimate pairing.
"The golf course, obviously it still is a sleeping giant," McDowell said. "Throw a bit of wind across this course like perhaps they are forecasting, he will have to go and work a lot harder and he will have to go win it.
"If Adam goes and shoots level par, I've got to shoot 66. That's a tough ask on this golf course. But perhaps we'll need a bit of wind to make that job a little easier for the chasers."
"If Adam Scott goes and plays great, he's going to be a hard man to catch, no doubt about it, but I'm happy to be looking the guy in the eye tomorrow and it will be a great battle. There's a lot of quality names behind us as well."
McDowell, who won the 2010 US Open at Pebble Beach, followed two front-nine bogeys with birdies each time, making the turn at level par for the day.
"Through seven holes, I kind of felt the tournament perhaps slipping away from me a little bit and really had to dig deep for some patience and try to sort of put things in perspective, really," McDowell said.
"I thought if I could pick a few up from there I would be right back there in the hunt."
McDowell, who turns 33 on July 30, birdied three of the last six holes to jump from contention into the final pairing, gaining strokes at the 13th, 14th and 17th holes.
"From about the 14th tee onwards it was probably about as good as I've swung the club all week," McDowell said.
"I hit some nice shots coming in, some good putts. Very happy and very proud of myself with the way I swung the club coming in.
"I've stayed patient the last few days and kept the ball under control generally. And I'm right where I want to be."
The dreams of lifting the Claret Jug which began as a child could become reality by Sunday night.
"Somebody is going to walk away from here as a major champion with the Claret Jug. I would love that to be me and I would love to experience what it is to go through all that excitement, all that spotlight, again.
"I think it would be a different deal this time around. I feel like I've probably learned enough about my experiences to deal with it better.
"I've got the belief to know that if I get in the mix tomorrow that maybe I'll have the peace of mind to be able to do it. And to just give myself the chance is all I can ask for."
---
LYTHAM, England, July 21, 2012 (AFP) - Adam Scott will cast his mind back to the 2011 Masters when he tees off on Sunday carrying a four-stroke lead into the final round of the British Open.
At Augusta National two years ago, the talented Australian came tantalisingly close to finally winning a major title.
In the final round, he stormed up the leaderboard and, after a birdie at 16, he held a two-stroke lead only to have Charl Schwartzel make history by birdieing the final four holes for victory.
It was a stunning defeat but one that the laid-back 32-year-old from Adelaide took in his stride and which he intends now to use to his advantage.
"That was really my only other time in contention late on a Sunday at a major," he said.
"And I'll have to draw from that experience; that's what you do. Just like I'll try and draw from other times I've had a lead going into the last round of a tournament."
Scott led after the first round at Royal Lytham after what he called an "awesome" course record-equalling score of 64 and he followed that up with a 67 on Friday to stand one behind American Brandt Snedeker.
Playing what he described as "stress-free golf", Scott parred his way through six holes in the third round and stepped up to the mark with two birdies just as Snedeker was faltering. By the turn he was four shots clear of the field.
Scott increased his lead to five with a birdie at the 11th, but allowed his only bogey of the day by missing a 10-footer at the 13th and then parred his way in to set up a winning position for Sunday.
A four-shot lead though was no sinecure for victory, he insisted.
"A four-shot lead doesn't seem to be very much this year on any golf tournament that I've watched," he said.
"That doesn't mean a lot. The good part is if I play a solid round of golf tomorrow, it will be very hard for the others to beat me, and that's all I'm thinking about."
If he does succeed, Scott will be the first Australian to hold aloft the Auld Claret Jug that goes to the winner of the British Open since Greg Norman did so at Royal St George's in 1993.
That prospect, and the thrill of finally lifting a major title, he said would help him find inspiration for Sunday's finale.
"It would be incredible, but I don't even really want to think about it right now," he added.
"I'm really excited for what tomorrow holds. No matter what the result, it's going to be an incredible experience for me.
"And I truly believe I can go out and play a great round of golf, no matter what the conditions. If I do that, then I think that makes it pretty hard for them to catch me."
Scott will play the final round in the company of 2010 US Open champion Graeme McDowell of Northern Ireland.
---
LYTHAM, England, July 21, 2012 (AFP) - Tiger Woods will not have a reunion with his ex-caddie Steve Williams in Sunday's final twosome at the British Open even though for much of the third round it looked like that was set to happen.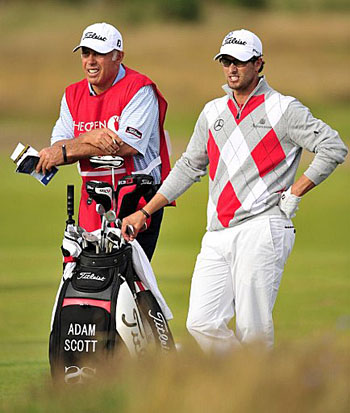 Instead, 54-hole leader Adam Scott, who now has Williams as his bagman, will play alongside Northern Ireland's Graeme McDowell with 14-time major champion Woods in the penultimate pairing alongside fellow American Brandt Snedeker.
Woods, who fired Williams a year ago and now has Joe LaCava as his caddie, had been the target of insults from Williams last year, after Williams hooked up with Scott and quickly won a World Golf Championships event.
"I was very fortunate on the timing with Steve," Scott said. "We're getting on really well out there. He believes in the way I'm going about my business.
"And at some point tomorrow, I'm sure there's going to be a time when I'm going to lean on his experience and he's going to have some great advice for me on how to tackle a certain situation. And that's an advantage."
Williams, from New Zealand, apologised to Woods last year for his comments when they met at the Australian Open in Sydney and agreed to shake hands and move on.
Woods would not say if a potential final-pairing date with Scott and Williams was on his mind as he stood in second place on the back nine at Royal Lytham before a late bogey and birdies by Snedeker and McDowell doomed the bid.
"Final pairing, whatever it may be, I was just trying to cut into the lead," said Woods, who when asked if he would have wanted to be in the last group replied, "Well, I'm not. So it is what it is."
Scott, who leads Snedeker and McDowell by four strokes and Woods by five in quest of his first major title, said he would not have minded having Woods alongside him in the final group.
"It wouldn't bother me," Scott said. "I've played with him a lot. I don't think it would have bothered me at all. I would have been happy. I'm just happy to be in this position. To be honest, I'm really excited about tomorrow."
Woods says Scott is overdue to make his mark as a major champion.
"He has been out here a long time," Woods said. "I don't think he has really done probably as well as he would like to in major championships. But he's maturing in his game and over the last year or so he has really improved.
"Adam is in a great spot right now. He has got a four-shot lead and he's playing really well."
Woods has himself in the hunt for a 15th career major title, which would put him only three shy of the record 18 majors won by Jack Nicklaus.
But Woods has not won a major since the 2008 US Open and the 2009 revelation of his secret sex life. He was a 36-hole co-leader at the US Open last month only to fire a third-round 75 and stumble off the pace.
Woods made four bogeys in the first eight holes in his third round at the US Open last month and started poorly on Saturday at Royal Lytham as well, missing par putts of eight feet and the first and 10 feet at the third.
Woods rammed in a 40-foot birdie putt at the sixth hole, added a tap-in birdie at the par-5 seventh and birdied the par-3 ninth to pull level with Snedeker.
"Considering I got off to such a bad start, I figured if I could get to one-over or even through the turn, that would have been positive going into the back nine. I actually happened to turn at 1-under, which was a bonus.
"I turned it around. I got off to an awful start and battled back and got myself right back in the mix again. I'm right there."
Brisk winds are in Sunday's forecast but Woods is mostly concerned with himself.
"I've just got to execute my game plan," Woods said. "Whether the wind blows or not, I've still got to go out there and post the round I know I need to post and execute my plan."
---
LYTHAM, England, July 21, 2012 (AFP) - American golfers, trying to hold all four major golf titles for the first time since 2004, have plenty more hopefuls than Tiger Woods as they try to catch 54-hole British Open leader Adam Scott.
A dozen players within 10 strokes of the Australian include seven Americans, notably 14-time major winner Woods but also Masters champion Bubba Watson, 2007 Masters winner Zach Johnson and 1989 British Open winner Mark Calcavecchia.
US players snapped a six-major losing streak last year when Keegan Bradley captured the PGA Championship and followed that up with Watson's victory at Augusta National last April and Webb Simpson's US Open triumph last month.
"Golf goes in cycles just like all sports," Watson said. "Europeans were winning all the majors it seems like a year ago and right now we're just winning them. Just one of those things.
"Every team has a good team once in a while and then they struggle and then come back and do it again."
Scott owns a four-stroke lead entering Sunday's final round at Royal Lytham on 11-under par 199, with last month's US Open runner-up Graeme McDowell and this week's 36-hole leader, American Brandt Snedeker, sharing second on 203.
Snedeker stumbled back with a 73 and will play alongside Woods in the next-to-last group. He went 40 holes without a bogey then made six in 10 holes to plunge down the leaderboard before birdies at 16 and 18 salvaged some pride.
"Very frustrating," Snedeker said. "Played very poorly on about as easy a course as we're going to see. I'm not happy with it at all, by any means.
"But those two birdies late salvaged what could have been a horrific round into a pretty awful round. So I've still got a chance. I've come from behind before. I can do it again. The conditions will be tough, which is good."
Snedeker wore a black ribbon in his visor on Saturday in memory of those killed and injured in the attack on a crowd of American moviegoers at the new Batman film on Friday.
Woods is five strokes adrift with Johnson and South African Ernie Els sharing fifth, another stroke adrift.
"If I can keep hitting greens, an occasional long putt to drop, you never know what can happen," Johnson warned.
American Bill Haas is eight strokes off the pace in a share of eighth with South African Thomas Aiken while Watson, Calcavecchia and Matt Kuchar, who won the Players Championship in May and shared third at this year's Masters, are nine adrift with only the longest of longshot hopes.
Calcavecchia, 52, went two-over on the back nine to dim his bid to become golf's oldest major champion, surpassing the Open mark of 46 by Old Tom Morris from 1867 and the major record of Julius Boros, who was 48 when he won the 1968 PGA Championship.
"I hung in there and finished OK," he said. "I haven't really thought about my age this week at all. I've just enjoyed the tournament."
Watson hopes to become the ninth man to win the Masters and British Open in the same year, joining a list of legends that includes Ben Hogan, Tom Watson, Arnold Palmer, Jack Nicklaus, Gary Player, Nick Faldo, Mark O'Meara and Woods.
---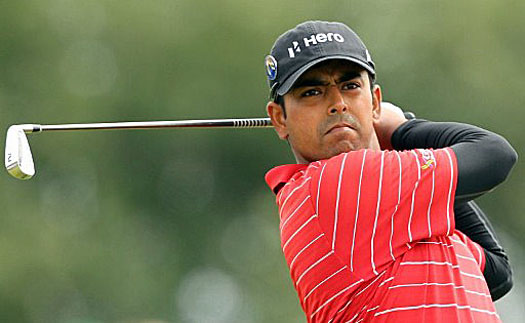 LYTHAM, England, July 21, 2012 (AFP) - India's Anirban Lahiri aced the par-3 ninth hole at Royal Lytham on Saturday in the third round of the British Open, stunning himself in his major championship debut with the shot of his life.
"Just when I thought that it was fantastic, it gets even better," Lahiri said. "That's probably the icing on the cake."
Lahiri, a 25-year-old from Bangalore, joined Jeev Milkha Singh, who made the field by winning last week's Scottish Open, as the first India duo to make the cut at a major.
"It takes the cake. It's a hallowed event for us," Lahiri said. "You want to put up a good performance for yourself, for your country, and so far I think I've done justice to that and I'm really happy about that."
Lahiri fired a two-under par 68 in Thursday's opening round and followed with a 72 on Friday and a 70 to stand at level par 210 after 54 holes.
After back-to-back bogeys on Saturday at the third and fourth, Lahiri birdied the eighth and then holed his tee shot at the links course's shortest hole, the 165-yard ninth.
"I walked up to that tee just having made birdie, which was very important to me. I walked up the tee and I was in between clubs again," Lahiri said.
"Yesterday I hit the wedge instead of a 9-iron, and found a greenside trap and made bogey. I just told my caddie, 'We'll take the 9, it doesn't matter if it goes past, I'll just hit it soft.'
"Made a good swing on it. It was looking a little right of the hole, but it got a really, really friendly bounce. I was just hoping it ended up close. When it goes in, everybody goes wild. I go wild. It was fantastic."
It was Lahiri's third career ace in a tournament, his first since last year's Hong Kong Open. But it came in the biggest event of his life and on one of golf's greatest stages.
"You are just looking around. You don't know how to express yourself," said Lahiri. "And then you see your dad jumping up out there blowing you kisses. These moments don't come every day.
"The ball's with my dad. I don't think anybody can take that away from him. He is thinking right now what he can do with it. Let's see how creative he is."
Lahiri won his first Asian Tour title last year at Delhi and this year became the first player to win the Asian Tour's SAIL-SBI Open on home soil, both triumphs coming in playoffs. He also helped India to a team silver medal at the 2006 Asian Games in Doha.
"Obviously this is the biggest event I've played," Lahiri said. "I always believed that I could compete with the best. I had that self-belief inside me.
"But when you see yourself among such company playing alongside them on a track like that and doing decently, you kind of reinforce that belief and make it stronger. I think it's really going to help me in the future."
Lahiri credits meditating with helping his game.
"I've been doing it this week and it helps me stay calm," he said. "I was getting a bit, I won't say agitated, but I was getting a bit overeager on the front nine after dropping two shots. I felt like I was playing really good."
---
LYTHAM, England, July 21, 2012 (AFP) - Thailand's Thongchai Jaidee struggled to a four-over par 74 on Saturday at Royal Lytham in the third round of the British Open, undone by a neck injury that required physiotherapy treatment.
Thongchai, the Asian Tour number one, stood on four-over 214 after 54 holes in the third major championship of the year.
"The problem was because the neck is very painful," Thongchai said. "Last night, I slept too much and when I woke up, I couldn't turn. I went to the physiotherapist this morning but it wasn't very well.
"I kept trying with my golf but I didn't have any control. I couldn't find the fairway and the rough is very tough."
The 42-year-old Thai, nagged by neck issues, struggled with his swing and produced three birdies against five bogeys over the Lancashire links.
"I can't finish the swing as it's painful," he said. "I kept pushing my shots right. So my position was always behind the ball. Not a good day."
Despite regularly sleeping with a firm mattress on the floor, Thongchai has often suffered neck and back woes.
"Sometimes, it's the position," he said. "I hurt my lumbar a couple of weeks ago. Sometimes I'm tired and sometimes it's the pillow."
---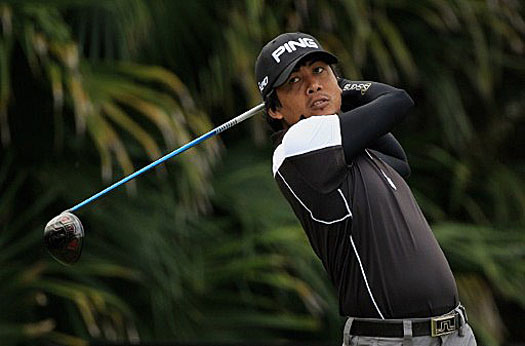 LYTHAM, England, July 21, 2012 (AFP) - Filipino Juvic Pagunsan fired a three-over par 73 in Saturday's third round of the British Open, excited to have reached the weekend in his major golf championship debut.
Pagunsan stood on six-over 216 after 54 holes and will be among the early starters in Sunday's final round, but the reigning Asian Tour Order of Merit champion is happy to go four rounds after making the cut on the number.
"I think some guys made mistakes and I got a chance to come back to play again," Pagunsan said.
"I was watching the internet all the time. I was on skype with my wife and we were looking at the scores. First time playing in the Open, of course you cannot express your feelings. It's really hard to explain."
Pagunsan, 34, made three birdies, four bogeys and a double bogey on Saturday and will try to play a round at par or better for the first time in a major on Sunday.
"I played good but missed some drives and found the bunkers," Pagunsan said. "I was really comfortable on the back nine as the sun came out and it got a bit warmer. It was better conditions but I got some bad bounces.
It will be same plan tomorrow, try to hit the ball solid and avoid the doubles and the bunkers -- let's see if I can get an under par round."
Pagunsan will leave the Lancashire links with warm memories of his first visit to the United Kingdom.
"It's a good experience," he said. "First time on a links course and some good memories already. I love to play here. It's totally different from home."
---
199 - Adam Scott (AUS) 64-67-68
203 - Graeme McDowell (NIR) 67-69-67, Brandt Snedeker (USA) 66-64-73
204 - Tiger Woods (USA) 67-67-70
205 - Zach Johnson (USA) 65-74-66, Ernie Els (RSA) 67-70-68
206 - Thorbjorn Olesen (DEN) 69-66-71
207 - Bill Haas (USA) 71-68-68, Thomas Aiken (RSA) 68-68-71
208 - Bubba Watson (USA) 67-73-68, Louis Oosthuizen (RSA) 72-68-68, Mark Calcavecchia (USA) 71-68-69, Matt Kuchar (USA) 69-67-72
209 - Dustin Johnson (USA) 73-68-68, Kyle Stanley (USA) 70-69-70, Luke Donald (ENG) 70-68-71, Jason Dufner (USA) 70-66-73
210 - Vijay Singh (FIJ) 70-72-68, Nick Watney (USA) 71-70-69, Anirban Lahiri (IND) 68-72-70, Simon Khan (ENG) 70-69-71, Greg Chalmers (AUS) 71-68-71, James Morrison (ENG) 68-70-72, Steven Alker (NZL) 69-69-72
211 - Keegan Bradley (USA) 71-72-68, Matthew Baldwin (ENG) 69-73-69, Justin Hicks (USA) 68-74-69, Alexander Noren (SWE) 71-71-69, Hunter Mahan (USA) 70-71-70, Thomas Bjorn (DEN) 70-69-72, Peter Hanson (SWE) 67-72-72, Steve Stricker (USA) 67-71-73
212 - Joost Luiten (NED) 73-70-69, Padraig Harrington (IRL) 70-72-70, Harris English (USA) 71-71-70, Francesco Molinari (ITA) 69-72-71, Dale Whitnell (ENG) 71-69-72, Jamie Donaldson (WAL) 68-72-72, Garth Mulroy (RSA) 71-69-72, Simon Dyson (ENG) 72-67-73, Carl Pettersson (SWE) 71-68-73, Paul Lawrie (SCO) 65-71-76
213 - Rickie Fowler (USA) 71-72-70, Gary Woodland (USA) 73-70-70, Troy Matteson (USA) 70-72-71, Rafael Echenique (ARG) 73-69-71, Jim Furyk (USA) 72-70-71, Branden Grace (RSA) 73-69-71, Greg Owen (ENG) 71-71-71, Ian Poulter (ENG) 71-69-73, Miguel Angel Jimenez (ESP) 71-69-73, Geoff Ogilvy (AUS) 72-68-73, Toshinori Muto (JPN) 67-72-74
214 - Lee Westwood (ENG) 73-70-71, Adilson Da Silva (BRA) 69-74-71, Bae Sang-Moon (KOR) 72-71-71, K.J. Choi (KOR) 70-73-71, Pablo Larrazabal (ESP) 73-70-71, Nicolas Colsaerts (BEL) 65-77-72, Gonzalo Fernandez-Castano (ESP) 71-71-72, Yoshinori Fujimoto (JPN) 71-70-73, Thongchai Jaidee (THA) 69-71-74, Ted Potter (USA) 69-71-74
215 - Brendan Jones (AUS) 69-74-72, Fredrik Jacobson (SWE) 69-73-73, Rory McIlroy (NIR) 67-75-73, Richard Sterne (RSA) 69-73-73, Bob Estes (USA) 69-72-74, Retief Goosen (RSA) 70-70-75
216 - Juvic Pagunsan (PHI) 71-72-73, Aaron Baddeley (AUS) 71-71-74, Warren Bennett (ENG) 71-70-75, John Senden (AUS) 70-71-75, Lee Slattery (ENG) 69-72-75, Andres Romero (ARG) 70-69-77
217 - Chad Campbell (USA) 73-70-74, Ross Fisher (ENG) 72-71-74, Charles Howell (USA) 72-71-74, Rafael Cabrera-Bello (ESP) 70-71-76, Jeev Milkha Singh (IND) 70-71-76
219 - Tom Watson (USA) 71-72-76
220 - John Daly (USA) 72-71-77
221 - Martin Laird (SCO) 70-69-82
Source: AFP
Photography by AFP