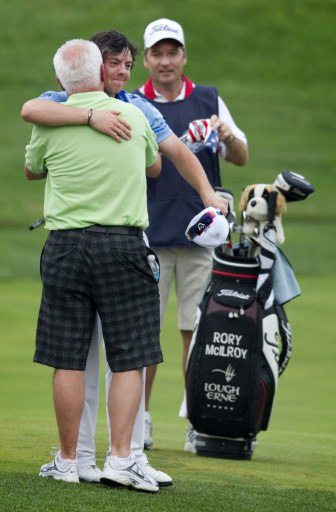 SHANE O'DONOGHUE, HOST, LIVING GOLF: It's been 70 days since you left Augusta national on a very disappointed Sunday. Has it been the longest 70 days of your life?
RORY MCILROY, 2011 U.S. OPEN CHAMPION: No, I've actually enjoyed them. I've enjoyed the challenge of trying to get myself back up for this tournament, felt as if I needed to prove a lot to myself and to prove a lot to everyone else. But you know, I've learned from Augusta and I went back this week and I played some of the best golf of my life.
O'DONOGHUE: You've spent some time with Jack Nicklaus, who you've come to know over the last couple of years, but only just a few weeks ago, he spent a little bit of time with you. And impressed upon you the need for you to put more pressure on yourself, which you revealed in a press conference. When I first interviewed you as a 14-year-old, you pretty much mapped out your career. So you've been putting pressure on yourself for a long time. Why was it so different to hear it from Jack this time around?
MCILROY: I'm not sure. I think you know, when you're 14 years old, you're -- I know I was a very cocky kid back then. And you sort of when you mature and you mellow, you learn a few things, and you know, it's almost as if you're told not to be that way. And I felt as if I needed to be a little bit more cocky and put a bit more pressure on myself in order to win, because I felt as if I had the ability, and that's what, you know, what Jack basically said to me. You know, you've got to put pressure on yourself. You know, if you don't have pressure on yourself, then no one else does.

O'DONOGHUE: There has been a lot of talk about what you can achieve in the game and perhaps becoming the next Tiger Woods when it comes to those sort of golfing records. Do you want to be the next Tiger Woods in golf?

MCILROY: Yeah, I mean, I'd love to be dominant. You know, Tiger has been the biggest thing for the game of golf ever, you know. You know, winning his 14 majors in such a short space of time. And you know, he brought golf to places in the world that other people just couldn't do, and you know, he's been huge for golf. I, you know, maybe I can emulate a little bit of his success. I don't think I'll ever be as big for the game as he is, certainly was for the last 15 years.

O'DONOGHUE: To have so many of your colleagues, your professional colleagues come down to wish you well and to congratulate you on the 18th green on that memorable Sunday, what was that like to have that support?

MCILROY: It was great. You know, especially to see Graeme there was big, and it felt like a lot of the guys, you know, wanted me to win after what happened at Augusta or whatever, but it's nice to have the respect of your peers. You know, it's one of the biggest compliments that you can have, and it's nice that they wanted me to do well.

O'DONOGHUE: When you saw Graeme win the U.S. Open 12 months ago today, essentially, you were inspired by that. You let him know how inspired you were by Graeme's performance. And you targeted the majors, and you have succeeded in, you know, contending so well in all of those since.

MCILROY: Yes. When you see one of your best friends win a major championship, and you've played so much golf with them and you've beaten them on many an occasion, you feel like, you know, if he can do that, then there's no reason why I can't do that either. And it's taken me -- it's taken me four gos to get my first one after him, but I couldn't be happier to put my name below his on this trophy.
O'DONOGHUE: With the U.S. Open always finishing on Father's Day, how important was it to have Jerry here and to do it as well for your mom Rosie, who was watching at home in Northern Ireland and obviously praying for the final pot to go down?

MCILROY: Yes. To have dad here this week has been a huge help for me. Not just today, or, you know, just -- you know, I feel like I'm very close to my dad, you know, and I can say things to him that I might not be able to say to anyone else. And to have him here, you know, to witness firsthand me winning my first major, on Father's Day, it's very, very special, and I'm sure it's a moment that we'll never forget.
Shane O'Donoghue hosts CNN's Living Golf, a monthly program that follows major golf tournaments and players around the world and gives viewers an all-rounded look into the development of the game. For program highlights and more, go to www.cnn.com/livinggolf.