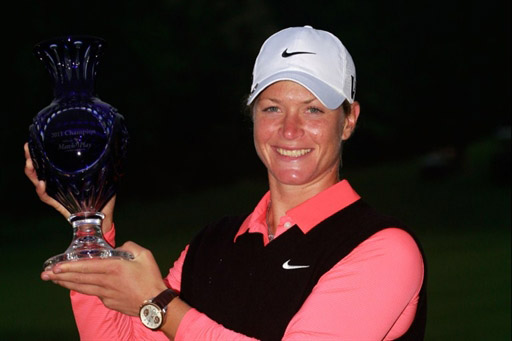 GLADSTONE, May 23, 2011 (AFP) - Norway's Suzann Pettersen beat Cristie Kerr 1-up to win the LPGA Match Play Championship on Sunday, claiming her first LPGA title in 20 months.
Pettersen had a 1-up lead and Kerr faced a 10-foot birdie attempt when the Norwegian drained a 15-footer for birdie at the final hole of the championship match to seal the triumph.
Pettersen raised her arms then dropped to her knees in relief and exhaustion after six demanding rounds that included four in the past two days.
The world number three quickly rose and offered fans a thumbs-up sign.
The 30-year-old Norwegian never trailed in the match as she won her first title since capturing the Canadian Women's Open in September of 2009.
"It's 20 months, but it doesn't feel like 20 months," Pettersen said. "It feel like a lot longer."
Pettersen had six runner-up finishes last year and 14 top-10 finishes in 21 events.
"It boils down to winning tournaments, so if you judge your season by winning, last year was a disappointment," she said. "Winning is what it's about."
No surprise then, that she shrugged off the fatigue for the final, even though she likened the six rounds of matches to a return to qualifying school.
What made it harder, she noted, was that her matches came against her friends on the tour in a match play format that's somehow more personal than stroke play.
"I dug deep for this one," she said.
Kerr missed some chances to at least pressure Pettersen. She missed four putts from inside 10 feet, all to win holes.
She did make a three-footer to save par and extend the match at 16, and made a 10-footer for birdie at 17 to trim Pettersen's lead.
Earlier Sunday, Pettersen defeated top-seeded Korean Na Yeon Choi 4 and 2 in the semi-finals.
Kerr won the last two holes to defeat fellow American Angela Stanford 1-up in the semi-finals.
In the consolation match, Choi defeated Stanford 4 and 3.
In the title match, Pettersen seized a 2-up lead with birdies at the second and fourth holes. Kerr squared the match with birdies at the fifth and eighth before Pettersen made a 15-footer at the ninth to take a 1-up lead.
Kerr'S 10-footer at the 10th lipped out and they halved the 11th and 12th with bogeys.
Pettersen missed a 5-footer that would have won the 11th and Kerr missed from four feet at the next.
Kerr had another chance to square the contest at 14, but her 10-foot attempt slid by on the edge.
Pettersen went 2-up at 15, where Kerr's approach was right and she chipped 10 feet past and couldn't make her putt.
"Putting on the back nine killed me," Kerr said.
"The putts that I missed I hit bad putts," she admitted. "They weren't like mis-hits. They were shoves. They were pushed."