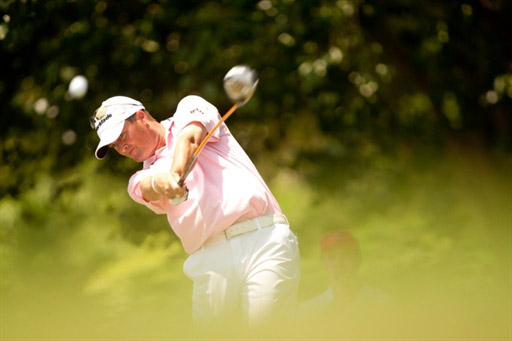 IRVING, May 28, 2011 (AFP) - Ryan Palmer battled to a three-over par 73 at the wind-whipped Byron Nelson Championship Saturday to take a one-shot lead over Sergio Garcia after three rounds.
Palmer built a five-under total of 205 while playing partner Garcia, who started the day tied for the lead, completed a 74 without a birdie for 206.
Both Palmer and Garcia had four bogeys, including matching bogeys at the par-five 16th and at 18.
"It was the kind of day if you let yourself go, it could go very wrong," said Garcia, who won the 2004 Byron Nelson title but who hasn't won on the US tour since 2008. "We grinded it out the best we could."
At 16, Garcia missed a five-footer to save par, and at 18 he was unable to convert from inside nine feet to save par after hitting his drive far right.
Palmer managed one birdie, making a nine-footer at the par-four 10th.
On a day when wind gusts neared 40 mph, only eight of 74 golfers posted rounds under par on the TPC Four Seasons.
"Obviously, the scores show how hard it was," Palmer said.
The best of the day belonged to India's Arjun Atwal, who carded a 67 that tied him with Japan's Ryuji Imada (70) for third place on 207.
Although Palmer opened the back nine with his only birdie of the day, he said he found it harder to cope with the windy conditions later in the round.
"The front nine, I was actually kind of cruising along, not letting the wind bother me," Palmer said. "It got tougher and tougher. ... The last five holes are tough enough on a calm day.
"I don't feel like I played that bad. It was a hard day of golf."
Prior to this week, Palmer had made the cut just once in his seven previous appearances in this event.
"If you would have told me Thursday I'd have a one-shot lead, I would have called you a liar," Palmer admitted. "We didn't expect to be in this position at the beginning of the week."
Three more players -- Gary Woodland, Matt Kuchar and Joe Ogilvie -- were tied on 208. Woodland and Kuchar both shot 68 while Ogilvie posted a 72.
Australian Rod Pampling was among a group on 209 that also included US teenager Jordan Spieth, who posted a 72.
Spieth, 17, was putting together his impressive effort as his fellow senior students from nearby Dallas Jesuit Prep school were heading to their graduation ceremony.
He launched his day with back-to-back birdies. He had five birdies overall but also had three bogeys and two double-bogeys.
Spieth, who was followed by a big gallery, drained a 10-foot birdie putt at the first.
At the second he defied the gusting winds to stick his tee shot within three feet for another birdie.
"I was, like, 'All right, who knows what can happen, who says you can't shoot 5-, 6-under today?'
"And then reality kind of kicked in," Spieth added. "I caught a couple of bad breaks. But also within those bad breaks, I made a couple of amateur decisions, which definitely hurt."
Spieth, who will continue his amateur career as a student at the University of Texas next year, is playing on the weekend of the Byron Nelson for the second straight year.
He was able to look at the positives from his round, especially on a day when the difficult conditions challenged even the most experienced.
"I'm actually in a good mood because I finished well on 17 and 18," he said.
Leading scores on Saturday after the third round of the $6.5 million PGA Tour Byron Nelson Championship (USA unless noted):
205 - Ryan Palmer 65-67-73
206 - Sergio Garcia (ESP) 66-66-74
207 - Arjun Atwal (IND) 68-72-67, Ryuji Imada (JPN) 69-68-70
208 - Gary Woodland 69-71-68, Matt Kuchar 69-71-68, Joe Ogilvie 66-70-72
209 - Rod Pampling (AUS) 70-68-71, John Rollins 68-70-71, Jeff Overton 64-74-71, a-Jordan Spieth (USA) 69-68-72, Keegan Bradley 66-71-72, Nick Watney 68-68-73, Tim Petrovic 69-66-74, Scott Piercy 66-69-74
...
210 - Vijay Singh (FIJ) 68-73-69
212 - Jason Day (AUS) 72-71-69
213 - Fredrik Jacobson (SWE) 70-73-70
214 - Garth Mulroy (RSA) 67-74-73
215 - Carl Pettersson (SWE) 70-69-76
216 - K.J. Choi (KOR) 71-71-74
218 - Cameron Percy (AUS) 71-72-75, Greg Chalmers (AUS) 73-70-75
219 - Alexandre Rocha (BRA) 71-70-78
220 - Steven Bowditch (AUS) 75-65-80