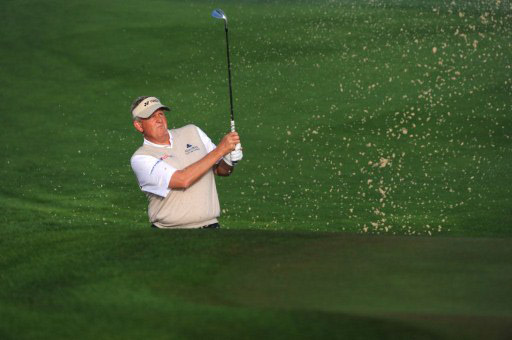 Colin Montgomerie's return to Celtic Manor, the course where he led Europe to Ryder Cup glory last year, ended with him carding his worst 36-hole score in a European event for more than 20 years.
Europe's victorious captain in their Ryder Cup match against the United States here in October added a 79 on Friday to his first round 78 in the Wales Open.
That left the Scot on 15 over par and when he missed the cut he was in joint last place.
While Monty heads home Sweden's Alex Noren has plenty to interest him over the weekend after carding a second successive 67 to take the lead for an eight under par total of 134.
Lurking one shot behind though is defending champion Graeme McDowell.
McDowell had four birdies in five holes and just as important was his recovery from under the lip of a bunker to two feet at the short 10th.
"One of the boys said Seve (Ballesteros) would have been proud of that one," he said. "I'm on a course I enjoy and in a position I enjoy.
"This is absolutely perfect for (his defence of) the US Open. I said I just wanted to get in the mix and get the juices flowing and it's kind of mission accomplished."
Noren in contrast is looking forward to his US Open debut in two weeks.
The 28-year-old from Stockholm won the European Masters two years ago, but dropped from 25th to 85th on the money list last season and from a high of 50th in the world he now stands 127th.
"I've always dreamed of playing a US Open and I'm so happy - so happy," said Noren. "It's such an energy boost."
He birdied four of the last five holes to take over at the top from South African Keith Horne, who after starting with a 64 failed to conjure up a single birdie in his 73.
Welshman Jamie Donaldson is in joint third with France's Victor Dubuisson, but Phillip Price - another of the home contingent - had a real setback when he was going well.
The last time Montgomerie suffered a worse two round score on European soil as a professional golfer was at the 1991 Benson and Hedges International at St Mellion in Cornwall, south-west England, when he shot 80-81 to be 17 over.
The eight-times European number one had looked in good touch when he finished seventh in the BMW PGA Championship at Wentworth, south of London -- his first top 10 finish for almost three years.
But a day later Montgomerie, 48 this month, failed to qualify for the US Open and now faces 36 qualifying holes on Monday for the British Open at Sandwich, south-east England.
"I'm not 25 any more and I think it shows sometimes," Montgomerie, regarded as one of the best golfers never to have won one of the sport's four Majors, said after Friday's round in south Wales.
"I've been very busy and while it's good to be busy it takes a toll against guys who are only doing this (playing events) and guys only half your age.
"It's unfortunate, but that's the way it is and I have to accept that sometimes," he added.
"Playing well last week I felt I could perform well again, but I just played awful and I'm very disappointed not to be playing at the weekend, never mind contending."
Wales Open leading second round results on Friday at the Celtic Manor resort (GBR & IRL unless stated, par 71):
134 - Alexander Noren (SWE) 67-67
135 - Graeme McDowell 67-68
136 - Jamie Donaldson 68-68, Victor Dubuisson (FRA) 67-69
137 - Peter Hanson (SWE) 65-72, Keith Horne (RSA) 64-73, Barry Lane 68-69
138 - Ricardo Gonzalez (ARG) 71-67, Steve Webster 66-72, Stuart Manley 67-71, Paul Broadhurst 66-72
139 - Richard McEvoy 69 70, Jason Knutzon (USA) 74-65, Johan Edfors (SWE) 68-71
140 - Damien McGrane 67-73, Peter Whiteford 70-70, Anders Hansen (DEN) 70-70, Mark Tullo (CHI) 69-71, Fabrizio Zanotti (PAR) 69-71, Gregory Bourdy (FRA) 67-73, Pablo Larrazabal (ESP) 70-70, Graeme Storm 68-72
141 - Christian Cevaer (FRA) 69-72, Magnus A Carlsson (SWE) 71-70, Robert Coles 70-71, Danny Lee (NZL) 70-71, Jaco Van Zyl (RSA) 72-69, Felipe Aguilar (CHI) 68-73, Joel Sjoholm (SWE) 72-69, Romain Wattel (FRA) 68-73, Peter O'Malley (AUS) 71-70
142 - Jean-Baptiste Gonnet (FRA) 73-69, Marcel Siem (GER) 69-73, Phillip Price 70-72, Darren Clarke 68-74, Simon Dyson 72-70, Oscar Floren (SWE) 69-73, Anthony Kang (USA) 69-73, David Drysdale 71-71, Michael Hoey 71-71
143 - Soren Kjeldsen (DEN) 72-71, Daniel Gaunt (AUS) 68-75, Mikko Ilonen (Fin) 69-74, Rhys Davies 72-71, Rafael Echenique (ARG) 70-73, Simon Khan 68-75, David Dixon 73-70, Thorbjorn Olesen (DEN) 71-72, Elliot Saltman 73-70, Mark Foster 69-74, Lorenzo Gagli (ITA) 72-71
144 - Richard Bland 69-75, Hennie Otto (RSA) 72-72, Greig Hutcheon 72-72, Scott Strange (AUS) 69-75, Andrew Dodt (AUS) 70-74, Mark Brown (NZL) 70-74, Kenneth Ferrie 72-72, Jose Manuel Lara (ESP) 71-73, Richard Finch 69-75, Michael Jonzon (SWE) 70-74, Wade Ormsby (AUS) 70-74, Rafael Cabrera Bello (ESP) 72-72, Gregory Havret (FRA) 70-74, Thomas Levet (FRA) 72-72