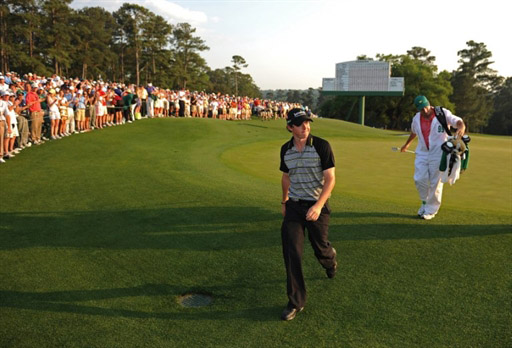 WENTWORTH, May 25, 2011 (AFP) - World number six Rory McIlroy has admitted he will not know if he is over his final round collapse in last month's US Masters until he finds himself in the same position again.
The Northern Irishman had the year's first major at his mercy, leading the field by four shots, before a final 80 saw his challenge unravel and he ended up in a tie for 15th place.
And McIlroy is unsure whether the finish at Augusta will come back to haunt him the next time he is contention for a major title.
The 22-year-old, preparing for this week's PGA Championship at Wentworth, said: "I need to get myself in that position again to know if I have got over it and if I will handle it better.
"I have put a few things in place that will make me handle being in that position better again but you never really know until you are tested in that environment.
"I like to figure things out on my own, you should learn from your mistakes and that is what I have tried to do. It is tough but I am a big boy - I'll get over it."
McIlroy's appetite for a first major success was whetted further after Tuesday night's Players' Awards dinner where the European Tour's four champions paraded their trophies.
Major title holders Charl Schwartzel, Graeme McDowell, Louis Oosthuizen and Martin Kaymer are all members of the European tour and McIlroy admits their success is spurring him on.
He added: "This was obviously a special year to celebrate for the European Tour. It makes you want it more. To see the four guys on stage and to know that you play week in, week out with them and you can beat them in any given week gives you confidence that you can go out and do it.
"I've been close a couple of times; to win the biggest events in golf is my aim. It is great to see those guys doing well but I would like to join them pretty soon.
"I am not going to say this group is going to dominate golf but winning the majors and big events spurs everyone on. It's great the guys are doing so well."
McIlroy and McDowell, both keen Manchester United fans, have tickets for Saturday's Champions' League final against Barecelona but will have a frantic dash to make the kick-off at Wembley if they are late out on the third day at Wentworth.
McDowell said: "If I am last off it would be a good problem to have."