Lethal Lytham Set to Test Open Field
More previews on The British Open
---
Lethal Lytham Set to Test Open Field
Choi Hopes to Be Next 42-Year-Old Open Winner
Singh Tries to Play It Cool after Scotland Win
Humbled McIlroy Ready to Cope with Poor Conditions
Major Efforts Boost Harrington's Hopes
---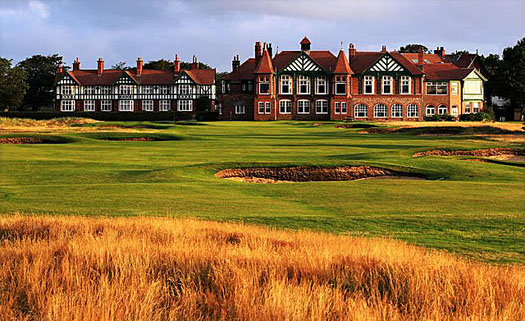 LYTHAM, England, July 17, 2012 (AFP) - Royal Lytham and St Annes will host the British Open for the 11th time Thursday with Lee Westwood and Luke Donald spearheading home hopes and Tiger Woods out to end four years of majors misery.
Whoever holds aloft golf's oldest trophy on Sunday will have conquered not only 156 rivals, but also a fierce combination of 206 pot bunkers, thick rain-sodden rough and the latest installment in a miserable English summer.
Many, like two-time former Open champion Padraig Harrington, believe it could get attritional, although the Dubliner says he welcomes that.
"I would like some of the golf to be tough this week, some of the conditions," he said.
"I know myself, if you have 72 holes of a rainy tournament, it's nearly last man standing at that stage, and that's really difficult for everybody.
"I would like to see certainly 18 holes, if not 36 holes of difficult conditions because that will cut enough of the field out, and hopefully I won't be one of those."
Lytham is not long by modern standards -- it has been stretched by 181 yards to 7,086 yards and reduced from a par 71 to a par 70.
But the gaping bunkers are its main defence network, strategically placed to punish the slightest of skewed shots, especially off the tee. Hit into one of them and a dropped shot is the likely result.
Before this year, it was considered to be up there with Carnoustie as the most difficult of the Open Championship venues.
Now with the added length and the deepening of some bunkers, Lytham's head pro of 25 years, Eddie Birchenough, believes it may be the toughest test on the Open rotation.
"I suspect the fact we've got a few holes lengthened, a new seventh hole and rough up to your armpits, it might just make us the toughest of the lot," he said.
A look down the long list of previous winners of the Open on the Fylde Coast reveals a long list of superb ball-strikers from the legendary Bobby Jones when it was first held here in 1926 through Peter Thomson of Australia, Gary Player of South Africa, Spanish legend Seve Ballesteros and New Zealand left-hander Bob Charles.
The last two winners at Royal Lytham have both been American, Tom Lehman in 1996 and David Duval in 2001, and Woods will be out to make it three US wins in a row.
The 36-year-old, 14-times major champion has blown hot and cold this year as he strives to complete work on swing changes that he was told would be necessary to accomodate knee injuries that have required four rounds of surgery.
Woods has won three times on the US PGA Tour this year, but he has also missed the cut in two tournaments and has disappointed in the first two majors with a tie for 40th at The Masters and a tie for 21st at the US Open last month.
But he says he likes The Open as a tournament, appreciates the toughness of the golf course and has the patience to keep going in his quest to overhaul the record 18 major victories of Jack Nicklaus.
"I just try and put myself there. I think that if I continue putting myself there enough times then I'll win major championships," he said.
"First of all, I had to go through that whole process of just getting healthy again. Being banged up and missing major championships because of it in a couple year stretch there wasn't a whole lot of fun.
"I think I missed four majors there just because I was injured. I figure if I'm healthy, then I can prepare properly for major championships and I can get myself there."
For World No. 1 Donald and World No. 3 Westwood, the task on hand is not so much to overhaul Nicklaus, but simply just to win a single major -- which both have failed to do in a combined 93 attempts.
Both say that relaxing and staying in the moment is the key, but whether they will succeed in emulating Tony Jacklin, the last Englishman to win The Open on English soil 43 years ago, remains to be seen.
There are a number of fascinating sub-plots with Darren Clarke looking to rediscover the zen state of mind that saw him pull off a huge upset last year at Royal St George's, while fellow Ulsterman and second-ranking Rory McIlroy wants to show that he can handle bad weather conditions.
Then there is the possibility of a fourth straight US win in the majors after Keegan Bradley at last year's US PGA Championship, Bubba Watson at the Masters and Webb Simpson at the US Open.
That would mean that all four major titles would be in American hands for the first time since 2004.
---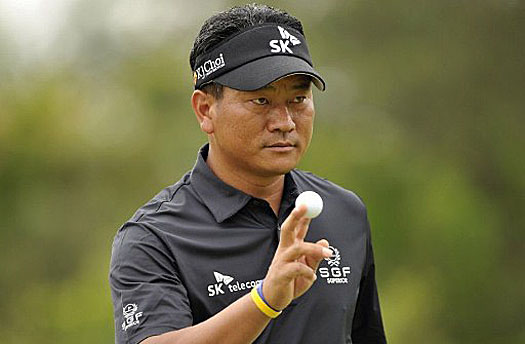 LYTHAM, England, July 17, 2012 (AFP) - One year after Darren Clarke captured an unlikely British Open title at age 42, South Korea's K.J. Choi hopes to give the Open back-to-back 42-year-old winners and a first-ever Asian champion.
Choi hopes to become the second Asian man to win a major title, after fellow South Korean Yang Yong-Eun's groundbreaking 2009 PGA Championship triumph, but he knows patience will be the key to handle the test offered at Royal Lytham.
World No. 34 Choi shared eighth at the 2007 British Open at Carnoustie and was the 36-hole leader in 2008 at Royal Birkdale before settling for a share of 16th place.
"Twice I was near the winning score, but the last day I had a lot of trouble," Choi said. "This year, I will try to keep my patience and to keep my score."
Choi, who owns eight US PGA victories, posted his best showing in a major with a third-place finish at the 2004 Masters. But this season, he has cracked the top 10 once once, although he has three top-20s in his past five events.
"Getting older, it feels different," Choi said. "Catching the ball on the club is different. This year has been a little slow, but still a survival. This is my fourth week in a row and I'm a bit jetlagged but the energy is good."
Choi has been working with swing coach Steve Bahn to handle the diverse shotmaking required to cope with the dense rough and 206 pot bunkers scattered across Royal Lytham.
"Steve Bahn has been working on my swing, hitting strong low and high shots, making cut or draw," Choi said. "I know the swing but in tournament, it is difficult to make it. Sometimes the pressure comes and you can't do it."
With occasional rain and winds expected, Choi relishes his chances to be a contender this week.
"English weather, I love it -- four seasons in one day," Choi said. "It's different. The wind is strong and it's difficult to control the ball because when it's wet, the spin is different due to the contact on the clubface.
"It's a very difficult course. We need to be accurate and keep the ball on the fairways.
"Golf is about the mental state. You keep going on every hole and every shot must be the best shot. I will try to play my best and everybody will be happy. You need more imagination on this course, but I love it."
---
LYTHAM, England, July 17, 2012 (AFP) - India's Jeev Milkha Singh, fresh off a victory last Sunday at the Scottish Open, hopes to give his major ambition a boost by treating this week's British Open as "just another week."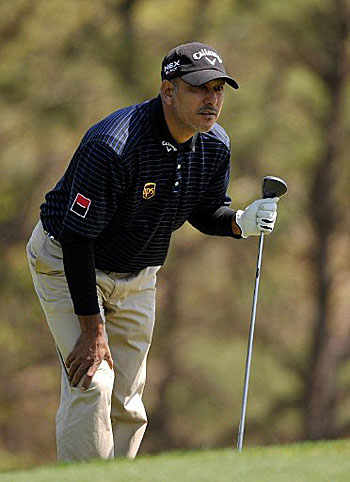 Singh snapped a four-year win drought with a playoff triumph at Scotland and enters his third British Open this week at Royal Lytham with confidence, although the 40-year-old from Chandigarh is trying to play down the challenge.
"This is just another week for me. I'm not going to treat it differently," Singh said. "I want to treat it like another event. That's why I've just showed up on Tuesday, which I normally do, and take it from there."
But winning to qualify for the Open has not allowed Singh time to even open a bottle of champagne to celebrate his 14th victory worldwide.
"It was great satisfaction winning at the Home of Golf against a top field and tough conditions," he said. "We didn't celebrate. All plans had to change and I went back to London. We didn't have a chance to celebrate but we will do it next week."
Victory was redemption for Singh, whose career has been mixed with injuries and spans of strong form. He won four times around the world in 2006 and 2008, both years where he ended the season as the Asian Tour number one.
"It was a frustrating period," Singh said. "You just have to hang in there and believe that things will turn around. I always believed in that. If you do the right stuff, good things will happen. That's what happened.
"The most important thing is that when a player is injury free, you can work harder. It gives you more confidence. That's the reason why I won. Last few weeks I was knocking and I was having two or three good rounds. I just needed to put in four good rounds. It happened last week and the win came to me."
Links golf is unfamiliar to many Asian players but Singh loves the challenge, as proven by his triumph at Castle Stuart last week.
"I love links golf," he said. "A lot of feel and imagination is required. I enjoy every bit of it and I'm looking forward to this week."
A return to the Open also gives him a chance to atone for his 2009 disappointment of having to pull out of the Open due to injury.
"After what happened, I'm fitter and I'm ready. Couldn't be better winning a tournament and coming into the Open championship. I'm excited. I take a lot of confidence and I want to move back into the top 50 in the world," Singh said.
---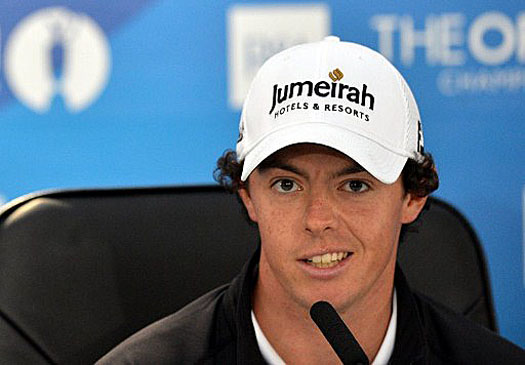 LYTHAM, England, July 17, 2012 (AFP) - Rory McIlroy is ready to cope with bad weather and links golf at this week's British Open after ripping into both a year ago following a disappointing Open result at Royal St. George's.
The 23-year-old Northern Irishman, who took the World No. 1 ranking for the first time in his career earlier this year and spent seven weeks at the top, took out his frustrations over poor play last year on the rain and course.
"These conditions I just don't enjoy playing in really. That's the bottom line," McIlroy said at the end of a rainy 2011 Open in Sandwich. "I would rather play when it's sunny and not much wind.
"All the amateur tournaments I've won, they were played on links courses but they were all relatively calm. So I just play better and my game is more suited to calm conditions."
McIlroy, who had taken time off after winning the US Open a month before, seemed to forget that he often played in poor weather growing up in Ulster, portraying himself much differently after a frustrating share of 25th.
"I'm not a fan of golf tournaments that the outcome is predicted so much by the weather. It's not my sort of golf," he said. "I'm looking forward to getting back to America."
Faced with another deluge of wet weather on a links course this week at Royal Lytham, McIlroy looked back with humbled eyes about his 2011 outburst.
"Those comments were just pure frustration," McIlroy said on Tuesday.
"Having really high expectations going into it, coming off a major win, really wanting to play well, get into contention and not doing that and blaming the weather, the draw, blaming my luck basically -- that was just frustration.
"Looking back on it a year later, it's as I said, I just didn't play well enough to get into contention and didn't handle the conditions as best as I could have. That's something I'm trying to do more of."
McIlroy faces pot bunkers aplenty and dense rough and potentially clearing conditions for the weekend.
But as he tours the first two days with 2010 British Open winner Louis Oosthuizen of South Africa and 2011 PGA Championship winner Keegan Bradley of the United States, McIlroy realizes he must keep his cool in the wind and rain.
"If it's like that again this week, you're just going to have to knuckle down and focus and keep fighting and stay tough and try and shoot a score in bad conditions," McIlroy said.
Second-ranked McIlroy, who won at Hong Kong and Shanghai last year as well as the US Open, won the Honda Classic in March and was twice a runner-up, taking the top spot in the rankings briefly from England's Luke Donald.
But McIlroy has missed the cut in four of his past six starts.
"I got the World No. 1 after I won a major, so I don't think my game has completely went off," McIlroy said. "Everyone has bad spells. I had a couple bad weeks where I didn't play so well but it's just a little blip in the radar."
In his most recent outing, McIlroy shared 10th in the Irish Open two weeks ago.
"I feel like I'm hitting the ball great. I think it's the best I've swung the club all year," McIlroy said.
"It's keeping the ball in play, keeping it out of the bunkers and out of the rough. I can do that, if anyone can do that in this field, they have got a great chance."
One thing McIlroy had to cope with at last year's Open which will be absent this time around is the pressure coming off a first major title and grandoise talk of rivaling the 18 majors of Jack Nicklaus or the 14 won by Tiger Woods.
"It's been lovely just going about my business," McIlroy said. "It has been nice to prepare and definitely not the madness that was going on last year. I have tried to keep it as low key as possible."
---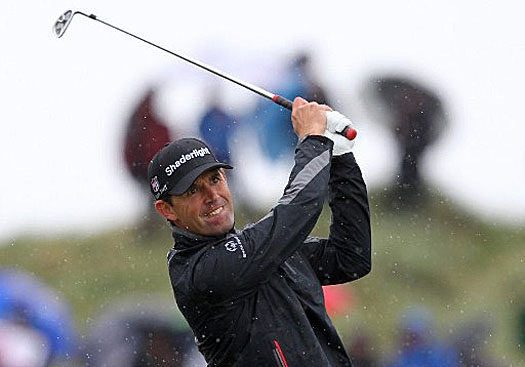 LYTHAM, England, July 17, 2012 (AFP) - Padraig Harrington likes his chances of contending for his third British Open title in six seasons this week at the British Open, especially if Royal Lytham continues to be drenched by rain.
Harrington's major titles came at the 2007 British Open at Carnoustie and the 2008 Open at Royal Birkdale, becoming the first European since James Braid in 1906 to defend an Open title, and the 2008 PGA Championship.
The 40-year-old Irishman has not won any title since taking the Asian Tour's 2010 Iskandar Johor Open in Malaysia, but he shared eighth this year at the Masters and finished a career-best fourth at the US Open last month.
"I suppose it does no harm," Harrington said when asked about his confidence after solid showings in the majors. "It's nice being in contention. So showing decent form coming in.
"I'm in good form and I'm in a good enough place that it's about managing where my head is at going into this tournament. That's what you want when you're going into a major. You don't want to be here searching for your putting stroke or your swing."
While forecasts call for weekend clearing after days of showers, Harrington would not mind a round or two of wet conditions when he tees off Thursday with European amateur champion Manuel Trappel of Austria and American Rickie Fowler.
"I would like some of the golf to be tough, some of the conditions," he said. "If you have 72 holes of a rainy tournament, it's nearly last man standing and that's really difficult for everybody.
"I would like to see certainly 18 holes, if not 36 holes, of difficult conditions because that will cut enough of the field out, and hopefully I won't be one of those."
The second of Harrington's back-to-back major titles in 2008 ignited an ongoing run of 15 different majors in a row, the past nine of them first-time major winners and the past three of those being Americans.
And none of them were won by Tiger Woods, the 14-time major champion whose last major title came at the 2008 US Open.
"I think we were spoiled with Tiger winning 14 majors in 15 years," said Harrington. "People began to think that was predictable... Probably not going to happen again with so many guys coming on with such a good game.
"Dominating, it's a hard thing to do, just too many good players out there now, too many guys with a good chance of winning that it's hard for one player to be able to win as prolifically as Tiger did."
Harrington sees nearly one-third of the field of 157 in with a chance to make a run at victory, and not all of them are familiar names.
"You're probably looking at 50 players in this field that if they hit form this week, they feel they can carry on," Harrington said.
"Plenty of guys that can get into the lead -- regular people might not even know their names and yet they're quite happy to keep charging and not back out -- which is why you're seeing a greater variety of players winning."
There were 15 different major winners in a row from Nick Price's 1994 PGA Championship triumph to Lee Janzen's 1998 US Open title and from Wayne Grady's 1990 PGA Championship victory through the 1994 US Open crown won by Ernie Els.
Should a 16th different major champion in a row hoist the Claret Jug on Sunday, it would be the longest such run since a streak of 18 ended after 1987.
"Golfers are evolving," Harrington said. "That feeling of patience and the feeling of a tournament being like a marathon has gone away. It tends to be a sprint from Thursday morning in a regular tournament.
"You're seeing that is gradually seeping into the majors. Guys just turn up -- 'If it's my week, I can beat anybody.' It's a much different way of playing. There was definitely an element 15 years ago of sticking and staying in."
Source: AFP
Photography by AFP