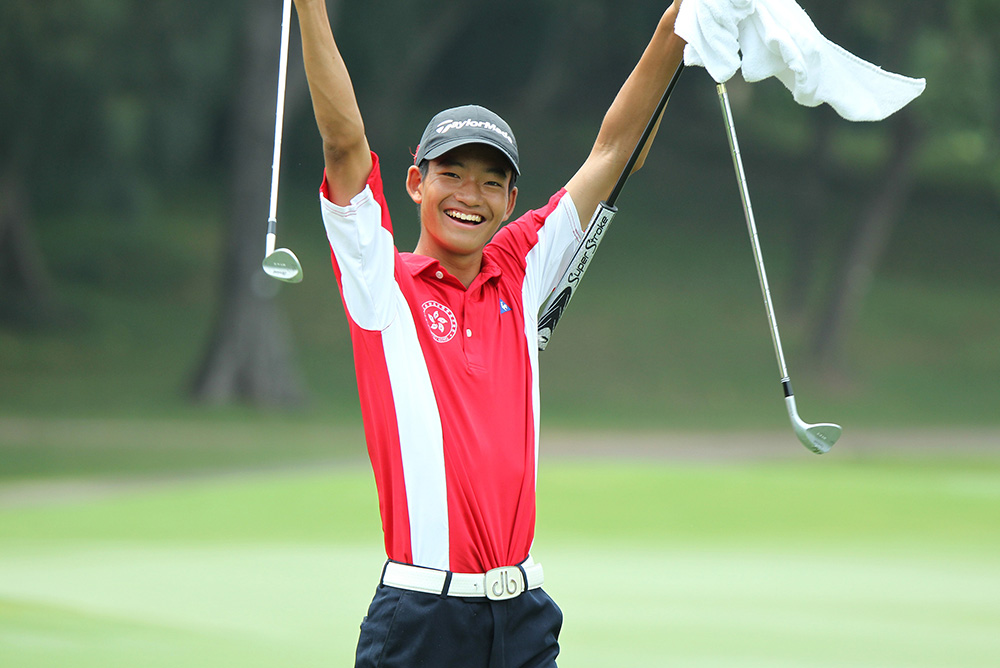 HONG KONG, 21 Apr 2017, (HK Golfer News Wire) - Winning a playoff is nothing new for the 16-year-old Taichi, who won his first Hong Kong Junior Open title on the third extra hole last August.

Taichi and close friend Kevin Wu Sho Wai were neck-to-neck after 54 holes, both finished at 217. When the pair started to tee-off on the first extra hole, heavy rain arrived. Taichi needed only a two-foot tap-in putt for par to win, while Kevin three-putted for bogey.
"It's the 1st hole of the New Course and I didn't want to be aggressive and just played it smart. So, I took my 3-Wood and made sure I hit the fairway. The second shot left me 176 yards to the pin. I hit 175 and missed on the left. When I saw Kevin leaving it just on the green, I knew he would have a tough putt. I chipped to two feet but unfortunately Kevin 3 putted." explained Taichi.
It was also a close affair in the girls' division, which saw Virginie sink a 40-foot putt against Chloe in the second play-off hole to clinch her title. Virginie and Chloe could not be separated over 54 holes to tie at 225 with identical scores for 3 rounds (76-74-75).
"I felt the first extra hole (15th of the New Course) was the hardest one for us. We both had bad experiences there on the first day and in the play-off we both took bogey 5s so we needed to go to the 16th. It's an interesting hole and we were both in the same situation in the right-side bunker after 2 shots. We both got out but I had a longer putt but with some luck, it fell in. It was a good fight against Chloe and we had a good laugh about it. We have played against each other for 3 consecutive years now and we have become very good friends," added Virginie.
In addition to taking home the championship silverwares, Taichi and Virginie were one of the 10 players to receive division honours for the 2016 HSBC Junior Order of Merit.
Leading final scores:  
Boys' Division:
217 - Taichi Kho* (76 69 72), Wu Sho Wai (74 71 72); 224 – Ku Lung Hei (75 76 73); 227 – Alex Zhuo (74 81 72), Darren Choi (77 77 73).
Girls' Divisions:
225 – Virginie Ding* (76 75 74), Chloe Chan (76 74 75); 229 – Hu Jing (75 78 76); 230 - Selina Li (79 78 73); 239 – Stephanie Wong (84 75 80).
*Won in play-off