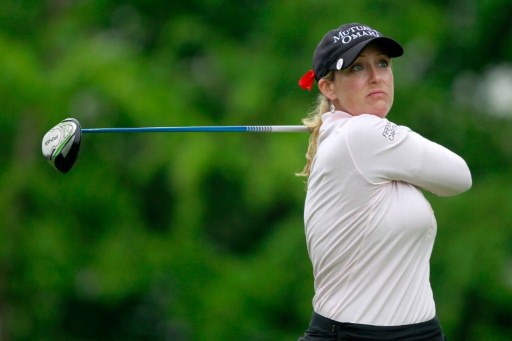 PITTSFORD, June 22, 2011 (AFP) - American Cristie Kerr will attempt to become the fifth back-to-back winner at this week's $2.5 million LPGA Championship, the second major championship of the LPGA season.
World number two Kerr posted a 12-stroke win last year at the Locust Hill Country Club.
"In so many ways, it was a perfect tournament," Kerr said. "I don't know if I'll ever be able to top that, but I'll try. You've got to try."
The LPGA Championship kicks off a five week stretch in the season where three majors will be contended.
The event features an elite field of 150 players who will tee off in Thursday's opening round.
Previous winners of the second longest running tournament in LPGA history, include, Mickey Wright, Betsy King, Laura Davies, Annika Sorenstam and Se Ri Pak.
Kerr was the leader after every round last year and shot 19-under 269 to match the lowest score in relation to par in a women's major.
The 2007 US Women's Open champion clinched the win with a six-under 66, finishing 12-shots ahead of South Korean Kim Song-hee, tied for the second-largest win in the history of major championships.
"I had imagined it," Kerr said. "We all saw Tiger Woods win by 15 at Pebble Beach. I watched that and said, 'Well, why not?' You always think about it, but that and imagining it would happen are probably two different things, but you always kind of wish for it. I guess I wished for it because it happened."
She is looking forward to the challenge.
"I would like to defend," Kerr said. "That's a fun goal to be able to go and try and accomplish. I'm going to try and follow what I did last year, not put pressure on myself, try to see if I can duplicate some kind of performance that I did last year."
But Kerr has not won since her triumph at Locust Hill. The LPGA Championship begins a five-week span that also includes the US Women's Open, Evian Masters, and British Open in succession.
"I like to play," said Kerr. "I feel like I'm ready for competition when I'm playing a lot, and there were certainly a lot of breaks at the beginning of the year.