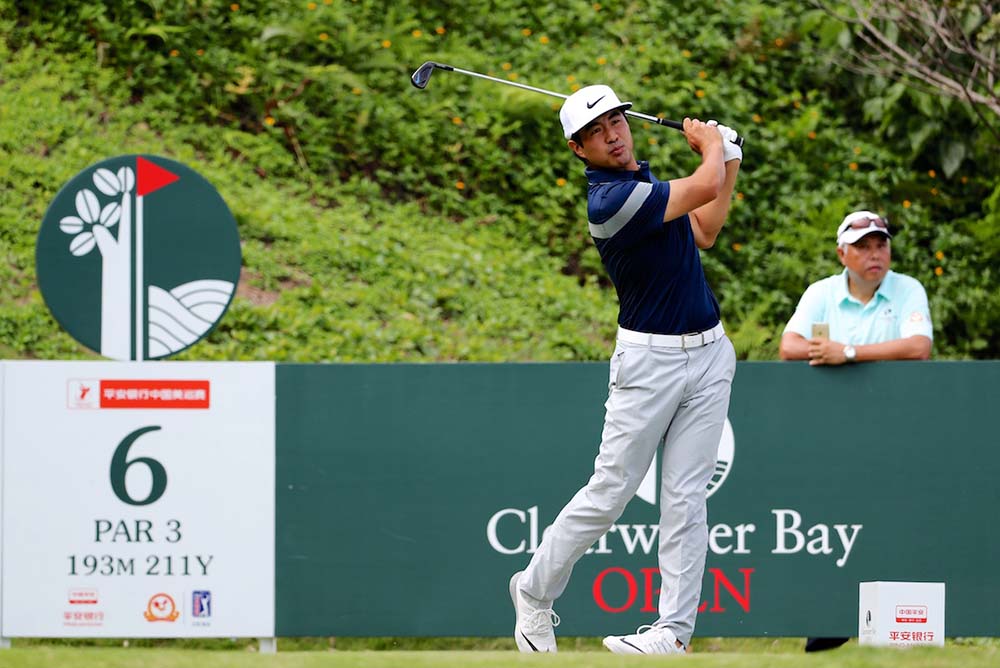 HONG KONG, 5 Nov, 2016, (HK Golfer News Wire) - American Alex Kang spoke of winning "by seven or more" after shooting a seven-under-par 63 to open up a four-shot lead heading into the final round of the Clearwater Bay Open, Hong Kong's first Ping An Bank China Tour – PGA TOUR China Series event.

The first-round leader reclaimed top spot as seven birdies moved him to 14-under, four clear of Chinese star Zhang Xinjun (64) and Korean Lee Dai-han (63) who, like Kang, matched the tournament record set by Chen Zihao on Friday.
Charlie Saxon of the USA, second on the Order of Merit, shot 65 to move to nine-under and share fourth with compatriot Sam Chien (66), tall New Zealander Daniel Pearce (64), Daniel Nisbet (65) of Australia and Korean Mun Do-yeob (65). Order of Merit leader Marty Dou Zecheng was six-under after the China No. 2 shot 65.
Kang held a four-stroke lead after 54 holes before winning June's Cadillac Championship in Chengdu with a 29-under total of 259 and the Californian was confident of another decisive victory.
"Last time I won by six, so hopefully I can win by seven or more this time," said Kang, who sits fourth on the Order of Merit with RMB381,575 and turned his thoughts to catching Dou (RMB1,069,920).
"If I end up winning the next four events and Dou doesn't play as well, then I might be able to catch him, but I'm just going to take it one day at a time."
The Las Vegas-based pro, who will play in a three-ball with Zhang and Lee, aimed to open up a winning lead on the opening Ocean Nine and protect it on the Highland Nine.
"I've played with both before and I'm excited for tomorrow. Lee's a good friend of mine and Zhang is a really good player. Zhang's a really aggressive player like myself so it'll be fun and hopefully I'll get a win," said Kang, elder brother of LPGA Tour star Danielle Kang.
"I think my aggressive play has given me a good season. I've also had a few missed cuts from it, but when I do make cuts and play well, I'm in contention rather than finishing 20th or 30th. I think in pro golf you'd rather be aggressive than conservative because the money is usually top heavy."
Kang, who has a Hong Kong-based friend caddying for him over the weekend, admitted to being a huge fan of The Clearwater Bay Golf & Country Club's par-70 layout.
"The greens are really nice and overall the course fits my game well. I'm not the longest hitter out here. The reachable par-fours that I can get to give me an advantage over the longer guys because I do tend to have a better short game than most. The par-fives are also reachable. The par-threes aren't short enough that the longer guys are hitting short irons in and making birdies," Kang said.
"I thought the pins were in a little tougher position than yesterday and the greens were a lot faster than the last two days, but I think I hit 17 greens [in regulation] today so I gave myself a lot of chances. I only missed one green, which was on the fringe so I was putting anyway. I hit it really well."
Zhang, fifth in the Order of Merit, is looking for his first victory of the year after winning titles in 2014 and 2015, finishing second and third in the Order of Merit respectively.
"I felt relaxed today. This course is so great. Today my driving and approach shots were good and I had lots of birdie chances," said the 29-year-old Zhang, who was a security guard at a golf club and then caddie in his teens.
"My aim is to stay in the top five on the Order of Merit and get some starts on the Web.com Tour next year. Compared to the young players on the PGA TOUR China Series, I feel a bit of pressure as I'm not young any more. However, this can also be used as energy to push myself."
Lee, 25, set the clubhouse lead after matching his best score to par in a tournament, a seven-under 65 in Japan Tour qualifying school event, but many eyes will be on Saxon in the penultimate group.
The 23-year-old Oklahoman won the Tour's previous event in September, the Ping An Bank Open in Beijing, and gave himself a chance of a second straight win with his best round of the week following an eagle on the par-five 18th.
"That eagle was big time. I would have been completely satisfied with birdie on that hole, so it was a huge bonus. I hit a nice drive in the fairway and had 220 yards to the hole. I hit a nice three-iron that didn't quite get on the top level and then made about a 45-footer up and over the ridge," said Saxon, who's second in the Order of Merit.
"All I was trying to do was two-putt, obviously. Eighteen is a really interesting closing hole. There can be some huge shifts in position on the leaderboard. You can make eagle like I did today or very easily make eight like I did in the first round."