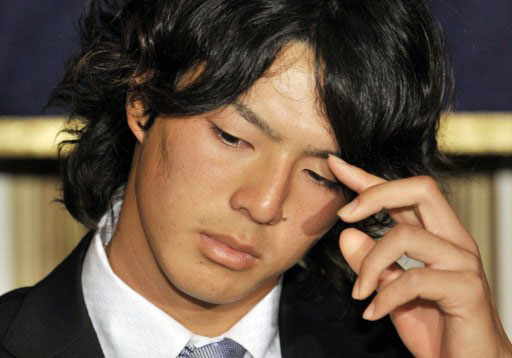 TOKYO, June 9, 2011 (AFP) - Japanese teenage golf star Ryo Ishikawa's main sponsor, Panasonic, apologised Thursday after he was found to have driven without a valid licence.
"Although this matter is all due to his own carelessness, we extremely regret it as his contracted company," Panasonic said on its official support site for the 19-year-old golfer.
"We deeply apologise for disorder this has created in society," read the statement in Japanese, using a standard expression of public apology in the country.
Japanese media reported overnight that Ishikawa acquired both a US driver's licence and an international permit while staying in the United States for to play in PGA events between February and April.
Ishikawa needed to be abroad for at least three full months to make his international licence valid at home but he was apparently unaware of the rule until late May when he was seen driving a silver Audi to a domestic tournament.
Police have so far taken no action. If charged, the golfer could be jailed for up to a year or fined 300,000 yen ($3,750).
"We will see what kind of administrative, police action will be taken and then our disciplinary committee will discuss what it should do," Japan Golf Tour Organisation (JGTO) senior director Hiroshi Yamanaka told AFP.
The case appeared to be a misunderstanding of rules and that "we will take various things into consideration," he said, adding there was no precedent among Japan tour members.
Ishikawa, due to take part in the US Open next week, has yet to make any comment on the case.
His father, Katsumi, has told local media: "I thought I confirmed that the licence would be effective in Japan when we were in the United States, but it was not enough. It's good to find it before he causes an accident."
Ishikawa has been a hot marketing property since May 2007 when he became the the youngest men's winner on a major tour by lifting the domestic Munsingwear Open KSB Cup aged 15 years and eight months.
He also became the top money earner on the Japan Tour in 2009 and stunned the world in May last year by shooting a record 12-under-par 58 to win a domestic event.
Panasonic signed a five-year sponsorship contract with Ryo Ishikawa in January 2008, immediately after he turned professional.
With contracts with several other big companies including Toyota and All Nippon Airways, his sponsorship deals are estimated at nearly 10 million dollars.