Harrington and Dyson ready for Irish Open
---
Harrington Revels in Portrush Atmosphere
Dyson Keen to Make Strong Case for The Defence
---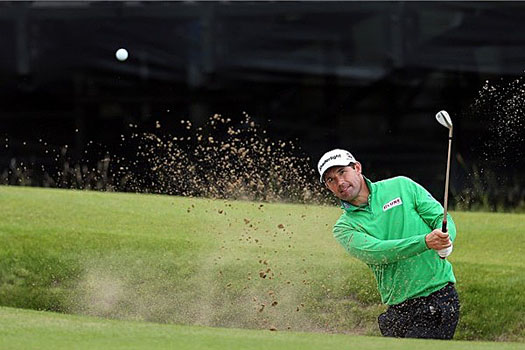 Padraig Harrington has compared the atmosphere ahead of this year's Irish Open to that of The Open Championship as he prepares to play a competitive round on the stunning Dunluce Links at Royal Portrush Golf Club for the first time in 17 years.
The three-time Major winner has often stated that the Northern Ireland course is his favourite in the world, and this week he joins one of the strongest fields of the season in an event that has already broken records by becoming the first European Tour tournament to completely sell out for Friday, Saturday and Sunday.
The hype is unprecedented, even for a tournament which annually captures the imagination of Ireland as well as the rest of the world, and Harrington is enjoying every minute of it.
"It is special that it's here," said the Irishman, who beat Bradley Dredge in a play-off to win the 2007 Irish Open. "I think with the atmosphere, anybody is going to be proud to win the tournament this week on this golf course and with the people that are coming out.
"Even for a player who has never played golf in Ireland, and it's his first time here and the Irish Open has no particular significance to him, he would eventually be excited to win this tournament because of the atmosphere created.
"There's 27,000 people and they are all going to try to cram onto that 18th hole on Sunday. I don't think you could surpass the atmosphere that's going to be here during the week.
"If you go to an Open Championship, you have 35,000 people or so. But to be honest, I think the atmosphere here will be just as good. It's quite a tight golf course that way. It's quite enclosed. You can already feel a nice vibe about the place.
"So it's just going to be one of those weeks that anybody playing here is going to feel the pressure, and it's going to be an exciting week to be in contention – even more so if you win it."
Having come close to winning at Royal Portrush twice as an amateur, finishing second at the North of Ireland Championship in 1993 and 1995, Harrington did admit that there is some unfinished business this week, and he believes the course could not be in better condition for him to make amends.
"I think the golf course is set up perfectly," he said. "I think having had the rain over the last couple of weeks, it's going to help us out a little bit that the greens are not too firm.
"There are holes where you're going to find trouble, but you definitely can hit good shots out there and I think it would be a question of trying to make as many birdies as you can and accepting a couple of mistakes here and there."
Michael Hoey also compared the atmosphere to that of The Open Championship, and he is delighted with the tweaks that have been made to the course in preparation for the first Irish Open in Northern Ireland in 65 years.
"I would have laid odds they would have made the golf course a bit short, but they have produced some really good course design," said the reigning Alfred Dunhill Links Champion.
"They have put a few tees just far enough back, and it's soft conditions at the minute, which means it's playing long. So I think this course is now set up just perfectly, and visually it's great. It's just pure, great links – a bit like St Andrews. It's really good."
---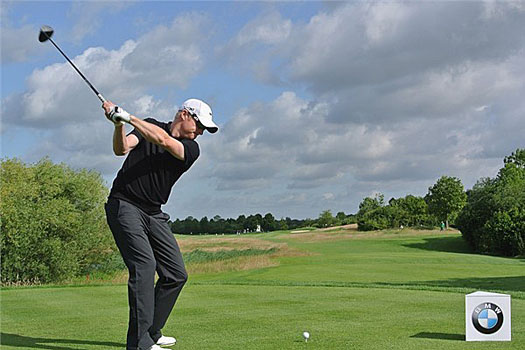 Links specialist Simon Dyson is relishing the chance to defend his Irish Open title at Royal Portrush Golf Club.
Dyson played "the best golf of my career" when taking the title 12 months ago at Killarney Golf & Fishing Club, but the Englishman will have a very different challenge to contend with this week, when Harry Colt's design hosts the €2million event for the first time since 1947.
The 34 year old feels very much at home on links courses, having won the Alfred Dunhill Links Championship, the KLM Open twice at Kennemer Golf & Country Club and finished inside the top ten when Royal St George's hosted The Open Championship last year.
Despite his dominant performance in Killarney last year, Dyson admitted to a twinge of excitement when he first discovered the 57th staging of Ireland's National Open was moving north of the border to the Dunluce Links.
He said: "I love links golf – it just suits my eye. Killarney was a fantastic venue, and I loved playing there last year. But I've got to admit, there was a bit of a smile when I heard it was coming to a links course here.
"It's what I grew up on. Playing amateur golf you play a lot of links golf, and I lived ten minutes down the road from Ganton Golf Club, one of the better links courses in Britain. So links is my favourite type of golf, by far.
"When you stand on a tee box, you've got to visualise the shot. It's not like on a 500-yard par four where you know you've got to hit it 320 yards off the tee – this is more about manoeuvring the ball, which is probably the best aspect of my game.
"When I'm playing well, I can hit the high draw, the low draw, the high cut, the low cut, and I like to visualise every shot. A lot of the courses that we play now are 7,500 yards, which kind of takes that aspect out of the game. So it's nice to get back to how golf was first played."
Having fully recovered from a stressed pelvis which kept him on the sidelines for six weeks, Dyson is determined to get his season back on track and make a late bid for a Ryder Cup berth.
After an encouraging performance at last week's BMW International Open in Cologne, where he finished in a tie for 12th place, Dyson feels his form and fitness are slowly returning.
He said: "I made the cut in the US Open for the first time two weeks ago, which was pleasing. I had a decent weekend and moved up a little bit. Then I played some really good golf last week. I started to find my swing, and probably if I had been a little bit more match fit, I could have contended. But for my second week back, it was a pretty good performance, and hopefully I can build on it this week."
Dyson will begin the defence of his crown in the company of Irish Major Champions Padraig Harrington and Graeme McDowell.
Source: AFP
Photography by European Tour