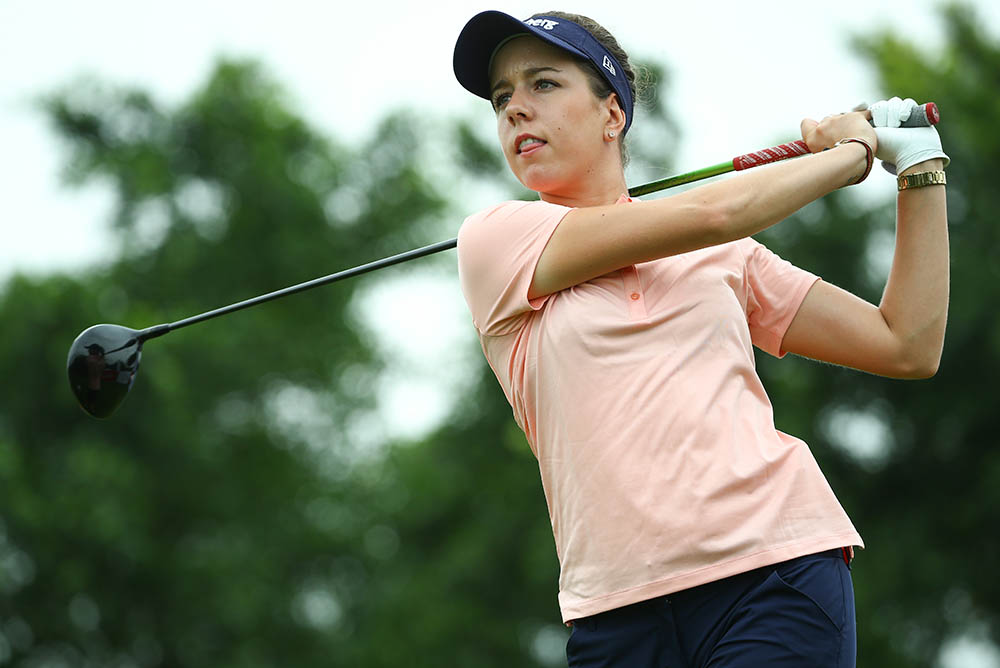 HAIKOU, 17 Mar 2017, (HK Golfer News Wire) - With defending champion Lee Jung-min withdrawing prior to tee off citing a shoulder injury, her Korean compatriots rose to the fore as Kim Ye-jin and Kim Hae-rym were equal second after a 68. They were closely followed by countrymen Bae Seon-woo, Hong Jin-joo, Park So-yeon and Lee Ji-hyun2 at a stroke further back with Scotland's Kylie Henry at four-under 69 over the 6,362-yard, par-73 Blackstone Course at Mission Hills Haikou.

Yang Taoli was the top mainland Chinese player at even-par 73 in the US$600,000 tournament, a tri-sanctioned event between the China LPGA Tour, the LPGA Tour of Korea and the Ladies European Tour. Rising star Hall, 103rd in the Rolex Rankings, came out firing with five birdies on her opening nine, the Blackstone Course front nine, in her early morning round. The 20-year-old picked up two more strokes to get to seven-under through her first 15 holes, before a bogey five at her last, the ninth hole.
"I played faultless all the way around apart from on the last hole. I think I lost a bit of concentration. I putted amazingly, it was one of the best putting rounds I've ever had and I didn't really do a shot wrong," said the Bournemouth native.
In covering her round in only 25 putts, Hall said she was happy to post a strong start, something she had struggled with last year as she put herself in the mix for her first pro win.
"My putting is so much better. I focused on my putting yesterday afternoon and tried to follow through a bit more and it was so much better. I went out this morning and felt so much more confident."
A birdie at the 510-yard, par-five last put Kim Ye-jin into contention as she attempts to add to her one career victory that came in August when she claimed the HighOne Resort Ladies Open. Today, her round included six birdies and one bogey.
"Definitely, I was pleased with the final birdie from the greenside bunker. It's a good finish," said the 21-year-old. "Last year it's my second year on the tour. In the first half of year, I think I worry about my score too much and missed several cuts. I changed my mindset since then and didn't care about my score in the last half year. It worked out well. My results improved a lot. My father is my caddie. We are trying to have fun out there and keep on my strategy from last year."
Veteran Kim Hae-rym, a two-time winner last year, had a chance for the outright lead but struggled on the final hole when her tee shot went in the water. She finished with a bogey six to fall one stroke back.
"Today, I had a good round. It's a good start for me except the last hole," said the 27-year-old who spent the off-season building up her muscles. "My goal is not high because it can put much more pressure on me. I just aim at the top five."
The Mission Hills Haikou Blackstone Course is a 6,362-yard, par-73 course in Hainan Island, China, designed by Schmidt-Curley.