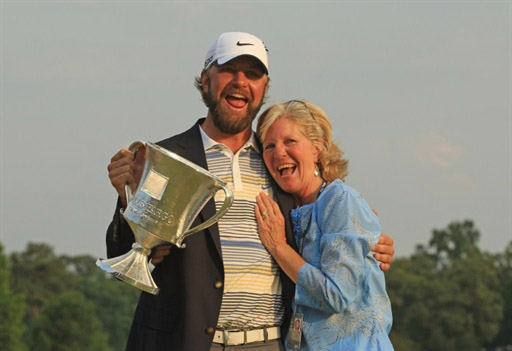 CHARLOTTE, May 9, 2011 (AFP) - Lucas Glover beat Jonathan Byrd at the first playoff hole Sunday to capture his first US PGA Tour title since his triumph at the 2009 US Open.
Glover capped his three-under final-round 69 at Quail Hollow with three straight pars for a 15-under total of 273.
He watched as Byrd drained a 15-foot birdie putt at the last hole of regulation to complete a 72 for 273 and force the playoff.
They returned to 18 for the playoff, where Byrd had to chip from the hazard and made bogey.
Glover could win with two putts from 25 feet and left the first one four feet short. He made that to claim his third career title, one that hadn't seemed likely coming into the week after he missed the cut in his last three events.
"I'm elated," Glover said. "Any time you win, you're pleased. It means you beat everybody. You did what you set out to do on Thursday morning when the bell rang.
"Against this field and on this golf course and in a tournament of this magnitude, I'm thrilled."
South African Rory Sabbatini fired a final-round 65 for sole possession of third place on 274.
American Bill Haas carded a 70 for 275 and was followed by Kevin Na who shot a 71 for 276.
Glover, who started the last round three shots off Byrd's overnight lead, moved atop the board with a 30-foot eagle putt at the par-five 10th.
A bogey at 12 was followed by a birdie at 13 -- then came another bogey and another birdie before his closing pars on Quail Hollow's dangerous finishing holes.
At the final hole in regulation he was left off the tee and in the gallery. He was granted relief, but as he set up for the shot his ball rolled down the hill.
Glover got it over the green, chipped to seven feet and made it for par.
Byrd, knowing he needed a birdie to force the playoff, hit his approach to 15 feet and made it.
On a day that saw five players move atop the leaderboard, Byrd's momentum had evaporated with back-to-back bogeys at eight and nine, two of his four bogeys on the day.
"I'm a little disappointed just because you're here to win," Byrd said. "You love to compete, especially when you get in a playoff. You birdie the last, you feel like, 'Hey, this is just going to work out.'
"If I couldn't win, I couldn't pick anybody else I'd want to win other than Lucas, so I'm very happy for him."
Ireland's Padraig Harrington wasn't in contention, but he made news after his round was completed when he was informed that someone thought he had teed his ball ahead of the markers on the 13th tee box.
Harrington and playing partner Phil Mickelson went out to the tee, watched replays and decided there was no way to tell for sure.
While Harrington characteristically takes a penalty if he feels there's a chance he did something wrong, he was certain this time he hadn't.
"There's just no way," he told a rules official on the 13th.
"If somebody asked me, I would have sworn I was six inches behind the marker," said Harrington, who had re-teed once to move the ball back before hitting on the par-three.
His 68 stood and he tied with Mickelson (69) for ninth place, five shots off the lead.
Harrington said he was comfortable with his decision, but added he'd be "falling off the back of the tee" in future to avoid any hint of confusion.