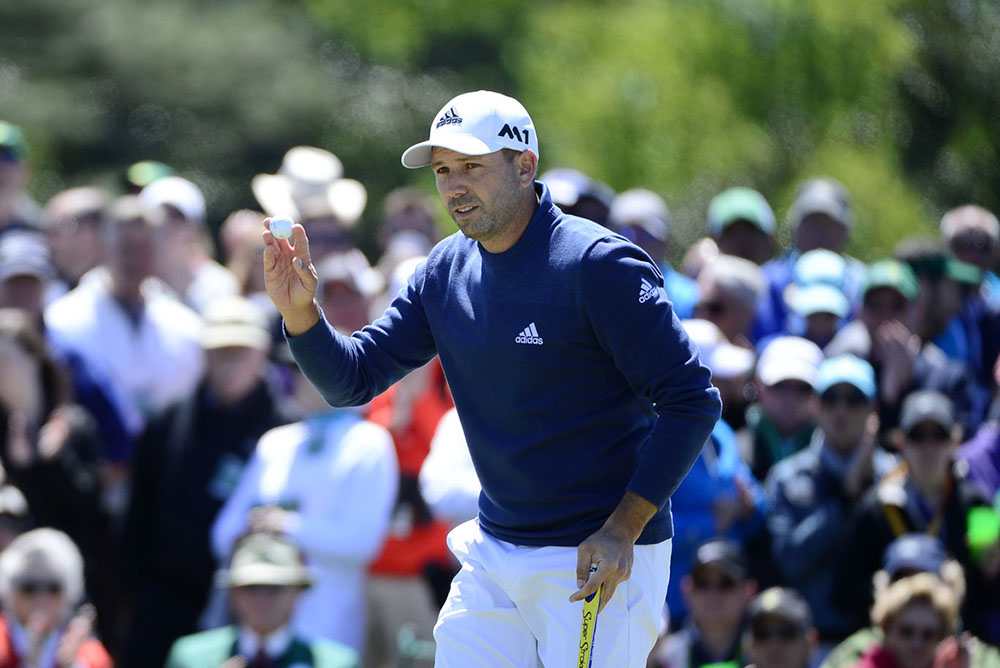 AUGUSTA, 7 Apr 2017, (AFP) - Garcia shot 69 and is in at 4-under-par 140, along with Hoffman, the first-round leader, who shot 75; Pieters, who had 68; and Fowler, with 67, the low round of the day. Fowler went out in 32, with an eagle at the second hole, where he holed a bunker shot.

The common refrain among a distinguished list of pursuers that includes Masters winners Fred Couples, Spieth, Phil Mickelson, and Charl Schwartzel – all within six strokes - is that they're in it to win it.
Couples, the 57-year-old winner of the 1992 Masters, loves Augusta National and always finds a way to compete with the youngsters. He shot 70 to move to 1-under, tied for sixth.
Spieth's 69 left him at even par, along with Mickelson, who shot 73. Schwartzel was at 146 after a 72. Other major champions in the mix include Justin Rose (72-143), McIlroy (73-145) and Martin Kaymer (68-146).
"We're in a position now where we, I think, can go out there and win this thing and certainly make a run," said Spieth, whose round featured birdies at the 16th and 17th holes in a second-nine 33.
"I still feel like I'm right in this Tournament," said McIlroy, who needs only a Masters victory to complete a career grand slam.
Fowler is still looking for his first major victory. In 2014, he finished in the top five of all four majors, including a tie for fifth at the Masters.
"I love looking up and seeing the big leader boards," said Fowler, whose birdie putt at No. 18 would have given him the lead outright but tailed off at the end.
"It's a cool thing about Augusta, very old school. Lot of fun to see your name up there. Hopefully, I can keep it up there."
With the difficult weather conditions the first two rounds, the players were in survival mode, putting caution ahead of aggression.
"We're going to see a lot more birdies, more eagles," Fowler said. "It's going to be back to something a little more normal the next couple of days.
In his first three Masters appearances, Spieth, 23, has finished 2-1-2, and he's poised for another memorable run. Except for a quadruple-bogey 9 at the 15th hole Thursday, he would be tied for the lead. Clearly, he wasn't discouraged by the big numbers.
Spieth practically floated off the 18th green after the final birdie. He said the chance he has now to win "just kind of gives me chills."
"Because after (Thursday) I was really disappointed in being 10 shots off the lead," he said. "But those last couple putts, I had confidence in them, put really nice strokes on them and I finally got them to go."
Hoffman, despite squandering a four-shot lead, is asking no quarter and will offer none. He's taking on all challengers.
"It's sort of what you play golf for is try to win major championships," he said. "Obviously as a kid, you want to be on the PGA Tour and win a PGA Tour event, and as you go a bit deeper in your career you want to contend in majors.
"I've contended in a couple majors and obviously being in position going into Saturday here at the Masters is going to be special. I'm not going to put too much pressure on myself, but I'd be lying to say it's not a great feeling and a great spot to be."
Garcia, once considered an heir-apparent to Tiger Woods as golf's signature player, is still looking for his first major championship at age 37. He opened Friday with three straight birdies, then saved par at No. 12 with what he called his best bunker shot ever. Good things are happening for the Spaniard.
"I got a couple nice breaks," Garcia said. "I want to make sure that I keep riding that wave and go out there tomorrow, be positive, be like I've been the first two days."