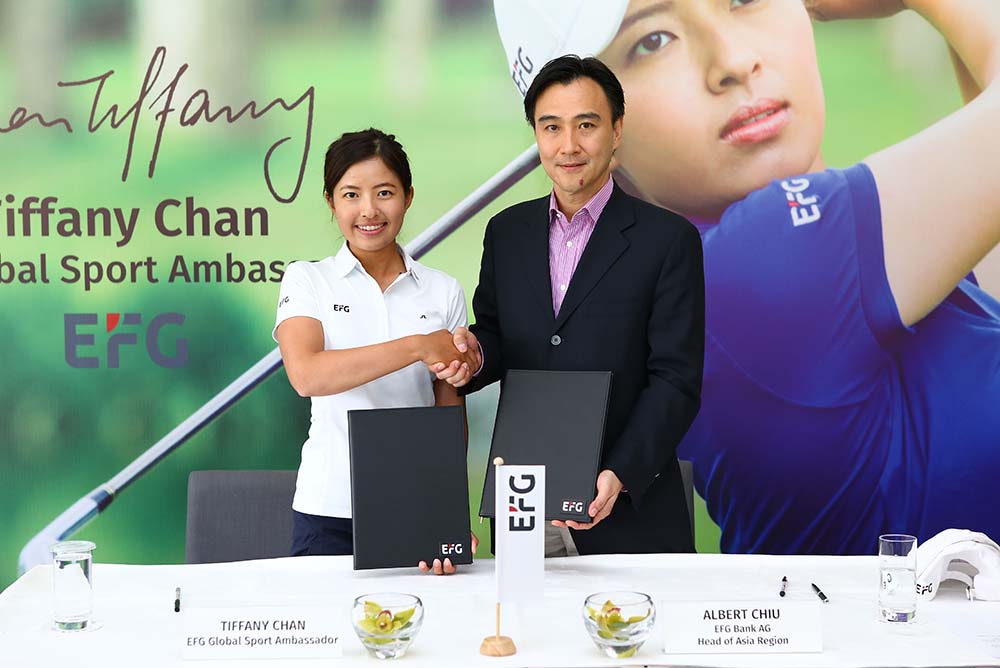 HONG KONG, 7 June 2017, (HK Golfer News Wire) - Swiss Private Bank EFG has announced a three-year sponsorship deal with defending EFG Hong Kong Ladies Open champion Tiffany Chan Tsz-ching. The partnership, which was inked at a signing ceremony earlier today, is the first for the 23-year-old since she turned professional two weeks ago.

EFG is no stranger to the world of golf in Hong Kong, having been the principal partner of the Hong Kong Golf Association's elite junior development programme between 2009 and 2014. It was also during the programme in 2009 when EFG met Hong Kong's first golfing Olympian and the winner of the golf tournament at the 2014 World University Championships.
EFG's support of Tiffany is a long-term one and it extends beyond the elite junior development programme in which Chan was a participant throughout her teenage years. When the Tuen Mun-native made the decision to pursue her university career and improve her golf game in the US in 2013, EFG offered her financial support in the form of a scholarship. The announcement today affirms the Swiss bank's commitment to support one of Hong Kong's best, to help kickstart her career as a professional golfer.
An avid golf fan, EFG International Head of Asia Region Albert Chiu said:
"We are delighted to have Tiffany onboard as EFG Global Sport Ambassador for the next three years. She was already a standout when I first met her at the Hong Kong Golf Association elite junior programme back in 2009. Everyone at EFG was very impressed by her dedication, commitment, and determination to succeed, and over the years she has proven to everyone time and again that she is a real deal. We look forward to working with Tiffany, and we will do what we can to ensure she experiences a smooth and successful transition from amateur to professional."
Chan, who has returned to her home land to defend her EFG Hong Kong Ladies Open title this week, added:
"I am very thankful for EFG's support over the past 10 years. I knew very early on I wanted to make golf my career, and EFG has always been by my side, supporting me. I will never forget when they jumped in to help me kickstart my college career with a scholarship, and without a doubt, that opportunity propelled me onto the most efficient and effective track to achieving my dreams. I am honored to be EFG's Global Sport Ambassador and will do everything I can to make EFG and Hong Kong proud."
Now that the local star has turned professional, she has expressed her desire to do more to give back to the local community so those who look up to her can have every chance to use sport as a means to improve social mobility and carve out their own paths to success. 
To achieve her goal, Tiffany has announced that she will team up with the official charity partner of the EFG Hong Kong Ladies Open, Friends of Asia Hong Kong, to embark on a Corporate Social Responsibility course to empower and better the lives of disadvantaged youngsters through sports.