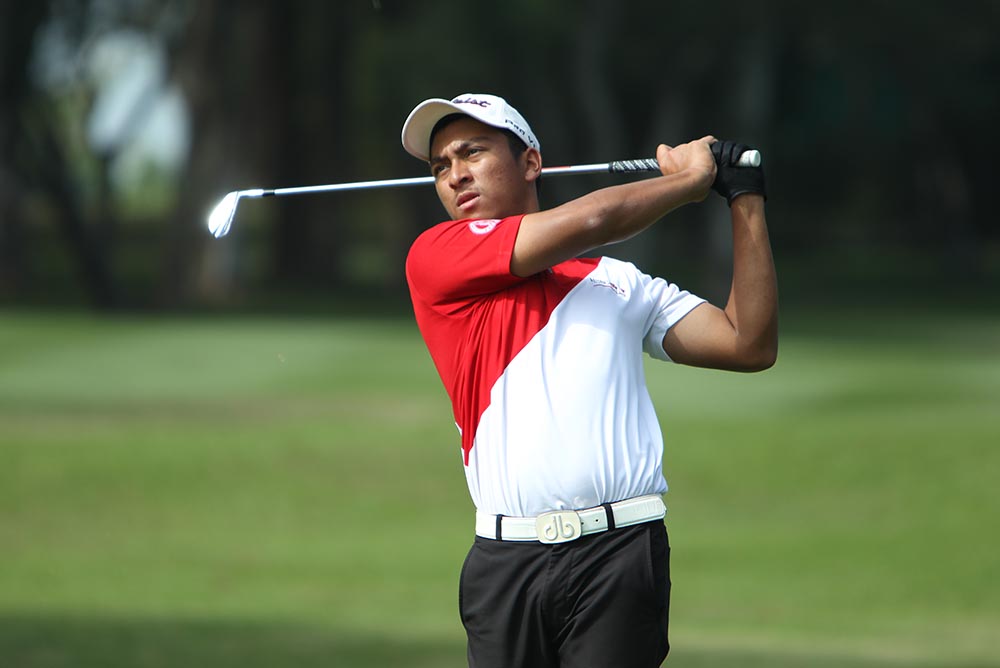 HONG KONG, 17 Oct 2016, (HK Golfer News Wire) - James Stewart, a veteran of 14 Hong Kong Opens, and teenage star Leon D'Souza are the latest local players to confirm their participation in the Clearwater Bay Open after being offered sponsor invites to the Ping An Bank China Tour – PGA TOUR China Series event.

The Clearwater Bay Golf & Country Club, title sponsor and host venue of the circuit's first event outside mainland China, handed invites to the Hong Kong Professional Golfers' Association (HKPGA) and the Hong Kong Golf Association (HKGA), who awarded them to Stewart, 41, and D'Souza, 18, respectively.
Clearwater Bay previously awarded an invite to Jason Hak, but the Hong Kong No. 1 has since booked an automatic spot in the 120-man field by finishing in the top 20 at the circuit's previous event (he was fourth in September's Ping An Bank Open in Beijing).
Last year Stewart won the HKPGA Order of Merit for the fourth time, while D'Souza won the Hong Kong Open Amateur. Both will be making their PGA TOUR China Series debut.
After graduating from Island School, Stewart played college golf at San Diego State University, where the Brit was the top-ranked golfer before graduating in 2000, the year he finished runner-up at the US Public Links Stroke Play Championship.
He then embarked on a pro career that featured several seasons on the Asian Tour – where he finished fourth at the 2005 Vietnam Masters – and appearances on pro circuits in Canada, Australasia, Korea and China.
Resident in Hong Kong since he was six, Stewart has played the prestigious Hong Kong Open a record 12 times since it became a European Tour co-sanctioned event in 2001, having also played it in 1999 and 2000. He has also represented Hong Kong in three World Cups.
A Hong Kong Golf Club member, Stewart is also very familiar with Clearwater Bay, where he has played well over 100 rounds, experience he believes will serve him well when he competes against the visiting PGA TOUR China Series regulars.
"It's great that myself and Leon will both be competing, along with Jason, whom I've known since he was a kid. I hope we'll get some strong support and will be among those competing at the weekend," said Stewart, who is currently leading this year's HKPGA Order of Merit.
"I've probably averaged eight to 10 rounds a year at Clearwater Bay for the past 15 years and also played there as an amateur before its redesign. Following confirmation that I'll represent the HKPGA, I'll make sure I play a few more rounds there before the rest of the field arrives!"
D'Souza won the Hong Kong Open Amateur and the Hong Kong Junior Open last year, when he was one of six local players to compete in October's weather-shortened Asia-Pacific Amateur Championship at Clearwater Bay, where he finished 46th after rounds of 71, 71 and 72.
"I'm so happy to hear that I've been given a start in the Clearwater Bay Open. It has been an exciting couple of years for me, but this will be the one of the biggest professional events I have played in and I expect to learn a lot from the PGA TOUR China Series pros," D'Souza said.
"I'd like to thank the HKGA for this opportunity and hope I can play well. I have played Clearwater Bay quite a few times and enjoyed playing there in the Asia-Pacific Amateur, so I hope that will help me when I play the pros."
Greg Gilligan, Managing Director of PGA TOUR China, said the growing presence of Hong Kong players in the field would engage local fans. A strong local contingent is also expected to compete in the Monday qualifier, when the top 10 players will earn places in the 120-man field.
"We're getting more excited each day as we get closer to the Clearwater Bay Open, which is a groundbreaking event for the Ping An Bank China Tour - PGA TOUR China Series as the circuit moves outside of mainland China for the first time," Gilligan said.
"The Tour remains a pathway for China's top players to move on to the Web.com Tour – the qualifying gateway to the PGA TOUR – and has grown to attract players from all over the world, who are attracted to a strong schedule of over a dozen events that is set to grow in the coming years."
Tournament favourites in Hong Kong include Chinese teen Dou Zecheng, who has won four times this year and leads the Order of Merit with RMB1,069,920 from nine events, second-placed Charlie Saxon of the USA and local star Hak, who has held the end-of-day lead six times in the TOUR's last four events. Dou, 19, is more than RMB500,000 clear of Saxon in the race to win the Order of Merit and a full card on the US-based Web.com Tour.
The Clearwater Bay Golf & Country Club is the tournament's title sponsor and host venue, and has an agreement to stage the Clearwater Bay Open for three years, through the 2018 season.