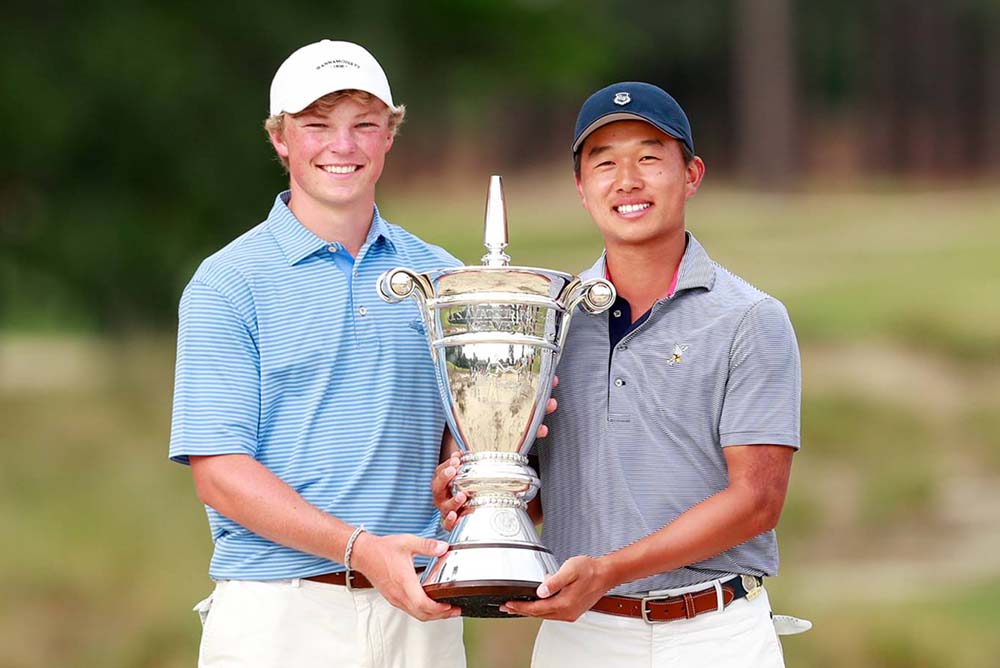 PINEHURST, 1 June 2017, (HK Golfer News Wire) - Frankie Capan and Ben Wong registered five birdies over the final eight holes in producing a 2-and-1 victory on Wednesday over Kyle Hudelson and Clark Collier at Pinehurst Resort & Country Club's Course No. 2.

Wong, who was born in Hong Kong, China, but has lived the last three years in The Woodlands, Texas, delivered the final blow, holing a 10-foot birdie putt on the 17th green.
The victory certainly was sweet redemption for Capan and Wong.
"It's pretty unreal. It's still sinking in," said Wong, who has committed to play at Southern Methodist University in 2018, the same school that produced last year's champions, Benjamin Baxter and Andrew Buchanan, and the late Payne Stewart, who claimed the 1999 U.S. Open at Pinehurst and whose bronze statue with his famous fist-pump pose from the 72nd hole greets resort visitors behind the 18th green of Course No. 2.
"The last putt on 17, Frankie and I had the mentality of us always being 1 down and playing our hardest. Right now it's just kind of sinking in that we won the whole thing. We obviously played our best golf this week, and [I am] just really, really just overwhelmed right now."
Added Capan, of North Oaks, Minn., who has committed to play for the University of Alabama in 2018: "This format is just so much fun. To have it end like that, we were just pumped to get back and get another shot at it."
The champions each receive a gold medal, custody of the Four-Ball trophy for one year and a 10-year exemption to the U.S. Amateur Four-Ball, while the runners-up received silver medals and a three-year exemption, provided the sides remain intact.