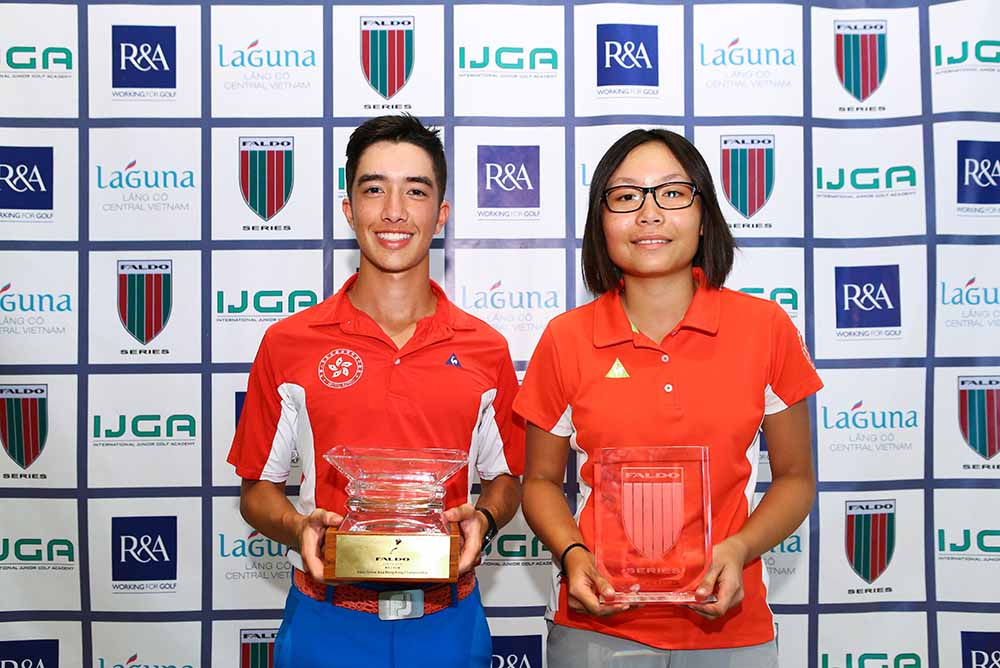 HONG KONG, 31 July 2017, (HK Golfer News Wire) - Yannick Artigolle beat Leon D'Souza by two strokes to defend his Faldo Series Hong Kong Championship title. Artigolle shares the overall champion glory with Chloe Chan, fellow national squad teammate; both finished with a total of 217.

D'Souza recorded one of the best rounds ever at Kau Sai Chau's Gary Player-designed North Course in the same tournament last year - a scintillating final round 64 - but he could not repeat the magic again and just signed for a final round 75. Artigolle was more consistent with rounds of 72 and 70 on the first two days. And he held his nerve to card a 75 to hold the two-stroke lead to win the title.
Chloe Chan not just claimed the Girls Under-16 category by a huge margin, but her three-day aggregate 217 also beat most of the boys to become the overall champion, shared with Artigolle. She can look forward to flying the flag for Hong Kong in the 11th Faldo Series Asia Grand Final, to be held at Laguna Lang Co in Vietnam next March.
Joining Artigolle and Chan at the award-winning Nick Faldo-designed course in Danang will be Shen Wang Ngai (Boys' Under-16 champion) and Estee Leung (Girls' Under-21 champion).
The Faldo Series Hong Kong Championship was played in conjunction with the 2017 Jockey Club Kau Sai Chau Junior Open presented by now TV. More than 30 players aged between 13 and 21 competed in the event that counts towards The R&A World Amateur Golf Ranking.
Faldo Series Hong Kong Championship, leading final scores: Boys' Under-21: 217 – Yannick Artigolle (72-70-75). 219 – Leon D'Souza (71-73-75). 223 – Taiga Iwasa (73-76-74). Boys' Under 16: 229 – Shen Wang-ngai (74-81-74). 238 – Arnold Jr. Lee (75-81-82). 256 – Toby Chan (87-89-80). Girls' Under-21: 231 – Estee Vivian Leung (83-72-76). Girls' Under-16: 217 – Chloe Chan (76-70-71). 230 – Hu Jing (80-81-69). 236 – Tiffany Wu Nga-wun (74-82-80).
HKGA July Stableford:  Men's Gross: 35 –Chris Mun Chun-hin; 30 – Lai Leung-choy; 29 – Suen Tze-chung. Ladies Gross: 32 – Stephanie Wong Lok-yin; 30 – Andrea Au Chor-Kiu,; 29 – Jasmine Chee C M.  Men's Nett: 44 – Lai Leung-choy; 41 – Lawrence Lee Man-lung, Poon Yan-cham, Chan Yuet-ming.  Ladies' Nett: 41 – Joyce Chow Wai-lan; 38 – Wong Kit-man; 37 –Yvonne Wong Pui-ying.