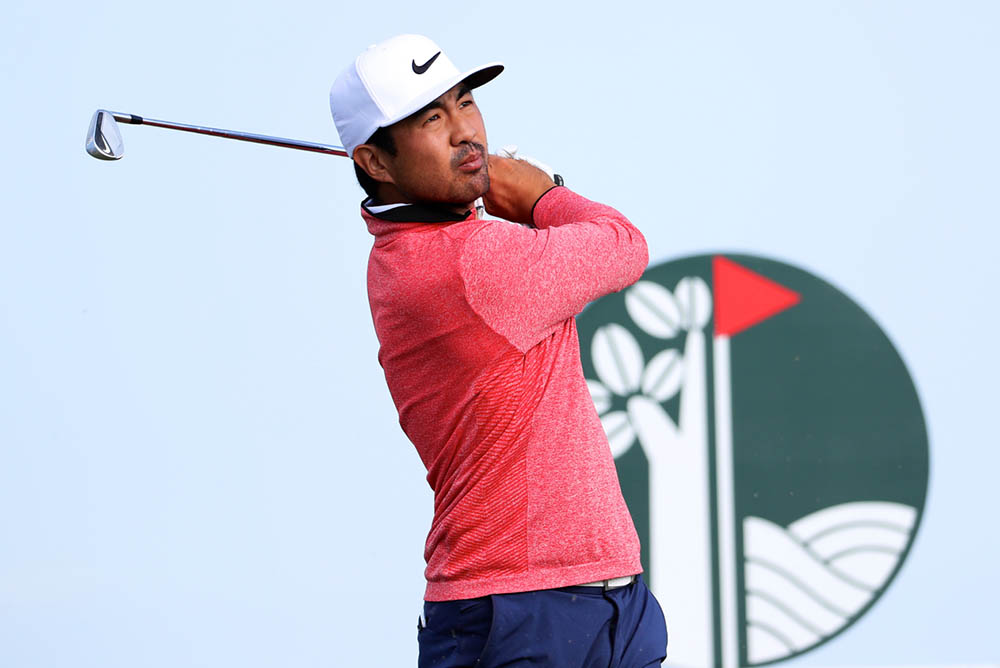 HONG KONG, 3 Nov, 2016, (HK Golfer News Wire) - Californian Alex Kang – elder brother of LPGA Tour star Danielle Kang – shot a six-under-par 64 to hold a one-shot lead over Chinese duo Yuan Tian and Wu Hongfu after the first round of the Clearwater Bay Open, Hong Kong's first Ping An Bank China Tour – PGA TOUR China Series event.

In-form Chinese Zhang Xinjun shot a 66 to share fourth with Korean trio Kim Tae-woo, Lee Ho-soo, Lee Jung-hwan, England's Michael Skelton and Australia's David McKenzie.
Tournament drawcards Jason Hak Shun-yat (70) of Hong Kong, Order of Merit leader Marty Dou Zecheng (73) of China and second-placed American Charlie Saxon (70) all suffered triple bogeys during their rounds, while Chinese legend Zhang Lianwei carded a 72.
Kang, who won June's Cadillac Championship in Chengdu and is third in the Order of Merit, opened with a birdie on 10 and picked up further shots at 15, 16, 18 and one before completing a bogey-free round with a birdie at eight.
"First, the golf course is beautiful, so I was in a good mood the whole time. I grew up on the coast in California, but I never really got to play courses by the water except Torrey Pines. Clearwater Bay is definitely the most beautiful course I've ever played, for sure," Kang said.
"I putted really well today. I rolled in a lot of 10-15 footers and a 20-footer on one, which was the most important birdie for me. I didn't roll in any really long ones, but I also didn't miss anything inside of 10 feet. To play well out here, you have to putt well. Hopefully I'll do the same the rest of the week."
Kang, 26, said he'd be in touch with sister Danielle, 24, about his latest good round. "I talk to Danielle pretty much every day about our games. She's doing well and hopefully I can catch up to her one day."
Zhang Xinjun, 29, was one of the pre-tournament favourites after finishing as China's leading player at last week's US$9.5 million WGC-HSBC Champions in Shanghai, where he featured in the top 10 for the first three days and played with his hero Rory McIlroy, Henrik Stenson and Matt Kuchar over the weekend.
Playing in the morning rounds, Zhang was leading by three heading to the 17th, but a three-putt bogey and another three putts after reaching the par-five 18th green in two left the two-time Tour winner disappointed.
"It was a bit of a pity the way I finished, three-putting 17 and 18, but then again I was very lucky with my birdie on 15," said Zhang, who won titles in 2014 and 2015, finishing second and third in the Order of Merit respectively.
"I hit my tee-shot into the high grass on the left side of the 18th fairway, but it wasn't a lost ball. I then hit the ball onto the edge of the green, then chipped and putted to make birdie. All in all, I did some good things and some bad."
Zhang bogeyed the course's signature third hole, a par-four reaching out into the sea, but rallied with birdies at five, seven, nine, 10, 11 and 15 before his flat finish.
"The wind in the morning was very strong, especially on the first five holes, so you had to be really precise with your tee-shots. The most challenging parts were the greens," said Zhang, who hit a ball into the ocean on the third hole during a practice round.
"I really love the course. It's very beautiful and interesting, and starting with a par-three puts you under pressure straight away."
Kim, who won his first PGA TOUR China Series title in July, spent much of the day lagging behind Zhang, but screamed "YES!" and pumped his fist after holing a 30-foot eagle putt on 18 to share the clubhouse lead with his playing partner after a round of two halves.
"That putt felt good. I felt good with the putter today. The wind on the front nine was very strong and my shots were left, right, over the green, but the wind was a little weaker on the back nine so it was easier," said Kim, who played with Zhang for the first time in Beijing last month.
"This course is very tough for me. Such tight fairways. It doesn't suit me. Zhang made it look so easy. He just birdied, birdied, birdied, and it looked so easy for him."
Hak, 22, had two birdies and 10 pars before hitting his tee-shot out of bounds at the par-four 13th on his way to racking up a triple bogey, but recovered to even-par with a birdie at the par-five 18th.
"It was a good round, with just one bad hole with a couple of bad shots, but that's golf," said Hak, who's playing his first tournament as a Clearwater Bay Ambassador.
"You try to minimise your mistakes and I guess I didn't do too well with that on 13, but generally I hit a lot of great shots and had a lot of great putts. Even though they didn't go in they were great putts. I am just looking forward to tomorrow and take what I can out of today."