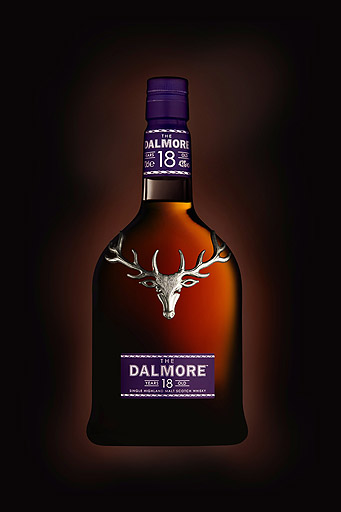 Those of you who read October's edition may recall that the second half of my "two for £70" at Heathrow offer, along with an Isle of Jura expression, was an 18 year old Dalmore.
Dalmore distillery is situated on the northern shores of the Firth of Cromarty and it is a true Highland malt both by location and characteristics. It is positioned far to the north and east of Jura geographically but the origins of this malt whisky owe much to events considerably further east than the Black Isle which the distillery overlooks.
Although it is now owned by Whyte and Mackay, the founder of Dalmore distillery in 1839 was one Alexander Matheson, who apparently made his fortune by importing illegal opium in the Far East. I am fortunate enough to get invited to the St Andrew's Day celebrations in the Penthouse of Jardine House which of course, revolve around a bottle of whisky so I think perhaps, given this coincidence of history, that the Taipan might consider The Dalmore as his malt of choice. Wishing to retain my invitee status, this is only a suggestion of course!
Closely associated with the Clan Mackenzie, each bottle of Dalmore bears the Clan emblem of a 12-pointed stag, and this distillery has enjoyed great success, particularly with its limited edition expressions. In particular, the 62 Year Old, which was a blend of five casks from 1868, 1878, 1922, 1926 and 1939, and broke the world record three times for the price of a single bottle of malt whisky. In 2002, a bottle sold for the absurdly large amount of £22,000 but this was surpassed with some panache by a gentleman who in 2005 paid £32,000 at a hotel in Surrey and promptly drank it with friends. This tale encapsulates my thoughts on malt whisky as an investment; it's potentially tremendously profitable but, like Robert Louis Stevenson, can easily suffer from consumption.
However earlier this year, a bottle of the 62 was sold to an anonymous Chinese gentleman in Singapore airport duty free for the handsome sum of £125,000. There were only ever 12 bottles of the 62 produced and some have no doubt gone the glorious way of the Surrey bottle but the few that remain will be true collectors' items. The Singapore record seems to repeat the tale of Alexander Matheson in that, once again, the Scots have headed east to make their fortune (as have many of this publication's readers, no doubt).
Though as the Heathrow offer shows, not all Dalmore in airports is beyond the reach of the ordinary aficionado and the 18 Year Old expression that I bought was £35 particularly well spent. This expression has won many awards and it is immediately apparent why this is the case. The water for the whisky comes from Loch Morie via the river Alness, a famous salmon fishing waterway that runs beside the distillery. It is distilled in large copper stills, matured for 14 years in American white oak barrels before being finished in Spanish sherry casks. These ingredients and methods all contribute to a unique Highland malt as does the proximity of the distillery to the sea with the salt air adding its own influence to the complex flavours of this whisky.
The nose is sweet and somewhat citrus and there is a hint of something smoky. The initial taste is both fruity and woody but the finish is where this whisky excels. It almost sets in the mouth as the liquid seems to thicken with a rich and sweet finish akin to a "Terry's Chocolate Orange" imbued with a sublime and ever so slightly smoky alcohol. My enthusiasm for this Dalmore expression is such that on my orders, my recent visitor from Scotland spent £70 on two further bottles which I look forward to appreciating as I need corroboration from learned palates of my total regard for this malt, which I consider to be my greatest discovery of 2011.
This distillery founded through the results of the Scottish Diaspora, produced the first malt whisky to be exported to Australia and its current expressions have followed the path to success in the East of its founder. The 18 Year Old expression comes very highly recommended.
Click here to see the published article.