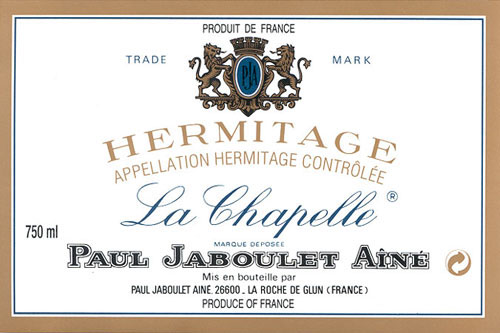 Let me start at one of the most amazing wine cellars in the world: Robuchon a Galera, at the Hotel Lisboa in the heart of Macau. We all know that Robuchon is fantastic; it is the only French restaurant in the enclave to have been awarded three Michelin stars. But as a wine lover, what always amazes me is that the prices on its wine list, an enormous tome roughly the size of a telephone book, make you both happy and very thirsty. Hong Kong and Macau might be the only places in the world where there is no import tax or VAT on wine, but take it from me, a wine merchant: the wine prices at Robuchon are more than reasonable and far below the market price.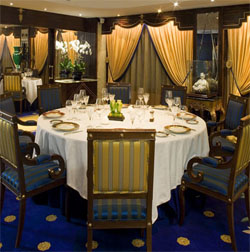 Recently, I had lunch at Robuchon with Nicolas Jaboulet of the famous Rhone-based wine-making family of the same name. Jaboulet is a legendary producer and among its best wines are those from a beautiful small hill in the Rhone Valley called Hermitage. It is here that they produce their signature wine: the Jaboulet Hermitage la Chapelle.
James Suckling and Robert Parker Jr., two of the world's leading wine critics, absolutely rave about this wine, especially the legendary 1961 vintage of the Jaboulet Hermitage la Chapelle. 1961 was a truly exceptional vintage in Bordeaux and Rhone, and the wines produced that year were simply perfect. I was thinking about ordering a bottle of the 1961 until Nicolas informed me that at a recent Christie's auction the 1961 went for €18,000 a bottle. But guess what the price at Robuchon was? MOP$59,000, which is less than a third of the auction price. Still a lot of money— and far over my budget— but all things considered a real bargain. Even more amazingly they still had 12 bottles in stock.
We decided to order a 2003 Jaboulet la Chapelle instead. 2003 was a very hot summer in France. Sun is good for producing wine; too much sun can be a problem. But luckily for us the vintage came out very well. The wine had a beautiful nose full of intense dark fruit flavours and a hint of white pepper. Its colour was nice and dark and the intensity came out in the taste. The wine was drinking perfectly: soft spices, dark fruit and blackcurrant flavours, with a touch of that white pepper again in the mouth. I found the wine to be very well balanced and easy to drink. We decanted the wine and after about 40 minutes it really started to open up and balance out with longer and more intense concentrated flavours and soft tannins. Wow, this was good, but unfortunately we had work to do in the afternoon, otherwise I would have ordered another bottle.
As our lunch came to a close, Nicolas reminded me that Rhone is where Syrah first found fame. The Jaboulet family has been producing the Hermitage la Chapelle for over one hundred years but the grape has become more commonly associated in recent years with Australia, where it is known as Shiraz. Indeed, during the 1950s, the pioneering Australian winemaker Max Schubert was so taken with Syrah from the Rhone Valley that he eventually ended up producing arguably the most famous Australian wine of them all: Penfold's Grange Hermitage, which was named after that same beautiful small hill in the Rhone Valley where the Jaboulet family continue to make their fabulous Hermitage la Chapelle to this day.  - Patricio de la Fuente Saez
Patricio is the managing director of Links Concept, one of Hong Kong, Macau and China's leading distributors of wine and spirits. Visit www.linksconcept.com for more information.
 
Click here to see the published article.