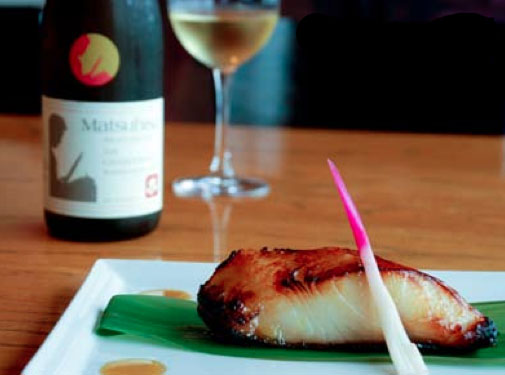 An appearance of simplicity can be deceptive. Just as there is an art to presenting sushi and sashimi so that they appeal to the eye as much as to the palate, there is an art to matching them with fine wine.
Conventional wisdom is that the perfect wine to partner the whole range of sushi and sashimi options is Champagne, but not according to John Chan, senior assistant manager of Nobu at the InterContinental Hong Kong. "Champagne is a multi-match wine, because it cleans all flavours in the
palate, but it does not help to develop another level of enjoyment in terms of the flavour," says Chan, who has made a detailed study of the subject.
In Chan's opinion there is no single wine that will enhance the full sushi and sashimi range, although he accepts that at a push a good white Burgundy will do. He does recommend Champagne with tuna and caviar.
Kazuhiro Ugaeri, who manages Nadaman at the Island Shangri-La, recommends Chablis as a multipurpose seafood wine, and is a believer in Champagne as a good general match. "Dry white wines such as Sauvignion Blanc, Chardonnay, French Chablis, Champagne, Pinot Grigio and Trebbiano match well with sushi or sashimi. The wine softens the fishy taste and sometimes enhances the original taste and flavour of seafood," says Ugaeri.
Chan is inclined to match different wines to different fish, and has a number of favourite combinations.
For salmon he recommends a creamy style white such as Meursault - a 100% Chardonnay wine which has undergone malolactic fermentation but still has enough acidity to balance the palate. For scallops he suggests dry white Bordeaux, preferably from Graves because of its Semillon focus.
"This noble grape from Southern Bordeaux is also used for making Sauternes, however this white Bordeaux , while having a dry style, also has the rich characteristics of a dessert wine, which is to say it is honeyish and slightly dryish with a heavier texture," says Chan.
For sea-urchin he suggests going all the way to Sauternes, but choosing a modern relatively drier style with slightly more Sauvignon Blanc in the cepage.
"It has a little bit more freshness when compared to the grand old style of Sauternes, but without giving up too much on the viscosity and concentration" he argues.
For sweet shrimp a slightly sweet but less concentrated wine, Chan thinks, is called for, and he recommends a clean totally unoaked white.
"It can be Pinot Blanc or Riesling from Alsace, depending on the diner's palate and preference towards the sweetness level. Pinot Blanc would be more focused on acidity, and Riesling would be more fruity. The taste of the shrimp is very delicate and, as such, requires a wine without any oak influence and no malolactic fermentation. It has to be clean and lean with acidity to boost the flavour of the shrimp."
Eel is the only fish for which Chan recommends red wine, and he suggests Chateauneuf-du-Pape because of its oak, minimal sweet ripeness and smoky earthy notes.
Egg is particularly tricky to pair with wine, but Chan reckons that tamagoyaki will work with New World Chardonnay and likes to select buttery wines from the Napa Valley for that purpose. "Egg does not go well with acidic wine. As such, egg omelette sushi would be perfect with a Chardonnay with a sweet spiced background," he claims. Wine is now a popular pairing with Japanese food both in Japan and overseas, and in Nobu Chan says customers who drink alcohol are split about 50/50 between those who choose wine and those who order sake or cocktails. The restaurant offers a special omakase menu with different wines paired with each course, including sushi and sashimi selections. However, sake, the traditional match, he believes, is still the best partner to sushi because of its affinity with the rice. "Wine is a different and dramatic pairing with sushi and sashimi. Sake is a more subtle and traditional pairing. I think cold sake has advantages over tea, especially because of the temperature. It is preferable not to mix hot drinks with cold dishes," he says. Ugaeri is also a sake fan, but more supportive of tea than Chan. "If you simply want to enjoy sushi, I recommend green tea," he says. "Green tea cleanses your palate before each serving of sushi or sashimi. As the sushi rice contains sugar and vinegar, it can leave one's mouth a little dry, and green tea is perfect for quenching thirst. - R.L.
For more information please write to wine@hkgolfer.com
Click here to see the published article.