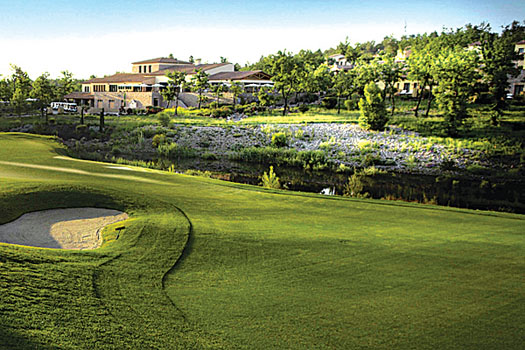 Southeast France
Fans of Victor Dubuisson know that the Ryder Cup hero started playing in the French Riviera. From Provence and Languedoc-Roussillon to Cannes, Saint-Tropez or Monaco, plenty of courses can be enjoyed throughout the year, like Domaine de Terre Blanche Golf & Spa - where Raphael Jacquelin trains, or Golf de l'Esterel with spectacular holes designed by Robert Trent Jones Senior. Both courses are nearby the Chateauneuf-du-Pape wine area - Raymond Usseglio Cuvee Imperiale 2011(17 JR) - and South Rhone Syrah vineyards - Chene Bleu Abelard 2007 (95 RP).
Piemonte and Northern Italy
Lovers of Barolo wine understand how precious the land is in Northern Italy, where noble Nebbiolo grapes are grown and the Molinari brothers were raised. Enjoy pure dolce far niente lifestyle with a glass of Giacomo Conterno Barolo DOCG Cascina Francia 2006 (94 WS) or Cordero di Montezemolo Barolo Enrico VI (94 RP). Why not hit the ball in spectacular scenery, either at the Biella Le Betulle Golf Course (ranked number one in Italy) or Royal Park I Roveri by the Olympic Alps mountains - both in the vicinity of Turin. A drive to the fashion capital takes you to Milano Golf Course where celebrities also wander.
Bordeaux
The wine mecca of Bordeaux also has its fair share of fine greens, such as Golf du Medoc, a top-15 European course with spa and acclaimed restaurants nearby famous wineries, or Chateau des Vigiers which is a perfect, further inland hideaway in Dordogne. I would pair the first one with a Left Bank-classified growth such as a Margaux 2005 (the best Margaux vintage of the new century). Given the other golf course is closer to Saint Emilion, why not try Chateau Canon La Gaffeliere 2009?
Melbourne and Yarra Valley
Over an extended stop in Melbourne you can discover an exhilarating nature to fulfill your passions. Step on to the fairways of renowned courses like Royal Melbourne, the coveted pinnacle of southern hemisphere golf, or the wonderful Victoria Golf Club, home of many champions. And venture on an experiential wine trip to Yarra Valley and enjoy not just the sparkling Chandon winery, but praised estates like Brown Brothers or Garagiste and its Merricks Chardonnay 2011 (94 JH).
Scotland
Is there a need to highlight St Andrews' Old Course, Gleneagles or Castle Stuart in this column? Probably not, but let me point out the best whisky and golf pairings. Near Edinburgh one can attend golf schools and clinics by the East Lothians Links, along with an unforgettable dinner in the world's largest whisky collection room where you can sip a rare single malt like Aberlour Double Cask 16 year old. If it is whisky you're more into, spend time in Speyside where The Macallan, The Glenlivet and boutique wineries are located and enjoy a relaxing game at Dufftown Golf Club. Westwards on the Isle of Islay, get a hint of peat on the greens of Machrie Golf Links and in a glass of Ardbeg Uigeadail Single Malt.
To visit these destinations and many others, book your holiday with The Experience Company (www.TheExCo.com) at +852 3488 9565 or Contact@TheExCo.com. 10% offer for "HKGolfer" readers for any trip taking place by 30th June 2015. Consult us also if you wish to acquire the wines listed in the article.
Click here to see the published article.