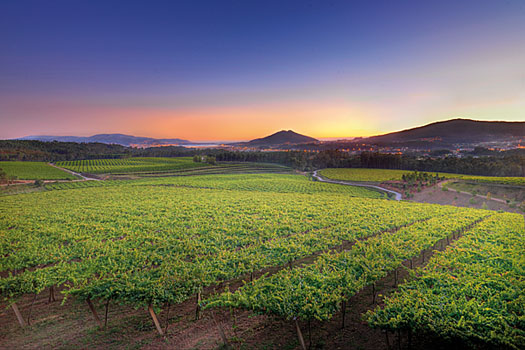 The fall in the prices of top Bordeaux wines has been welcome news to Hong Kong's drinkers, if not investors. Even now, though, prices of first-growth claret are still in the region of HK$4,000-8,000 per bottle, thus out of reach for daily drinking for most of us mortals.
So to which regions should we look to find the highest possible quality at affordable prices? Which producers and which grape varieties offer superb and interesting wines at prices which won't prevent us upgrading to the new set of TaylorMade irons in the same month?
In the first of a new series of features in HK Golfer, I shall make recommendations of some top tips and lesser-known gems, from Tuscany, Piedmont, Veneto, Chile, South Africa and Spain.
A recent wine dinner hosted by Armit Wines at Fofo by El Willy, which is home to some of the best tapas in Hong Kong, showcased a selection of the best wines from one of the greatest wineries in northern Spain – La Rioja Alta.
The group, which was founded way back in 1890 in Haro, owns a total of 710 hectares in the most renowned wine-making areas of Spain: Rioja Alta, Rioja Baja, Rioja Alavesa, Rías Baixas and Ribera del Duero. The closest attention to detail at every stage of the winemaking process, in their own state-of-the-art winery, and in the finest selection of French and American oak, might lead us to expect wines in the modern blockbuster style of fruit-forward, over-extracted jam bombs. However, Rioja Alta is one of a handful of remaining top producers of the old school, producing wines of elegance, class and refinement.
Minimal technical intervention is preferred, allowing the wines to age gracefully and naturally. These are unequivocally terroir wines, freely expressing the land on which they grow, the characteristics of each vintage and the grape variety. Incidentally, this does not prevent the wine scoring high marks from the critics, with Robert Parker's Wine Advocate describing them as "quite simply, some of the finest Riojas that can grace your cellar: complex, refined, classic."
One of my favourite aspects of buying new releases from Rioja, is the fact that the estate only releases the wines onto the market when they are ready to be drunk. Why spend years of waiting and paying for expensive storage on wines, when some producers will do all that for you?
So it was a delight to start the evening with a crisp and refreshing Albariño Rias Baixas DO 2011 (HK$127 per bottle through Armit), a perfect match for Fofo's snapper ceviche. A second fish course of cod with a wild mushroom sauce was paired well with one of the lighter red wines – the delicious Viña Ardanza Reserva 2004 (93 Parker, HK$198 per bottle, other formats also available) – this is a steal for this quality, and understandably one of Armit's best-selling wines. Eighty per cent Tempranillo (the usual grape for red Rioja) is spiced up by the addition of 20 per cent Garnacha (called Grenache in France), producing a compelling effort: full of bright fruit, complex and with good length on the palate. Try it with a simple pasta dish like Bolognese. For value for money, this was the star of the show.
Then came the really serious wines, the long oak-aged Gran Reservas. First up was the very well-priced Gran Reserva 904 2000 (HK$348 per bottle). Ninety per cent Tempranillo from 40-year-old vines and 10 per cent Graciano – this is still in the bracket of regular weekday night affordability, and would pair well with roast meats, cheeses or slightly spicy casserole dishes. At Fofo, it was brilliantly paired with succulent Iberico pork cheek.
Finally, the crème de la crème, La Rioja Alta's top cuvee, the Gran Reserva 890 1995 (96 Parker, HK$985 per bottle). This is a great Rioja vintage (other top vintages being 1964, 1973, 1982, 2001 and 2004). Comprising 96 per cent Tempranillo from the finest parcels of vines, and aged in cask for six years and in bottle for a decade, this is one of the truly great Rioja wines. It is incredibly complex, has great length and will continue to age well for many years – if you can resist enjoying all your bottles now, that is. At Fofo it was matched with pigeon, foie gras and morel rice – and almost ethereal experience.
Save this one to impress your friends – it is much cheaper than Lafite.
La Rioja Alta is available in Hong Kong from:
Armit Wines (Hong Kong) Ltd
Email: wine@armitwines.hk; Call: 5349 2188
Web: www.armitwines.co.uk
Click here to see the published article.