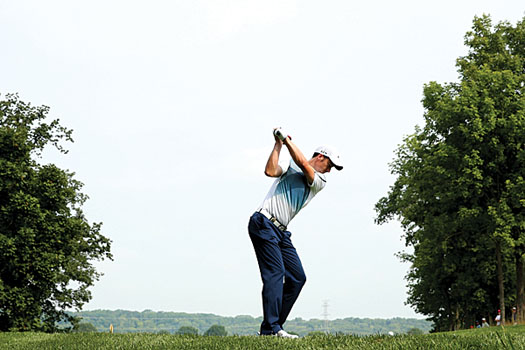 Good driving is now essential to playing well, and I think the old saying 'drive for show, putt for dough' is kind of gone. Yes, putting is the most important part of the game, but if you're not keeping the ball in play, you're not going to have a chance to putt for dough. My game relies heavily on how well I drive the ball. If I drive it well and long, and hit fairways, I feel like I'm going to play well. If I'm not hitting fairways, it could be a bit of a struggle as I'm going to have to rely quite heavily on getting good lies or breaks in the rough and a good short game on the day.
Flat-Out or Rein it In?
I have to say I try to hit the driver as far as I can pretty much every time, but it depends on the wind and how tight the hole is. If it's a tight dogleg, I might just try to get it in play, but generally I would give it the full treatment on par 5s or if there was a bunker or a corner to carry in the high 270 to 280 yards. That's a decent hit for me - I'm not in the 300-yard carry brigade. But in those circumstances I might try to really jump on one and get it out there an extra 15-20 yards.
Distance Versus Accuracy
I would generally go for more distance because the courses we're playing aren't getting any shorter. If I could carry it nearer to 300 yards, that would be a massive help. I would certainly rather be 350 yards in the semi or the rough than 280 yards in the middle of the fairway. That's four or five clubs difference, so a wedge or sand wedge in rather than, say, a 6-iron. That's a big difference.
Accuracy First for Club Golfers
That said, club golfers focus too much on distance and wanting to hit it as far as they possibly can. That's a bad move because if you're a weekend golfer, you're not playing much, you're not getting a chance to practice and your misses are going to be a lot worse than ours because we're playing full-time. For the weekend golfer, I'd definitely say accuracy first, then work on the distance. Go and get custom-fitted for a driver built to your specs - that's how you're going to hit more fairways and gain more yards.
Pages
Click here to see the published article.