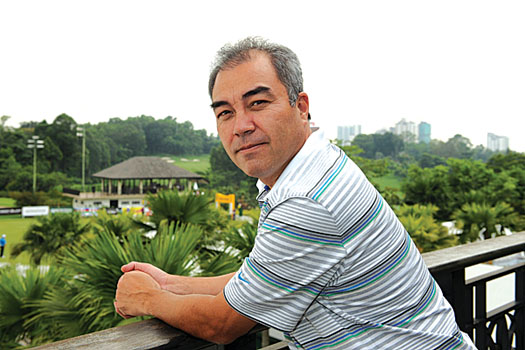 How did this TV commentating job come about for you?
I basically gave up playing in 2002 and founded my own company Impact Golf [with current Hong Kong Golf Club champion Tim Orgill] later that year. I had a young family and I wasn't playing so well. However, I never thought about going into broadcasting as firstly, there weren't too many live events. How it came about was when Derek Fung [a fellow Hong Kong pro] was doing a few events and one day at the BMW Asian Open in 2005, he called me and said he was busy and couldn't do it. He asked if I could fill in for him and I said yes and it kind of started from there. Back then, there were like half a dozen live events and later in September, they asked me to do the Singapore Open and it kind of snowballed from there.
It's a bit of a switch from swinging clubs to talking about the game. Did it come naturally?
I never really prepared for it. I just sat there. Alan Wilkins [fellow commentator] made my life very easy initially, he's easy to work with and I just looked at the screen and talked about what came into my head. It's what I do till this day. Thinking back about it, I've been commentating my whole life. We commented to ourselves when we watch sports on TV like "why did he do that" etc. I've been doing this since I was a kid. I'm sure everyone who watches sport do the same thing.
How would you describe yourself as a golf commentator?
A lot of it depends on who you work with. Who you work with brings out different personality traits. When I worked with Alan, it was kind of loose and we fooled around and joked around a little bit. He brought out that side of me. I don't think I can label myself in one way. I know the players. Although I didn't play the game at the highest level, I understand the game, understand the thought process; I have empathy for the players and I'm not afraid to criticise in a nice way. I understand how hard the game is and how hard it is to play for a living. But at the same time, I understand there are ways to make it easier. I'm not afraid to say it's a bad shot when it really is a bad shot. Sometimes, we praise the players too much and I'm guilty of it too. I try to keep it balanced, they're not too brilliant and they're not too bad. You've got to be honest about it.
Pages
Click here to see the published article.