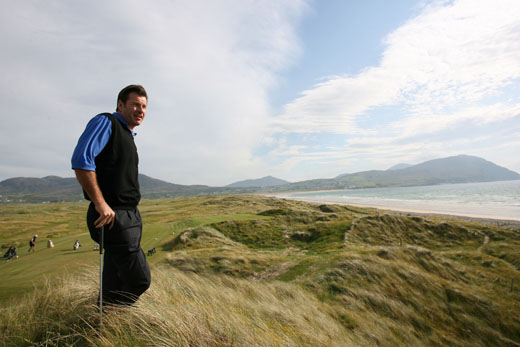 Do you ever go on golf holidays?
I didn't use to when I was playing because I was too competitive. I didn't want to play just for fun. Anytime I picked up a club I went into tournament mode. But it's different now. I'll take the clubs wherever I go and have a couple of games. It's just nice to go out and play, which I normally do with my son or friends.
Which courses would you pay to play?
Every golfer has to go to Melbourne and play the sandbelt courses at least once in their lifetime. Royal Melbourne, Kingston Heath, Huntingdale and Metropolitan are all fabulous. In fact, just talking about them makes me want to go back. I took my design team down there a few years ago, and we had a great laugh. But I think it's time to head there again. In the States, I recommend Pine Valley [in New Jersey] and Riviera [in Los Angeles]—two classic designs. And Augusta, of course. Augusta is just sensational. I'd pay to play all those places.
But aren't you playing Augusta all the time? Don't they give you membership as a former Masters champ?
True, but I've never played there outside of the Masters. I'm not really sure why that is, but after playing the tournament I always wanted to get away and take a break. It's a magical place and even though I don't play the Masters anymore, I love being there for my commentary work. When I first visited it looked easy—no rough and wide fairways. But it is the kind of course where even if you're only slightly off your game you can end up with an 80.
What about lesser renowned courses? Any hidden gems out there that have caught your attention?
Ballyliffin Old Links in Donegal (pictured) is certainly one. I first played there in the 1990s and fell in love with the place. The movement in the fairways is exceptional. I have a great relationship with the club and did some remodelling work for them a few years ago, which focused on the bunkering and some of the tee placements.
Do you have a favourite hotel?
The Crown Towers in Melbourne has really great suites, and the views are incredible. I like the Ritz-Carlton a lot too. I've stayed in many of them, and they've all been excellent. The service is superb and the staff really makes an effort to make you feel welcome. They're good at remembering names as well, which is nice. It's a shame that the one in Hong Kong has closed, but I look forward to staying in the new one when it's ready.
What's your favourite airline?
I've always flown British Airways but now I'm increasingly going with Virgin Atlantic. I like their beds, which are long enough for me to fit into comfortably. Emirates and Cathay Pacific are also very good.
What do you do with your frequent flier miles?
I tend to use them to fly my kids over to see me. Last year we had a trip to Switzerland which was 'paid' for entirely by my miles. They're very useful things but it's hard work keeping track of them all.
What do you always take with you on a trip?
My orthopedic pillow. I must have had it for 10 years at least. It's really good for sleeping on planes. I also take my iPod and a set of portable speakers. I'm really into my music and the first thing I do in the mornings when I'm away is switch it on. It sets up the day for me perfectly.
What's on your iPod?
A whole load of stuff. I'm a fan of the oldies, like Genesis and Elton John, so they get a lot of play. The Verve are great too, as are Coldplay now. Of the girls, I like Sade and a few others. I like all sorts: stuff that energizes me and more mellow songs too. Crikey, that sounds a bit sad, doesn't it? [Laughs] –As told to Alex Jenkins
Click here to see the published article.