The Tragic Tale of Johnny McDermott
In the first installment of a new series, golfing historian Dr Milton Wayne rediscovers some of the unfairly forgotten characters in the history of the Royal and Ancient Game.
The recent ascent of Rory McIlroy raised the possibility that he could become the youngest ever winner of a PGA event. Beating Tiger's record? Not this time. The holder is John Joseph McDermott Jr.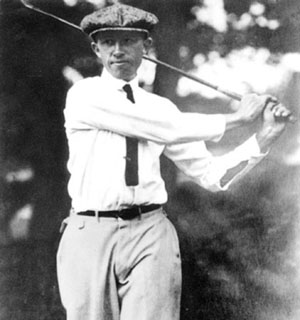 Now a name barely known outside of golfing historians, this tragic figure should have been one of the most famous names in the game, feted when he passed on. Instead, one of the few mentions of his death was the headline "Yeadon Man Dies, Won Open" in his local newspaper. Who was J.J. McDermott? What did he achieve? Why is he so little known today?
McDermott was perhaps the finest player in his day, a precocious talent with indomitable self-belief and a fiery temper, a multiple Major-winner, tragically cut down by mental illness in his prime.
Johnny McDermott was born in 1891 in Yeadon, Philadelphia, in a routine delivery befitting the son of a mailman. Born of Irish immigrant parents, his upbringing was tough, although he had the good fortune to be able to get out of the city to his grandparents farm. The farm's location across the street from the Old Aronimink Golf Club led to Johnny joining the ranks of the caddies at the club at the age of nine. The pay was 15 cents an hour, but the tips were good and he persistently played hooky before completely dropping out of high school. The impact of his lack of education and rough upbringing would resurface time and again in his short career.
Philadelphia was at the heart of US golf, boasting the oldest golf association in the country, after the USGA. Within that association was Aronimink Golf Club, opened in 1896 and one of the oldest in the US. When Johnny started at the club the professional was the newly appointed Walter Reynolds. Reynolds had taken over as pro from local legend John M. Shippen, a man of mixed Shinnecock Indian and black parentage. Shippen had been recommended to the club by his mentor Willie Dunn, Scottish architect of Shinnecock Hills. Dunn had recruited a number of local Indians to work on building the new course, and he taught several youngsters how to play the game. It is recorded that Shippen beat him by 7 strokes in the first tournament they played in together. Shippen became notorious when several professionals threatened to withdraw from the 1896 US Open due to his presence in the field. In the end, no-one withdrew and, at only 17 years old, Shippen finished in fifth place in only the second US Open held.
Written by Dr. Milton Wayne
Click here to see the published article.